Chicken Curry & Veggies Meal Prep
Oven roasted chicken roasted covered in homemade curry sauce and served with roasted cauliflower and quinoa salad,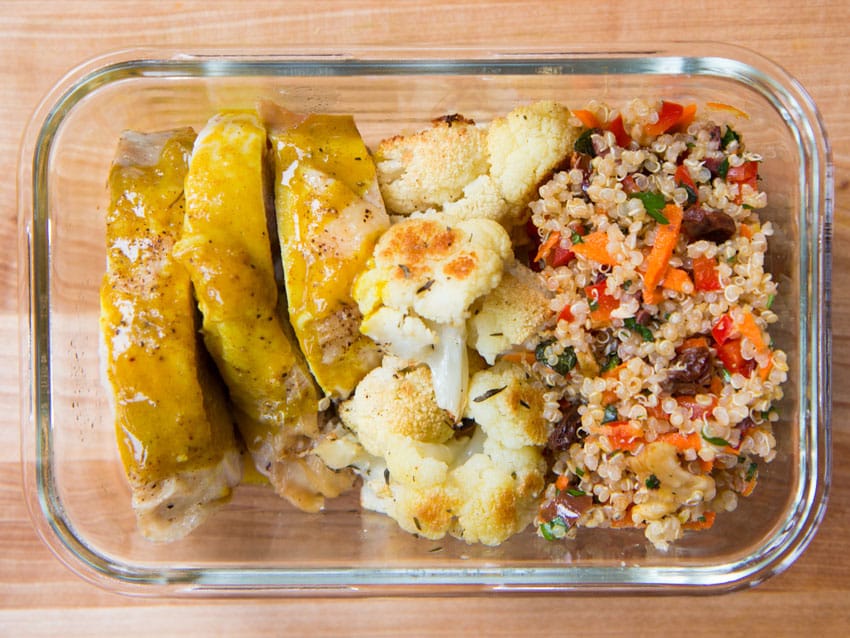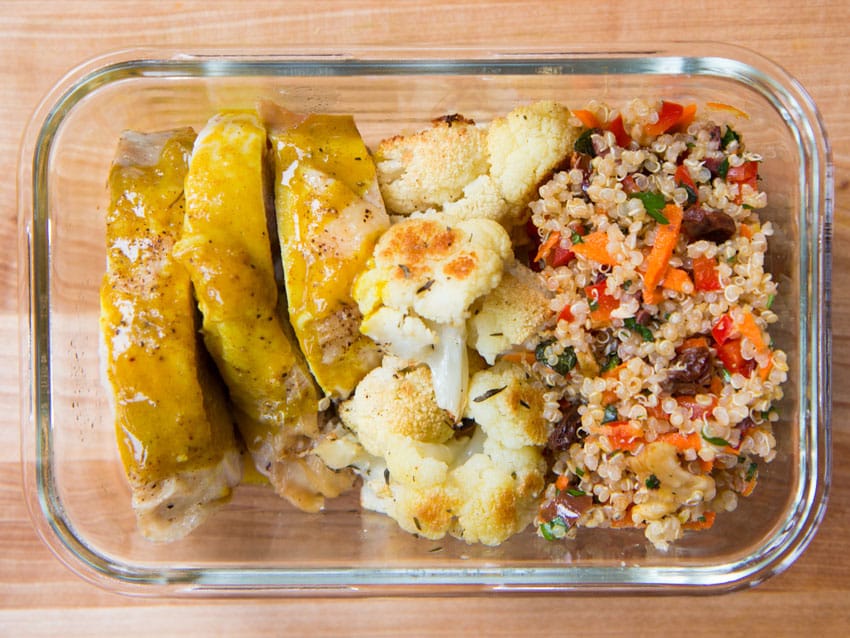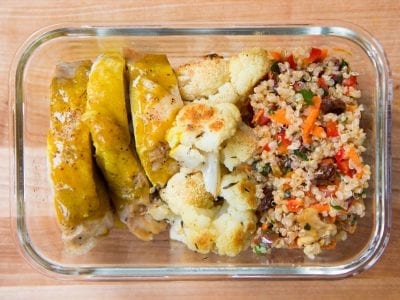 Chicken Curry Meal Prep w/ cauliflower
Print
Ingredients
For the curry sauce:
1/2

a sweet onion

chopped

2

cloves

garlic

minced

2

teaspoons

fresh ginger

finely grated using a microplane

1

small thai chili

finely sliced or a pinch of pepper flakes

1.5

tablespoons

curry powder

look for one that has yellow(turmeric) color

14

ounce

can of light coconut milk

1/2

cup

low sodium veggie stock/broth

Zest of 1 lime

Juice of half a lime

1

tablespoon

sugar or honey or agave nectar

2

tablespoons

coconut cream

optional

Kosher salt

Freshly cracked pepper

Veggie oil
For the chicken:
5

bone in chicken breasts

Kosher salt

Freshly cracked pepper
For the Cauliflower:
1

large head of white cauliflower

cut in large bite size pieces

1

tablespoon

olive oil

1

teaspoon

dried thyme

1

teaspoon

kosher salt

Freshly cracked pepper
For the quinoa salad;
1

cup

raw quinoa

1

large carrot

grated

1

red bell pepper

diced

¼

cup

pitted kalamata olives

chopped

1

tablespoon

each of fresh parsley & mint

chopped

2

tablespoons

raisins

2

tablespoons

walnuts

toasted & chopped

Zest of 1 lemon

Juice of half a lemon

2

tablespoons

extra virgin olive oil

½

teaspoon

kosher salt

Freshly cracked pepper
Instructions
For the curry sauce, pre-heat a medium size sauce pan over medium heat with 2 tablespoons of oil. Add the onion and garlic along with 1/2 teaspoon of salt and cook for 5 minutes. Add the ginger and chilies and cook another 3-4 minutes until everything is soft and the onions are translucent. Add the curry powder and cook for 1-2 minutes, stirring often. Add the coconut milk, bring to a simmer and reduce by half, about 7-10 minutes. Add the veggie stock, lime zest and juice, sugar, and 1/2 teaspoon of salt. Bring the mixture to a simmer and let it cook for another 10 minutes or until it has a sauce like consistency. Turn heat down to low. This is the most important part, taste for seasoning. You want a good balance of sweet, salty, sour, and spicy, so you will almost certainly need more lime juice, sugar, or salt. Stir in the coconut cream(optional) and take off heat. If you want the sauce to be smooth and creamy strain it before you serve

For the cauliflower, pre-heat oven to 450 degrees F. Toss the cauliflower with the oil, thyme, salt, and pepper and roast in the oven for 25-30 minutes until it's well browned and charred in spots. Remove and set aside.

For the quinoa salad, bring 2 ¼ cups of water to a boil and add the quinoa along with half a teaspoon of salt. Lower to heat to simmer and cook until all the water has evaporated, about 20 minutes. Mix well and let it cool down for 20 minutes(if you have the time). Move quinoa to a large bowl, add the grated carrot and all the remaining ingredients, mix well. Check for seasoning, you may need more lemon juice or a touch more salt.

Let the chicken breasts sit at room temperature for 20 minutes before you cook them, cold chicken will cook unevenly and be tough. Pre-heat oven to 375 degrees F and season the chicken with a generous pinch of salt and pepper on each side. Place chicken on a sheet tray and roast in oven for 45 minutes, or until the internal temperature of the chicken is 155 F. Let the chicken cool down and little and carefully use a chefs knife to cut the chicken into 3-5 pieces.

Assemble your meal prep containers by adding the chicken and drizzling on some of the curry sauce. Then add some cauliflower, quinoa, and enjoy all week long! Everything will last in the fridge for 5 days, but only the chicken, sauce and cauliflower can be frozen for 2-3 months. When time to re-heat, wrap the container in foil and place in a 400 F oven for 10-12 minutes. If using the microwave, cover the container with a wet paper towel.
Recipe Notes
Macros:
663 calories per meal
23.3 grams of fat per meal
37.2 grams of carbs per meal
50.6 grams of protein per meal
7.6 grams of fiber per meal