This fish in parchment paper recipe is the perfect weeknight meal that takes no time at all to make. What makes this recipe even better, is the fact that you can grill the fish outside and the clean up takes 1 minute. Fresh cod fish and veggies, stream grilled in only 12 minutes.
This post is a collaboration with Reynolds Kitchens® Unbleached Parchment Paper. When I found out their unbleached parchment paper is made compostable, 75% unbleached, totally chlorine free, responsibly sourced fibers, I was so stoked to share this info with you guys. Reynolds parchment paper is naturally non-stick. So whether you made this fish on the grill like I did, or in the oven, it just won't stick to the cooking surface.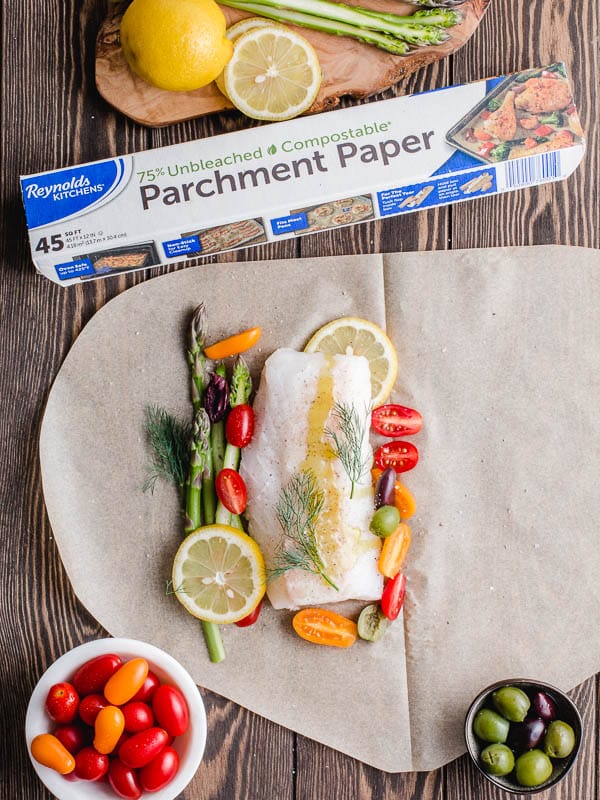 How To Make Fish In Parchment Paper
The first thing you want to do is cut your Reynolds Kitchens® Unbleached Parchment Paper int half heart shapes. Go ahead and place the cod filets on the right side of the heart and season with salt, pepper, and then scatter the herbs and veggies all around.
The beauty of making the parchment pouch is that stream gets trapped inside and prevents the fish from drying out and infuses all those yummy flavors deep into the fish.
Fold the edges of parchment paper over itself to make a tight seal and then pre-heat one side of the grill to medium-high, and the other to low. The goal is to use indirect heat to gently cook the fish, just as if you were using the oven.
Place the fish on the cooler side of the grill, close the lid, and cook for 10-12 minutes. If using an oven, bake on a sheet tray at 350F for 12-14 minutes. One of the cool things about this parchment paper is that it's made in 12″ wide rolls, which fits your sheet pans perfectly.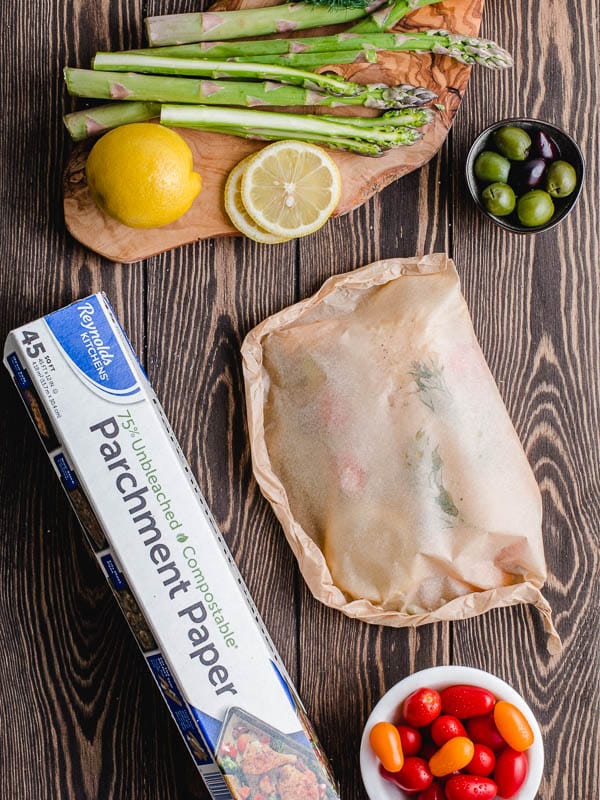 What Sauce Goes With Fish?
For this cod fish in parchment paper recipe, I made a smoky and tangy romesco sauce. This is a Spanish sauce that is so creamy and full of flavor. First cook some roasted red peppers in a hot pan with slivered almond, caned tomatoes and garlic.
Transfer that mixture to a food processor and add good extra virgin olive oil. Smoked paprika, and cayenne pepper. Blend until thick and smooth.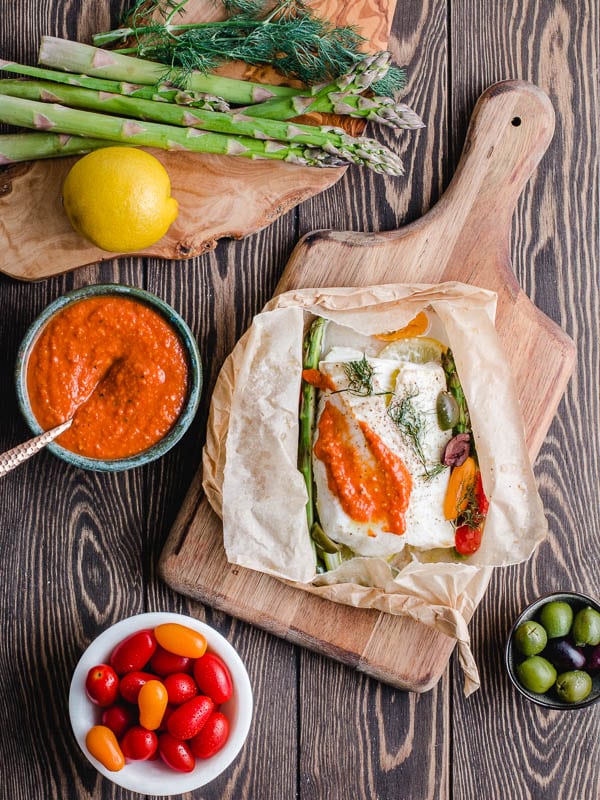 Make sure to check out my other seafood recipes: