Over the years I have posted many holiday recipe videos to the FlavCity YouTube channel. These recipes have become family favorites for many of my fans, so I thought I would put together a blog post with my famous dry brine citrus turkey recipe and 5 Thanksgiving side dishes that need to be on your holiday table. These Thanksgiving recipes are traditional, easy to make, and packed with flavor.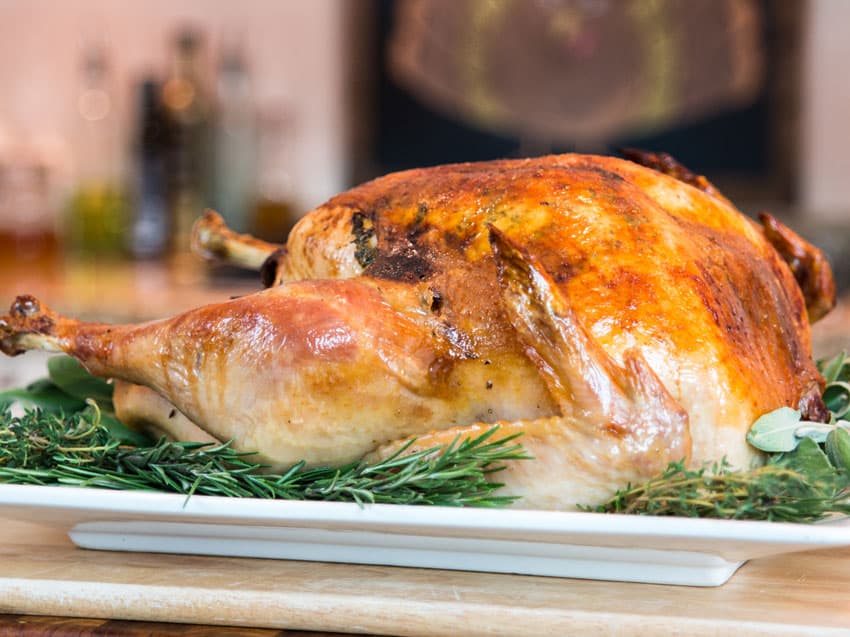 Dry Brine Turkey Recipe With Citrus Herb Butter
Let's start with the hero recipe for Thanksgiving, the juicy turkey. My turkey recipe calls for a dry brine that has brown sugar, salt, lemon zest, fresh herbs, and garlic. This is much easier than a wet brine which requires you to place the whole turkey in a bucket of water a keep cold overnight. The idea behind brining the turkey is that you infuse flavor and moisture into the bird. Salt brings moisture to the surface, it gets infused with the aromatics, and gets absorbed back into the turkey.
Dry brining a turkey should be done the day before Thanksgiving – any more time and the meat will get too dry. You must allow the turkey to come to room temperature for 2 hours before cooking in the oven. A cold turkey in a hot oven will cook unevenly and be tough.
5 Thanksgiving Side Dishes That Are Sure To become Family Favorites
Here is a list of 5 thanksgiving side dish recipes that are traditional and easy to make. These are time tested sides that your family is sure to enjoy. Most of these recipes have video tutorials as well, but if you have any questions, just leave a comment or email me.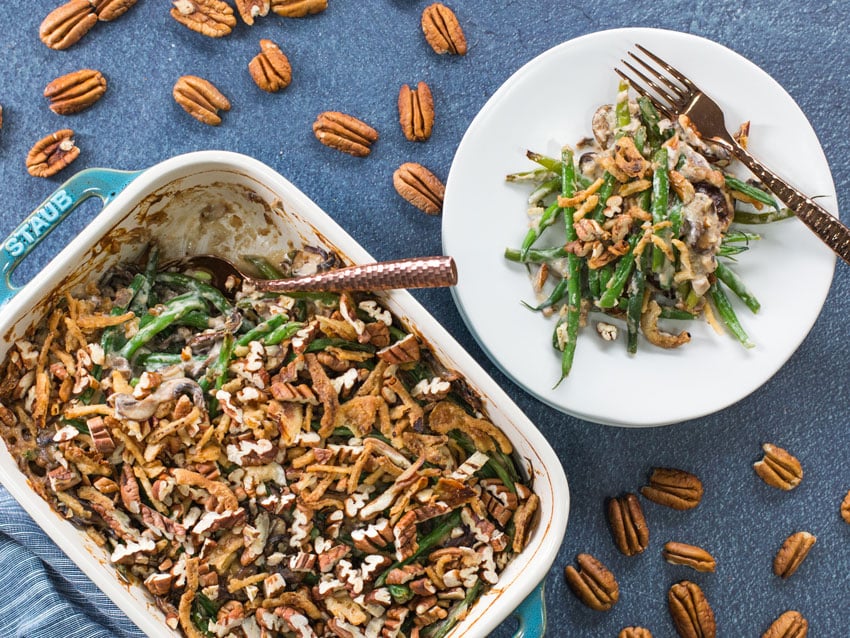 Green Bean Casserole with Pecan and Fried Onion Topping
This traditional green bean casserole uses fresh, not canned green beans and a homemade cream of mushroom soup. The topping is super crunchy thanks to buttery pecans and French's fried onions.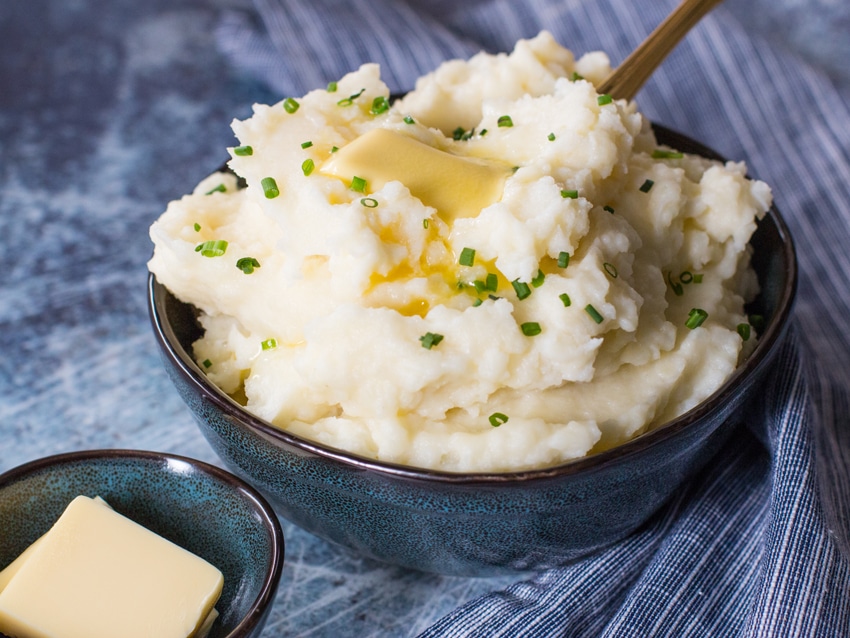 The Ultimate Creamy and Buttery Mashed Potatoes
These mashed potatoes are just like grandma used to make, or dare I say even better. The key to the best ever mashed potatoes recipe is starting the potatoes in cold water and using a potato ricer. A ricer will give the texture of the potatoes such a light and creamy feeling – there is really no replacement for this. Make sure to steep some cream and milk with garlic, herbs, and peppercorns before adding to the potatoes. You can make these mashed potatoes ahead of time and warm them using a double boiler.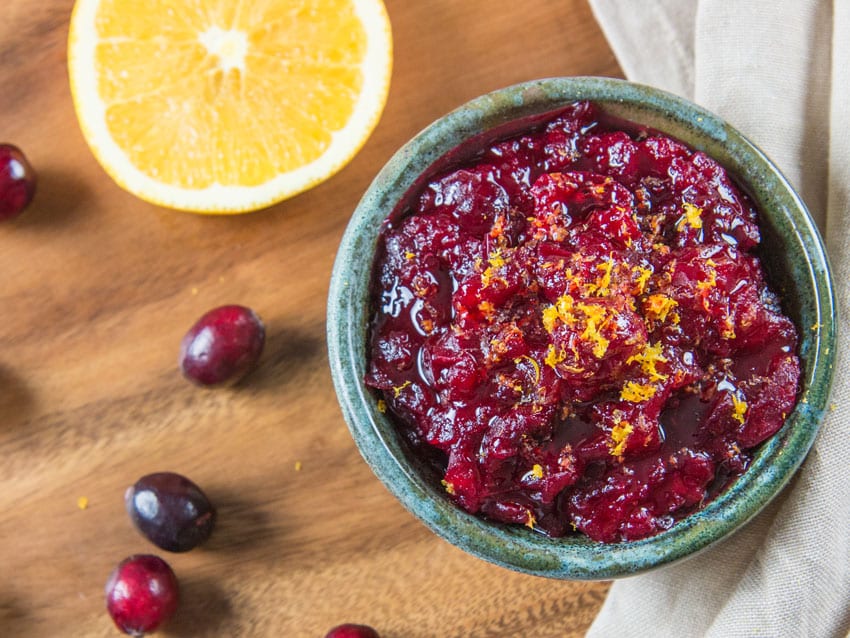 Homemade Cranberry Sauce Recipe
My mom loved the stuff out of the can, but I really love the flavors of homemade cranberry sauce. It is so easy to make and only takes 15 minutes, and it can be made days ahead of time. All you have to do is simmer fresh or frozen cranberries with fresh orange juice, cranberry juice, and honey. The cranberries will pop and release pectin, which will make the sauce into a jelly once cool. Add some orange zest and you just made the best homemade cranberry sauce of your life.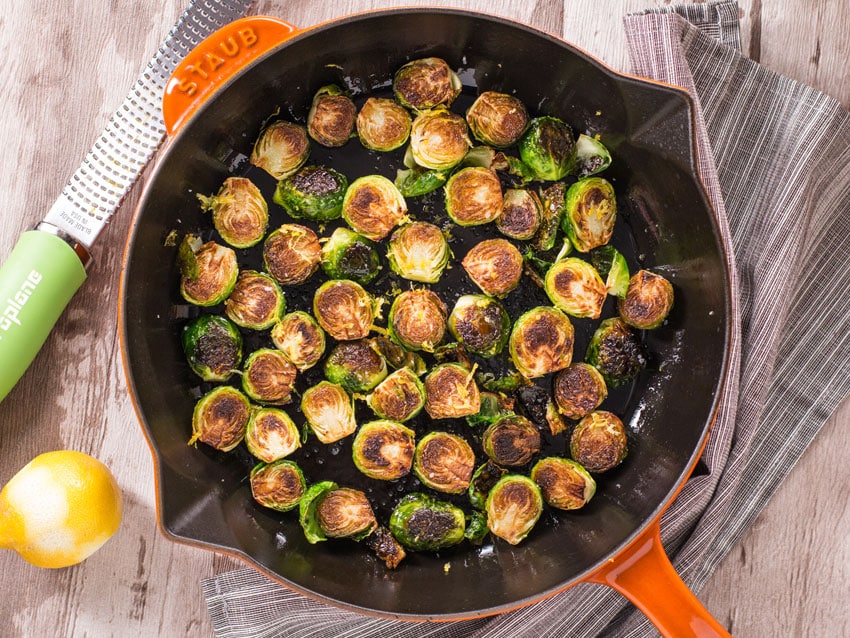 Crispy Brussels Sprouts
I am kind of obsessed with making crispy brussels sprouts, they are nutty and roasty on the outside and creamy inside. There are two ways to do this. If you have a big crowd for Thanksgiving, I recommend using my oven technique. They key is to roast them at 450 degrees F so they get blistered and charred on the outside. If you think you don't like brussels sprouts, I am pretty sure you will be a believer once you try this method.
An even better technique for cooking brussels sprouts is in a hot cast iron an. Treat the sprouts just like you would a steak. Sear them over medium heat with a good amount of butter and only flip once they are charred. Look at that picture above. Have you ever!? This way of cooking brussels sprouts may not be the best for a large crowd, but for a few people I highly recommend trying it.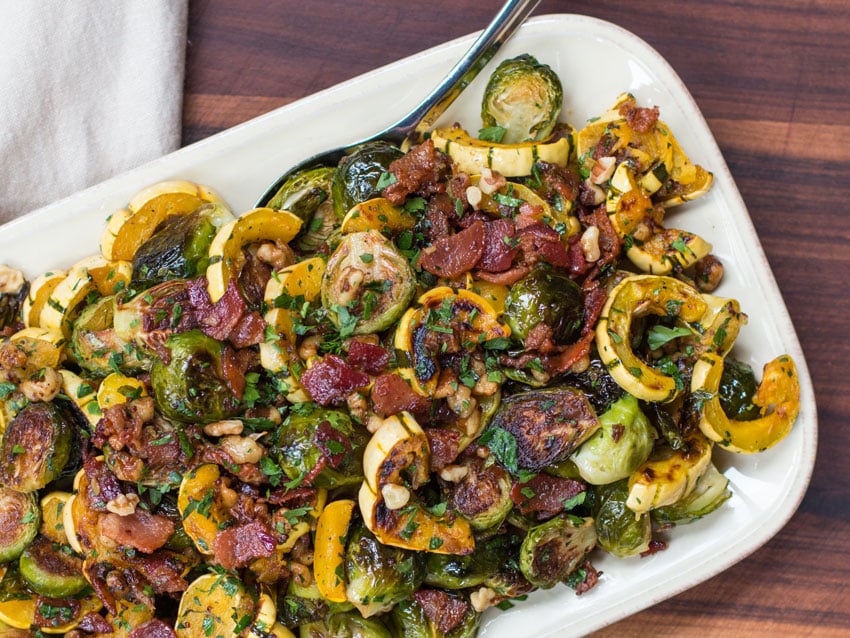 Roasted Squash and Brussels Sprouts with Warm Bacon Dressing
This Thanksgiving side dish has it all – hot crispy bacon, creamy squash, maple syrup, and toasted walnuts. The beauty of this dish is that it looks and tastes like the holiday season, and it's a little bit out of the box, but I know you will love it. Roast the squash and brussels sprouts in the oven. Meanwhile render some bacon and cook onions, garlic, and walnuts in the bacon fat. Stir in some red wine vinegar and maple syrup then pour it all over the roasted veggies, it's heaven!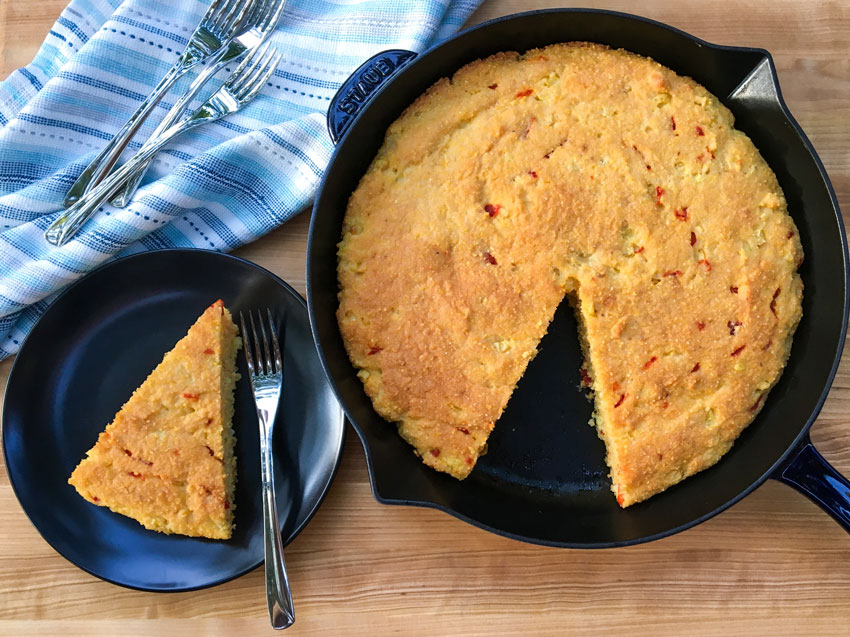 Cast Iron Skillet Cornbread
It's not Thanksgiving unless there is a tender cornbread served in a cast iron skillet. My recipe for skillet cornbread is unique because it is gluten and dairy free, but you can make it the traditional way too. Just use butter instead of coconut oil, and all-purpose flour instead of gluten free. The key to this skillet cornbread recipe is preheating the pan in the oven so as soon as you pour the batter, the crust starts to form. I am all about that slightly crust and tender interior of the cornbread. For the regular cornbread recipe that is not gluten or dairy free, click here.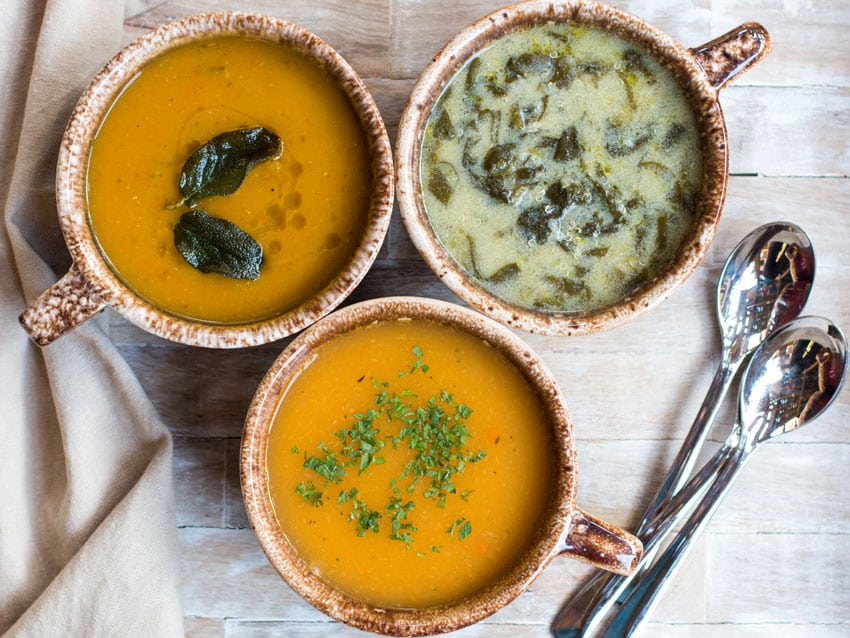 Roasted Butternut Squash Soup
We make this roasted butternut squash soup on the regular during the holidays and winter season. The key is to roast the butternut squash cubes in the oven before putting them in the soup pot. Roasting adds a nutty and complex flavor that adds depth to the soup. The butternut squash soup is naturally creamy, so there is no need to add dairy to this recipe.
Make sure to check out some of my favorite winter comfort food recipes: