Crispy fish tostada with guacamole, cabbage slaw and spiced chickpeas.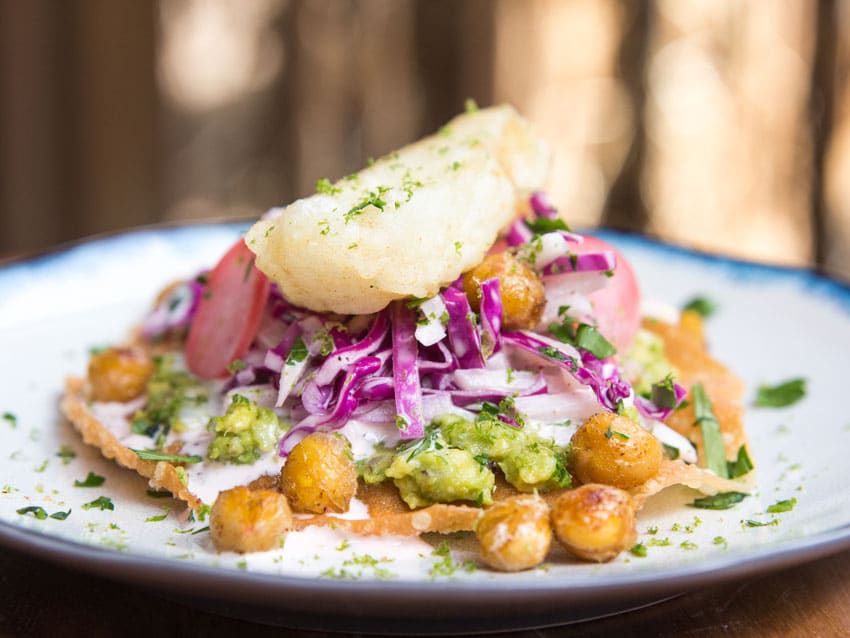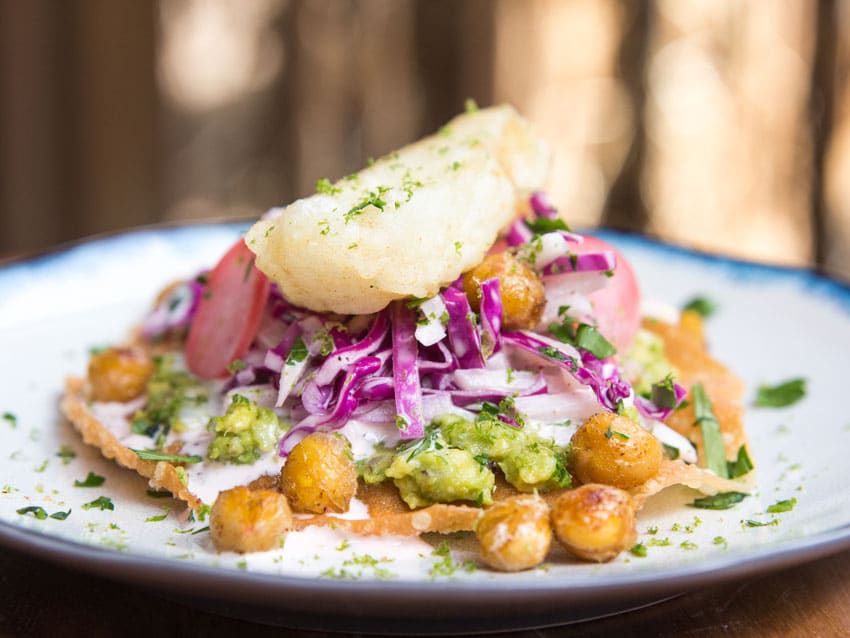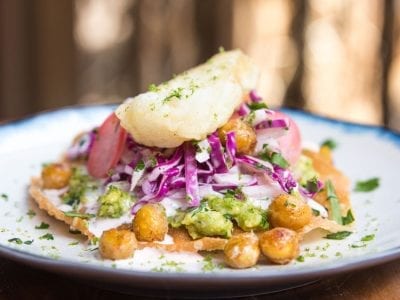 Fish Tostada with Guac and Red Cabbage Slaw
Print
Ingredients
1.5

pounds

of cod

cut into 4 inch strips (have fish guy do it)

1/2

cup

rice flour

1/2

cup

corn starch

1

tspn Kosher salt

Few cracks of fresh pepper

Pinch

of cayenne pepper

1

cup

club soda

1

package of large wonton/egg roll wrappers
For the Guacamole:
2

avocados

Juice of ½ lime

1

tbsp

extra virgin olive oil

EVOO

2

tbsp

red onions

finely diced

1

tspn kosher salt

Few cracks of fresh pepper
For the slaw:
½

head red cabbage

finely sliced

1

medium size jicama

peeled and julienne cut using a mandoline

1/2

cup

crème fraiche

1/2

cup

mayonnaise

Juice of ½ lime

1

tbsp

water

1

tspn kosher salt

Few cracks of fresh pepper
For the pickled radish:
½

cup

apple cider vinegar

½

cup

water

3

tbsp

kosher salt

2

tbsp

sugar

6

red radishes

thinly sliced
For the spiced garbanzo beans:
1

can of no salt garbanzo beans

rinsed and drained

1

tbsp

ground cumin

1

tspn smoked paprika

1/8

tspn cayenne pepper

½

tspn kosher salt

Few cracks of fresh pepper

1

tbsp

EVOO
Instructions
Fill a dutch oven pot, or heavy bottom pot with 3-4 inches of veggie oil and bring to 350 degrees.

For the guacamole, add the avocado flesh and next 5 ingredients to a bowl and mash with a large fork or potato masher. Check for seasoning, you may need more lemon juice. Cover with plastic wrap and set aside. Make sure plastic wrap touches the surface of the guacamole or it will turn brown.

For the pickled radish, combine the first 4 ingredients in a small pot and bring to a boil. Add the sliced radishes and cook for 1 minute, take off the heat and let the radishes sit in the liquid.

For the garbanzo beans, add the beans and next 6 ingredients to a bowl and mix well. Pre-heat a small non-stick pan over medium-high heat with 2 tbsp of EVOO. Add the beans to the pan and cook for 5-7 minutes, or until the beans are slightly crunchy, stirring often.

For the slaw, add the sliced cabbage and jicama to a large bowl and set aside. In another bowl, add the crème fraiche and next 5 ingredients and whisk well. Check for seasoning and adjust if necessary. The dressing should be tangy, so you may need more lime juice or add more water if too thick. Toss the dressing with the slaw right before you are ready to serve, or it will get soggy.

For the tostada, stack 8 wonton wrappers on top of each other and turn a medium size bowl upside down on top of the wrappers. Use a knife to cut around the edges of the bowl, making a circle out of the wonton wrappers. Fry the wrappers, 2-3 at a time, for 2 minutes or until golden brown, take out and let drain on a wire rack or paper towel lined plate. Season hot wontons with a little kosher salt.

For the fish, in a large bowl add the rice flour and next 4 ingredients, mix well. In another small bowl, add ½ cup of corn starch. Season the cod with a little bit of kosher salt on each side. Add 2 cups of club soda to the rice flour mixture while whisking, mix well until smooth. Dip a handful of the fish in the corn starch, shake off any excess and dredge thoroughly in the rice flour(tempura) batter. Make sure you shake off any excess batter and carefully add to the 350 degree oil. Cook for 6 minutes and move to a wire rack or paper towel lined plate. Repeat until all the fish is cooked making sure not to over crowd the pot while frying.

To plate, spread some guacamole on the crispy wonton wrapper, top with some jicama slaw, spiced garbanzo beans and pickled radishes. Top off with 1 or 2 pieces of fish and garnish with a few more garbanzo beans, pickled radishes, and lime zest. If you like cilantro, you can add some to the slaw and garnish with it as well.