Every time I make these ground turkey meatballs on the FlavCity Instagram stories, you guys ask me for the recipe. So this blog post is long overdue, but it will be worth the wait. Ground turkey thigh meat seasoned perfectly, pan seared, and then finished in a zesty marinara sauce to finish cooking. You could stop there, but why not cover the turkey meatballs in shredded cheese and broil until hot, melted, and bubbly!
This recipe is low carb and keto approved because there are no breadcrumbs in the mixture. Ground turkey thighs are so soft you don't need them. You may notice that this recipe is very similar to my ultimate Italian meatballs and sauce, which you could easily make keto by substituting the breadcrumbs for almond flour.
How To Make Low Carb Turkey Meatballs
To make the best turkey meatballs, add one pound of ground turkey thighs to a large bowl. I like to buy the organic ground turkey thighs from Trader Joe's – they have a great price. Season the turkey with onion and garlic powder, 1 egg, parsley, dried oregano, pepper flakes, salt and grated pecorino or Parmesan cheese. There is no need to use breadcrumbs soaked in milk for this recipe because the texture of ground turkey is so silky, which makes the recipe low carb and keto compliant.
Roll the meatballs in the size of large golf balls and place them in the freezer for 20 minutes so they can firm up. Meanwhile, add you favorite marinara sauce to a pot big enough for the meatballs and bring to a simmer. You can use my red sauce from the Italian meatballs recipe or I like to buy Rao's Marinara from Costco. The price is right and that sauce is by far my favorite!
Pan sear and gently simmer the turkey meatballs in the sauce for 25 minutes and they are ready. You can stop there, but I never know when to do that. So good ahead and add 1 cup of freshly grated mozzarella cheese over the top of the meatballs. Alternatively, you can use any good melting cheese you want such as brie style cheese or tallegio. Brie cheese is what I used for this blog post. The nutty flavor of the brie was divine and the cheese melted so well.
Pop the cheese covered turkey meatballs under the broiler for a few minutes until the cheese is melted and bubbly and they are done!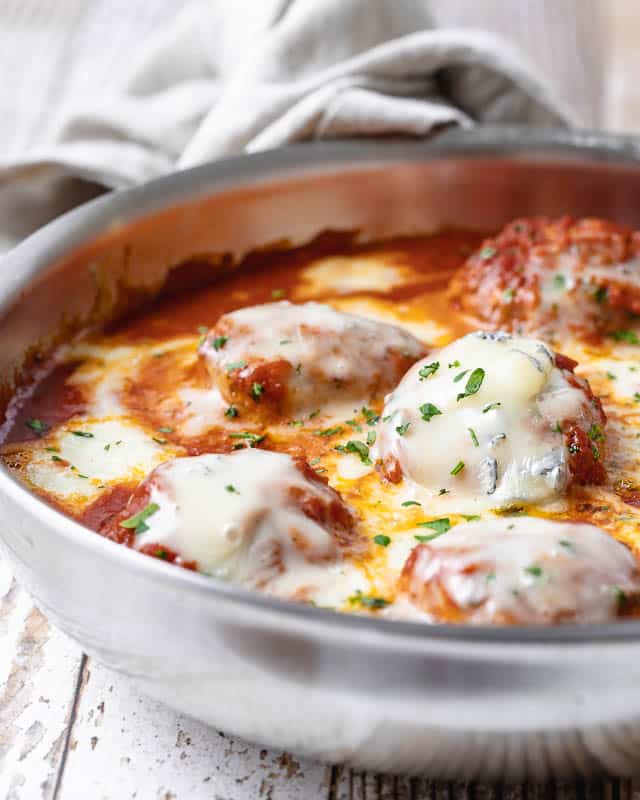 Can I Make Meatballs From Ground Turkey Breast?
Ground turkey breast is very lean and the meatballs will be dry if you use that. It is much better to use ground turkey thighs. The added fat helps prevent the meatballs from drying out and they are still leaner than ground beef.
Can I Freeze Cooked Turkey Meatballs?
Turkey meatballs freeze incredibly well. You can store meatballs in the freezer for 3 months or in the fridge for 5 days. When ready to eat, thaw and reheat in a 350 degree F oven for 10 minutes. It is best to reheat them with some marinara sauce so the meatballs don't dry out.
Make sure to check out my other meatball recipes: