You guys asked for it, so here you go! Healthy lunch keto meal prep  you can bring to work and school. Not everyone can warm up their lunches at work and school, so this low carb lunch recipe can be eaten cold, and it is monster on flavor! This roasted veggie salad could be the tastiest way to get more low carb veggies in your diet, and it does not hurt that they are tossed in a creamy avocado mayo.
Make sure to also check out my easy lunch recipe for chicken salad and keto cloudbread along with my best ever curry chicken salad.
Low Carb Chicken Lunch Meal Prep
Start off this keto lunch recipe with 10 boneless and skinless chicken thighs and dust them with a generous pinch of salt, fennel powder, paprika, and cumin. Allow the chicken to sit for 20 minutes so the marinade can go to work and remember that we never put cold chciken in a hot pan. I like to use a grill pan for this recipe because it makes those cool grill marks on the chicken thighs, but you can use a cast iron pan or non-stick pan.
Cook the chicken thighs for 5 minutes per side and remove from the pan. Chicken thighs has more fat than breasts, making them perfect for the keto diet. Allow the chicken to rest under some tin foil for 5 minutes before eating so the juices can redistribute.
To make the low carb roasted veggie salad, cut the broccoli and cauliflower into large florets and roast in a 450 degree F oven for 30 minutes. I like to roast at a high temperature so the outside of the veggies gets deeply browned and the inside gets so creamy. Whip up the mayo dressing by adding full fat mayo, avocado, lemon juice, garlic, and hot sauce to a food processor and blending until smooth.
Toss the roasted veggies with the dressing and add some chopped almonds, pickles, and celery for crunch. The lemon juice will prevent the mayo dressing from turning brown and oxidizing.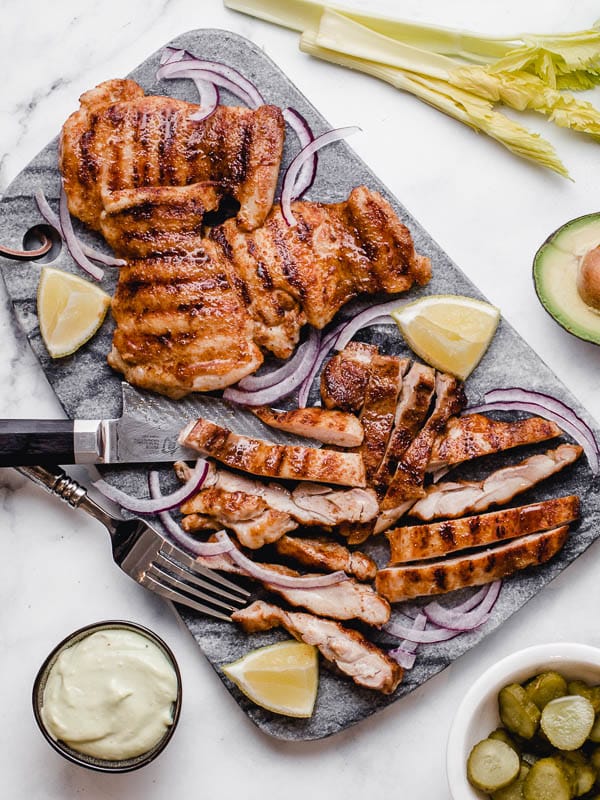 What Are Keto Lunch Recipes I Can Take To Work?
If you don't have access to a microwave at work or school, this meal prep recipe is created to be eaten cold. The low carb veggie salad actually gets better the next day and the chicken can then be sliced and mixed with the salad. Think of this keto recipe like a creative take on chicken salad. You could even pair it with my keto fat bread and make a sandwich.
This lunch recipe will last for 5 days in the fridge. Only the chicken can be frozen for 2-3 months. You can buy a hot logic mini to heat up your meal prep recipes at work. It's really handy and avoids having to use a microwave.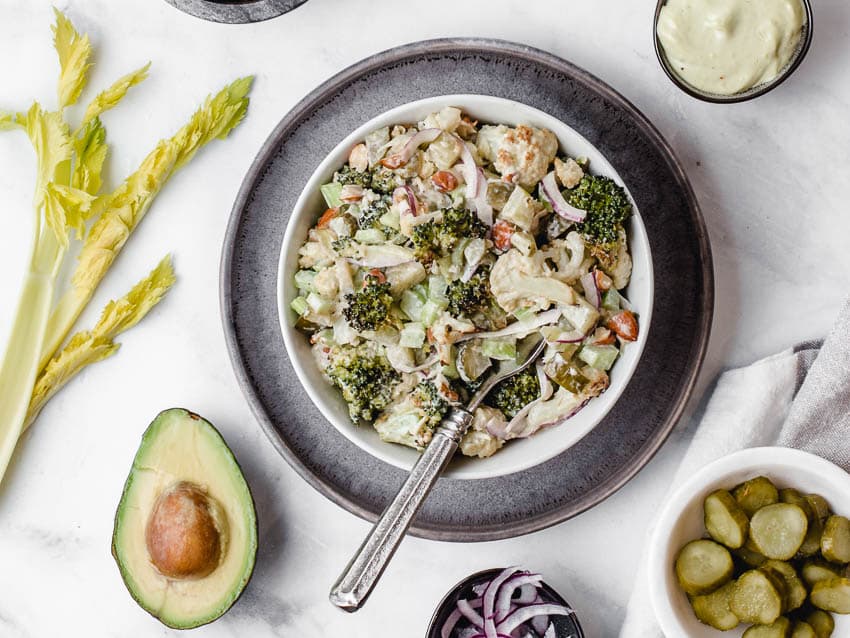 Make sure to check out my other lunch and keto recipes: