Low Calorie Salmon Meal Prep
This low calorie salmon recipe feaures fish cakes with low carb noodles and veggies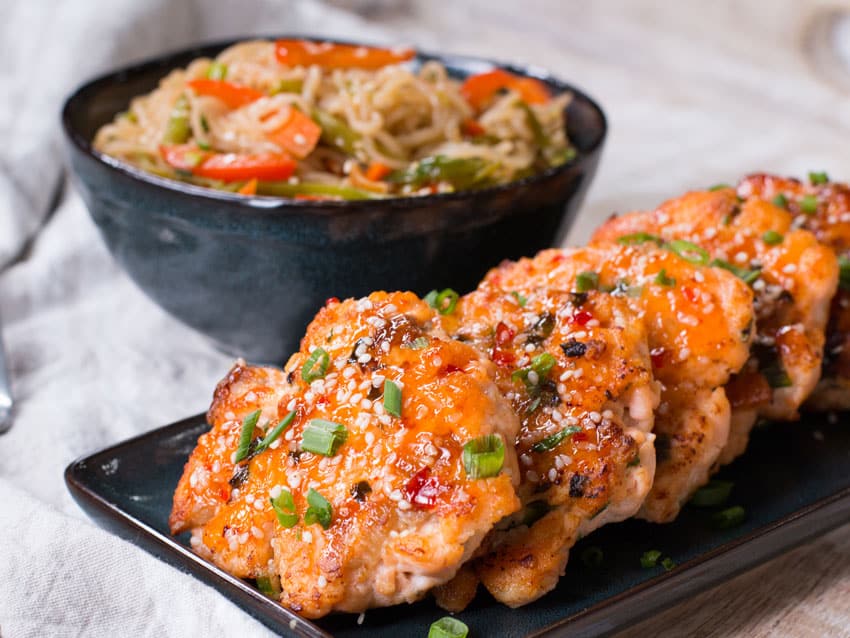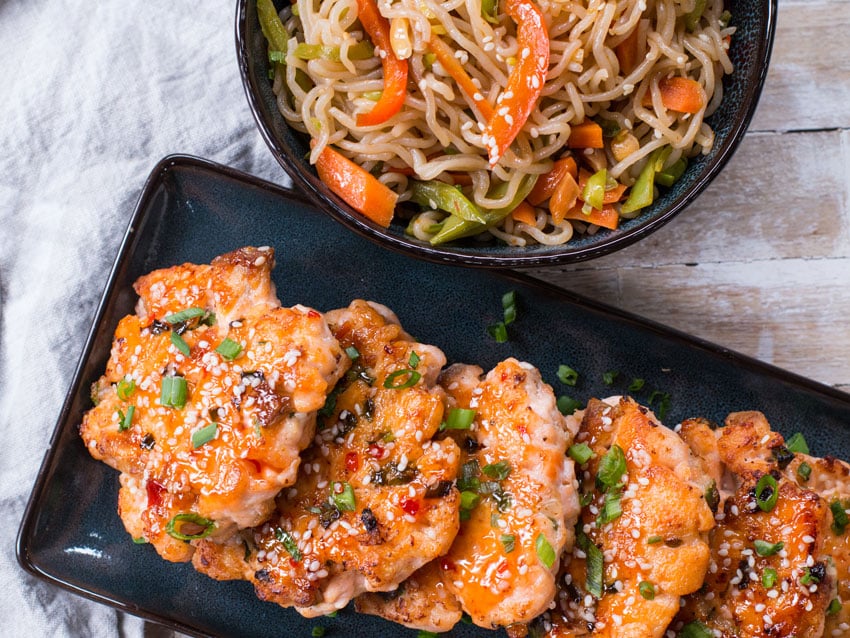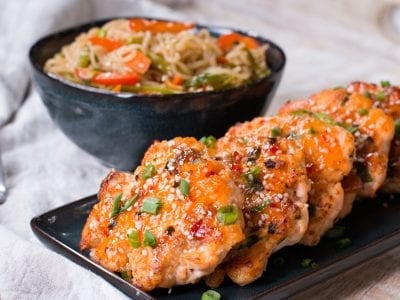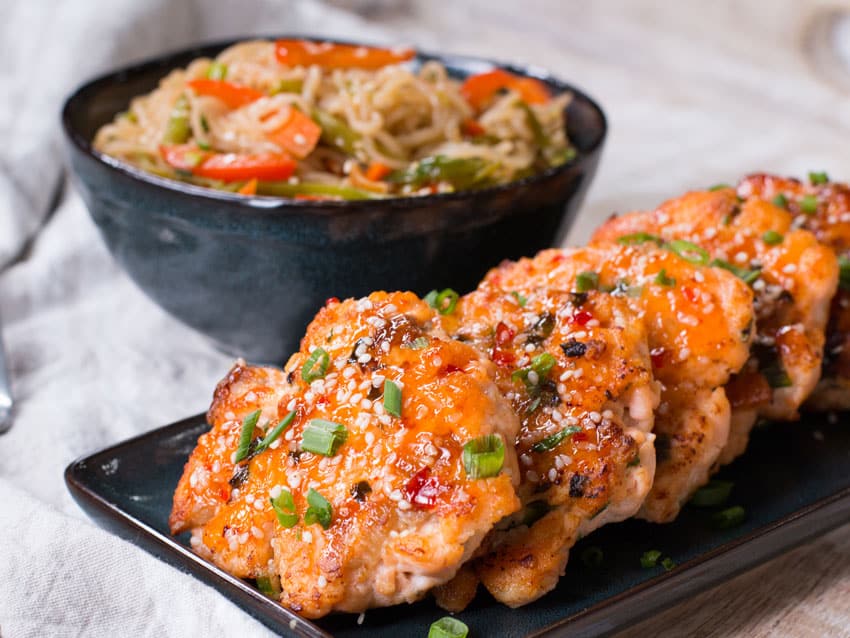 Asian Salmon Cakes & Veggie Noodle Stir Fry
Print
Ingredients
For the salmon:
2

pounds

atlantic salmon

skin removed

3

cloves

garlic

finely grated or chopped

1.5

teaspoons

finely grated ginger

3

tablespoons

green onions

sliced

3

tablespoons

plus 1 teaspoon of sweet chili sauce

1

teaspoons

sesame seed

toasted if desired

Kosher salt

Fresh cracked pepper

Grapeseed or veggie oil
For the stir fry:
2

pounds

of shirataki noodles

1

red bell pepper

sliced

2

carrots

peeled & diced

5

ounces

sugar snap peas

sliced on the angle

1-2

teaspoons

sriracha or chili sauce

2-3

tablespoons

low sodium soy sauce or coconut amino acid

1

teaspoon

toasted sesame seed oil

2

teaspoons

rice wine vinegar or 1 lime

¼

cup

green onions

sliced

2

tablespoons

unsalted peanuts

chopped

Grapeseed or veggie oil
Instructions
Cook's notes: When buying salmon, ask the fish person to remove the skin for you, they will be more than happy to do it.

I buy "pasta zero" by Naysoya shirataki noodles at whole foods or walmart. You may have to order on walmart's website and chose free in store pick up.

Begin cooking:

On a plastic cutting board, cut the salmon into large cubes and then chop until the texture is fine, but still has some chunks of fish here and there. Transfer the salmon to a large bowl and add the grated garlic and ginger, green onions, 1 teaspoon salt, and a few cracks of pepper. Use your hands to thoroughly combine the mixture and then place in the fridge for at least 10 minutes so the mixture can chill.

Meanwhile, drain the noodles from their water and add them to a large non-stick pan set over medium high heat. Cook for about 10 minutes, or until most of the moisture is gone and the bottom of the pan looks white and cakey, stirring often. Spill the noodles on a cutting board and slice them a few times so they are not tangled together, move noodles to a bowl. Pre-heat the same pan over medium-high heat with 2 teaspoons of oil for 1 minute. Add the red peppers, carrots, snap peas, and cook for 5 minutes, stirring often. Add the noodles back to the pan along with the sriracha sauce, soy/aminos, sesame oil, vinegar or juice of half a lime, and stir well. Cook for 1 minute and then check for seasoning, you will likely need more of the sauces/juices you just added, so add enough to taste. Some people like it spicy, others like it salty, totally your choice. Cook for 2 more minutes, stirring often and turn off the heat. Add the green onions and peanuts, stir to combine. Remove noodles and set aside.

Using the same pan, pre-heat over medium-high heat with ½ teaspoon oil for just over 1 minute. Grab the salmon mixture from the fridge and use your hands to form a large golf ball size shape. Place in the pan and use your hand to carefully pat the ball down into a thick patty. Place a total of 5 patties in the pan and use a flat spatula to press down and make the patties a little flatter. Cook for 4 minutes or until the first side is golden brown, flip and cook another 3 minutes and then turn the heat down to low. Add 1 teaspoon of sweet chili sauce to the top of each patty and smooth it out with a spoon. Only cook another 1 minute then remove from the pan and sprinkle over some sesame seeds. Raise the heat back to medium-high and repeat with the rest of the salmon mixture, should make 10 patties total.

Serve the fish cakes with some noodles and enjoy! The noodles will keep in the fridge for 5 days, but can't be frozen. The salmon will keep in the fridge for 3 days, or can be frozen for 2 months. The best way to reheat the noodles is in a hot pan or in the oven with the container wrapped in tin foil. The salmon can be reheated in a tin foiled line container in a 400 F oven for 10-12 minutes, if microwaving, cover the container with a wet paper towel and make sure not to over heat or the salmon will get dry.
Recipe Notes
Macros:
388 calories per meal
17 grams of fat per meal
16.2 grams of carbs per meal
39.2 grams of protein per meal
3.6 grams of fiber per meal