This is hands down, the best curry chicken salad recipe ever! Oven roasted chicken thighs tossed in curried mayo, you guys gotta try this recipe for curry chicken salad. It's served with Brazilian pao de quejo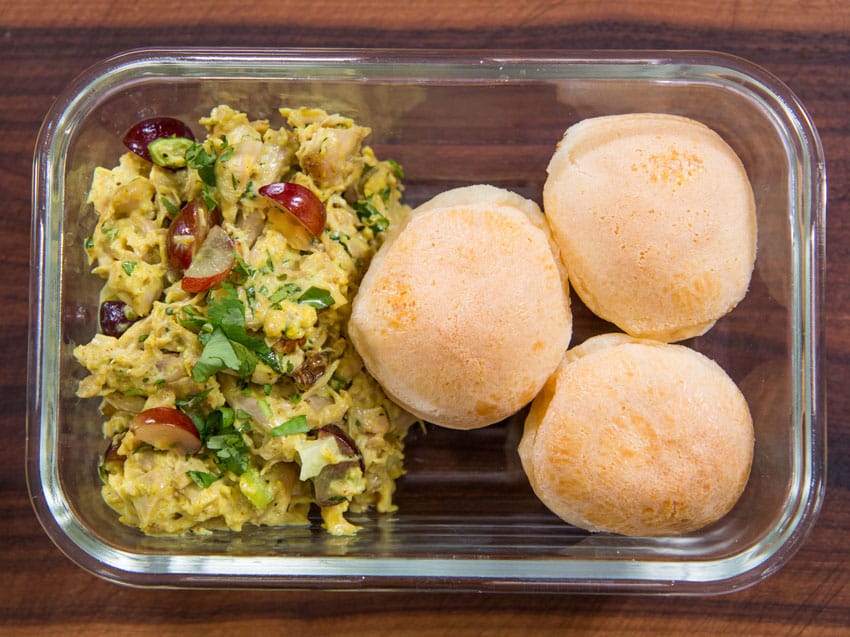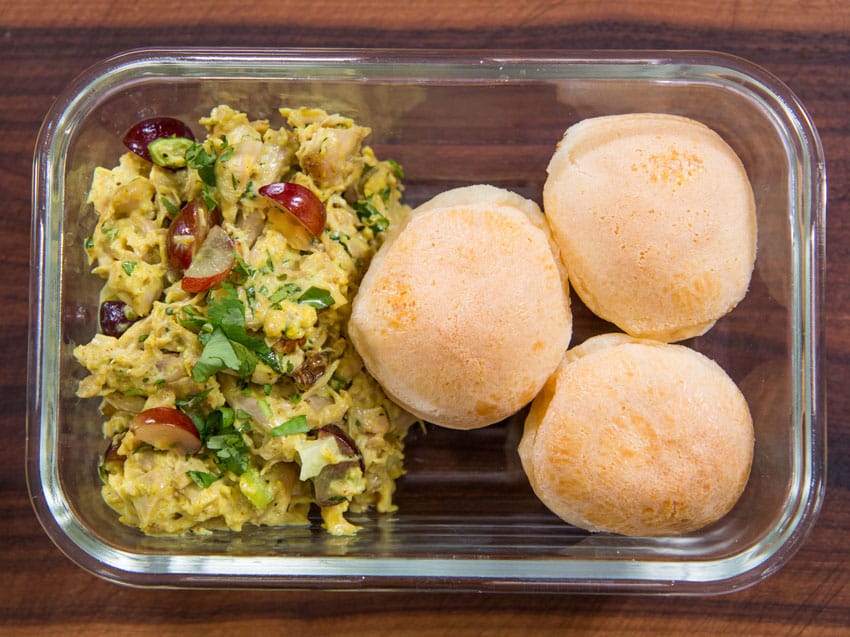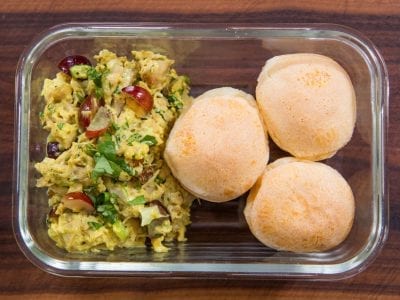 Curry Chicken Salad & Gluten Free Cheese Rolls
Print
Ingredients
For the curry chicken salad:
9

chicken thighs

bone-in & skin on

¼

cup

green onions

sliced

2

tablespoons

fresh Italian parsley

chopped

2

tablespoons

walnuts

chopped & roasted(optional)

¼

cup

of red or green grapes

sliced

¼

cup

celery

sliced

Juice of half a lemon

Kosher salt

Freshly cracked pepper
For the curry mayo:
½

a medium size red onion

diced

2

cloves

garlic

minced

1.5

teaspoons

freshly grated ginger or ½ teaspoon ginger powder

2

teaspoons

yellow curry powder

¼

cup

low sodium chicken stock/broth

½

cup

low fat mayo

Zest of 1/3 a lime

Juice of half a lime

1

tablespoon

agave nectar or honey

Kosher salt

Freshly cracked pepper

Olive oil
For the Brazilian cheese rolls:
1

egg

1

cup

of whole milk

1/2

cup

veggie oil

5

ounces

or just over 1 cup of grated Parmesan or pecorino cheese

1/4

teaspoon

baking powder

1/2

teaspoon

salt

2

cups

of tapioca flour/starch
Instructions
For the chicken salad, pre-heat oven to 400 degrees F. Allow the chicken thighs to come to room temperature for 20 minutes and season both sides with a generous pinch of salt and a few cracks of pepper. Place the chicken, skin side up, on a sheet tray a cook in the oven for 1 hour.

Meanwhile, make the curry mayo by pre-heating a medium size non-stick pan over medium heat along with 2 teaspoons of olive oil. Add the chopped onions along with ¼ teaspoon of salt and a couple cracks of pepper, cook for 5 minutes, stirring often. Peel the skin off the fresh ginger using a spoon and then grate it on your microplane zester until you have 1.5 teaspoons of it. Add the ginger and garlic to the onions and cook for 2 minutes. Add the curry powder stir well. Allow the curry powder to cook for 2 minutes so the essential oils can bloom and all the flavor releases. Add the chicken stock/broth and cook for 2-3 minutes, or until the mixture has thickened up. Take off the heat and let it cool down for 5-10 minutes.

Add the mayo to a food processor or blender along with lime zest, lime juice, agave nectar, ¼ teaspoon salt, and a couple cracks of pepper. Add the slightly cooled down curry mixture to the mayo and blend on high until everything is well incorporated. Check for seasoning, you may need more agave nectar or lime juice.

When the chicken is ready, allow it to cool for 5-10 minutes then remove the chicken skin and throw it away. Use two forks to shred all the meat off the bones and then chop everything into bite sizes pieces. Transfer the chicken to large bowl and pour over enough curry mayo to thoroughly coat, mix well. Add more curry mayo if needed. Add the sliced green onions and next 5 ingredients, mix well and check for seasoning. You may need a little more lemon juice to make the flavors pop. Chicken salad will keep in the fridge for 5 days or can be frozen for 2-3 months.

For the cheese rolls, pre-heat oven to 400 degrees F. Add the first 4 ingredients to a blender, and mix on high for 5-10 seconds. With the blender off, add the baking powder and salt. Turn the blender on medium speed and add the tapioca flour one large spoonful at a time. Once all the flour is added, place the lid on the blender and blend at high speed for 20 seconds. Carefully pour the batter into a mini muffin tin that has been sprayed with non-stick spray, and fill almost all the way to the top. Bake for 20-24 minutes, or until golden brown on top. Store cheese rolls in a zip-top bad on the kitchen counter for up to 5 days.
Recipe Notes
Macros for the Chicken Salad:
531 calories per serving of chicken
32.6 grams of fat per serving of chicken
36.4 grams of protein per serving of chicken
5.1 grams of carbs per serving of chicken
Macros for ONE of the Brazilian Cheese Rolls, makes 24:
140 calories per cheese roll
6 grams of fat per cheese roll
9.3 grams of carbs per cheese roll
2.1 grams of protein per cheese roll