Meal Prep with Shrimp Kale Salad and Farro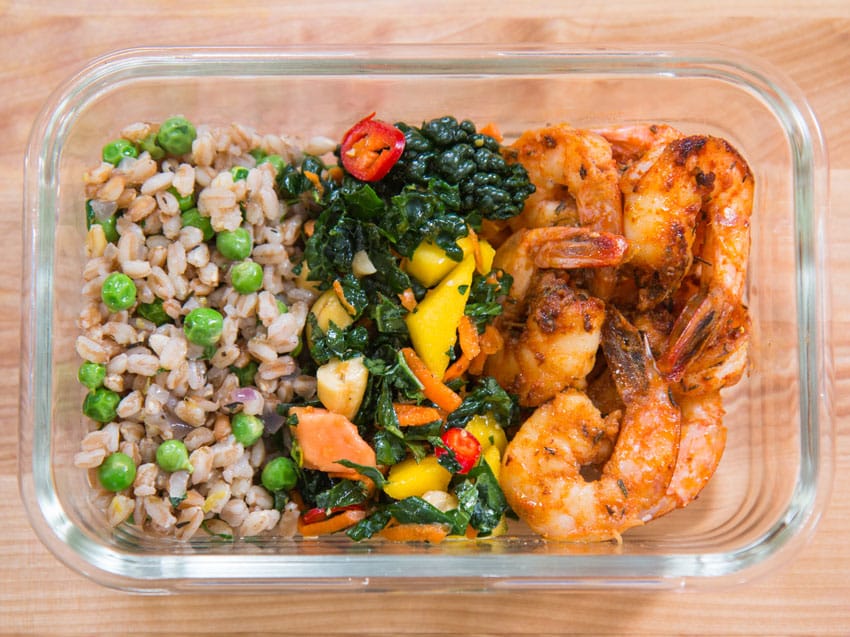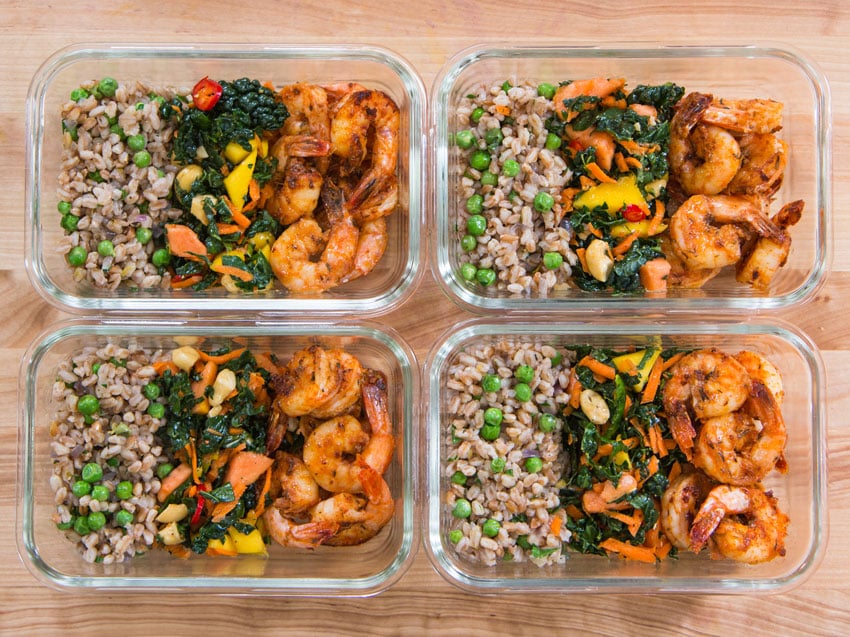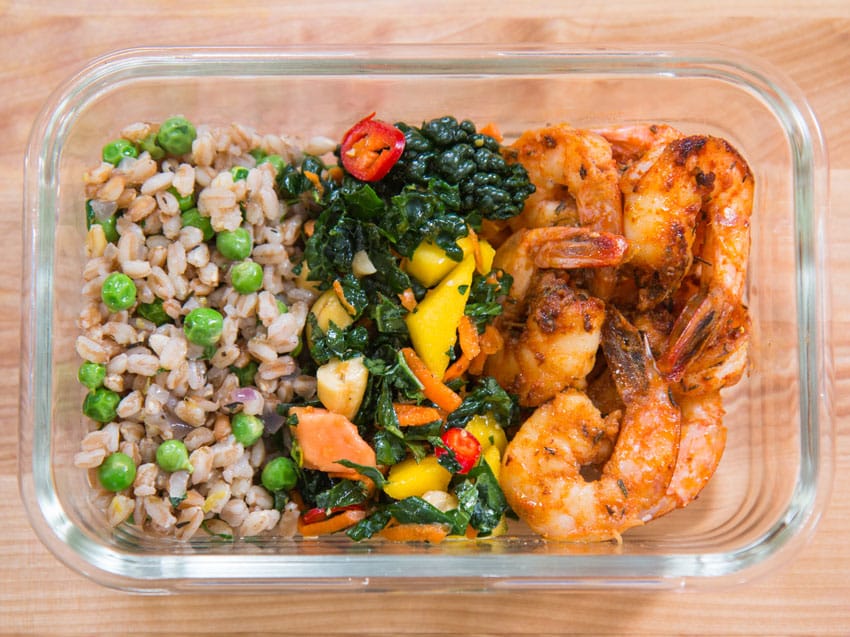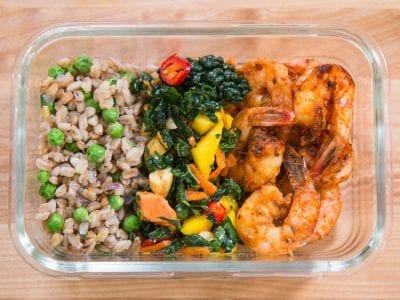 Crusty Shrimp with Farro Risotto & Fruity Kale Salad
Print
Ingredients
For the shrimp:
1

pound

of raw shrimp

shelled & deveined

1

teaspoon

onion powder

1

teaspoon

garlic powder

1.5

teaspoons

smoked paprika

1/2

teaspoon

dried thyme

Veggie oil

Kosher salt

Freshly cracked black pepper
For the risotto:
1

cup

of farro

1/2

an onion

diced

1/2

teaspoon

dried thyme or oregano

3

cloves

garlic

minced

2-3

cups

low sodium chicken broth/stock

3/4

cup

fresh or frozen peas

1-2

tablespoons

fresh Italian flat leaf parsley

chopped

Zest of one lemon

Olive oil

Kosher salt

Freshly cracked black pepper
For the salad:
1

bunch of lacinato/black kale

thinly sliced

½

cup

mango

roughly cubed

1/2

cup

papaya

cubed

1

large carrot

peeled & grated

2

tablespoons

cashews or unsalted peanuts

chopped

2

tablespoons

of fresh mint

finely chopped

1

red chili pepper or jalepeno

thinly sliced

Juice of half a lime
For the salad dressing:
Juice of 1 lemon

1

teaspoon

whole grain mustard or Dijon

2

teaspoons

maple syrup

agave nectar, or honey

2-3

tablespoons

extra virgin olive oil

1/4

teaspoon

Kosher salt

Couple of black pepper
Instructions
Cook's notes: You can also make this risotto with barely and follow the same instructions. It's best to heat the chicken broth before you add it to the farro, but if you want to be a lazy butt like me, don't bother.

I used "quick cooking" farro, meaning it's par cooked. If you have raw farro, it may take 25-30 minutes to cook it to the point where it's ready for the pan.

Mangos can be tricky to cut, watch the video to see a great hack that I use.

It's best to buy thawed shrimp, not frozen. I find that "20-25" are a nice size, meaning there are 20-25 shrimp in one pound.

I like to slice the kale thin or chop it pretty fine for the salad, that makes it easier to eat.

Begin cooking:

For the farro risotto, bring a medium size pot of water to a boil and add 1 teaspoon of salt. Add the farro and boil until tender, but still undercooked and a bit hard, about 10-12 minutes. Meanwhile, pre-heat a large pan over medium heat along with 2 teaspoons of olive oil. Add the onions, thyme, 1/2 teaspoon of salt, a couple cracks of pepper, and cook for 7 minutes. Add the garlic and cook another 5 minutes, stirring once in a while. When the farro is ready, drain and add it directly to the pan with the onions. Cook for 2-3 minutes and then add just enough chicken broth to barely cover the farro along with 1/4 teaspoon of salt. Stir frequently, and add more chicken broth when almost all of the first batch has evaporated. Add the peas and keep repeating this process with the chicken broth until the farro is cooked though, about 10-15 minutes. Turn the heat off and add the lemon zest and parsley. Check for seasoning, you will probably need a pinch more of salt and maybe a little more lemon juice, you want the flavor to be bright. Remove from heat and set aside.

For the salad, once you chop the mango, place it in a small bowl and squeeze over the juice of a half a lime, let sit for 10 minutes. Meanwhile, add all of the remaining salad ingredients to a large bowl, then add the mango. Make the dressing in a small bowl by adding everything but the olive oil, whisk well. Add the olive oil and constantly whisk until the dressing comes together and thickens up. Check for seasoning, you may need a little more agave nectar. Store the dressing separately from the salad in the fridge, don't dress the salad until the morning you want to eat it, or ideally right before. Before dressing the salad, add a pinch of salt and pepper to the kale mixture to season it and then dress the salad.

Keep the shrimp in the fridge until right before you want to cook them. Pre-heat a large cast iron pan over medium-high heat with 2 teaspoons of veggie oil for 2 minutes. Meanwhile, season the shrimp with 1 teaspoon of veggie oil, the onion powder, garlic powder, smoked paprika, thyme, 3/4 teaspoon of salt, and a couple cracks of pepper. Mix well and add just enough shrimp in one even layer to the pan, making sure not to overcrowd, cook for 2 minutes on the first side. Make sure not to touch the shrimp once they hit the pan, otherwise they won't great crusty. Flip, and cook another 2 minutes and immediately remove shrimp from the pan before they overcook. Add the second batch of shrimp to the pan, and repeat.

The shrimp will keep in the fridge for 3 days, so freeze some if you are not going to eat by then. The farro risotto will keep in the fridge for 5 days, and can be frozen. The salad can't be frozen, but will last undressed in the fridge for 5 days.
Recipe Notes
Macros:
414 calories per meal
16.4 grams of fat per meal
40.6 grams of carbs per meal
27.4 grams of protein per meal
4.4 grams of fiber per meal