Stuffed Cabbage with Pork & Rice
Stuffed cabbage leaves with pork, rice, and a golden lager sauce.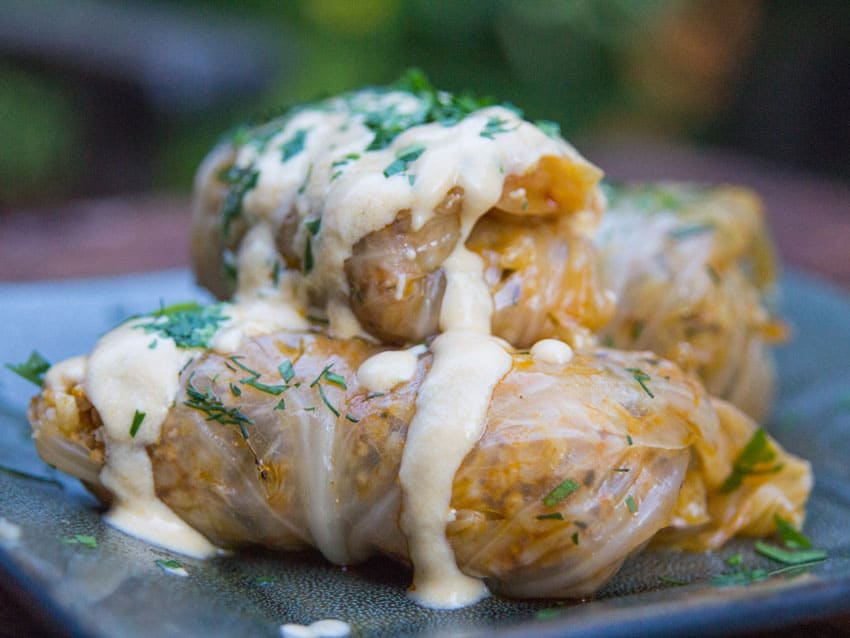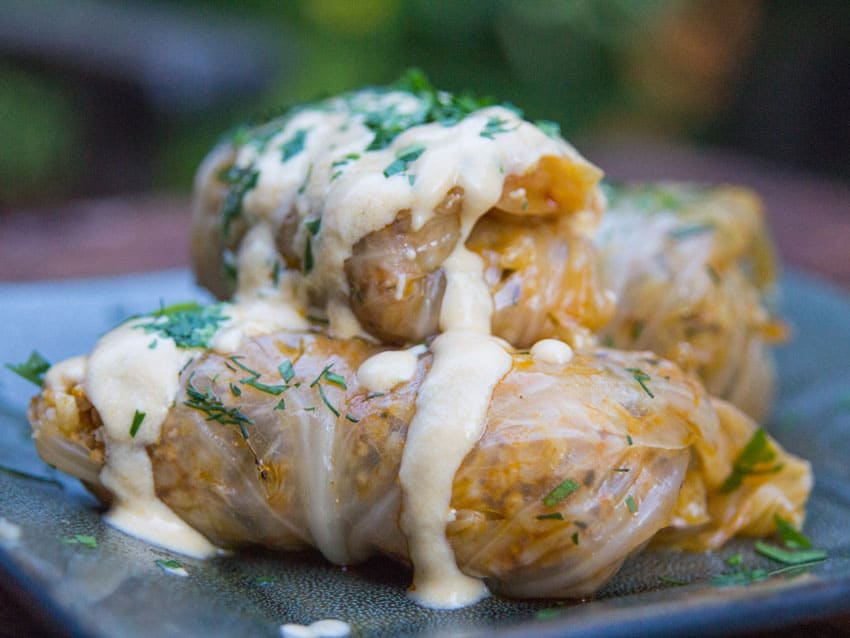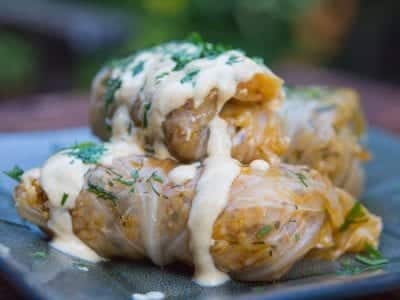 Stuffed Cabbage with Pork & Rice
Print
Ingredients
For the cabbage:
1

jar pickled cabbage leaves

1

pound

ground pork

1

medium sized sweet onion

chopped

1

Tbsp

summer savory

1

cup

of uncooked rice

1

Tbsp

sweet paprika

1

Tbsp

chopped fresh parsley

1

Tbsp

chopped fresh dill

16

oz

bottle of German style beer

hefeweizen or any light color beer

2

cups

of low sodium vegetable stock

chicken of beef stock works also
For the golden lager sauce:
2

Tbsp

unsalted butter

2

Tbsp

all purpose flour

1

cup

of greek style yogurt

1

egg

kosher salt & fresh cracked pepper

extra virgin olive ol

EVOO
Instructions
Pre-heat a pan over medium-high heat and add1 Tbsp of EVOO. Add the ground pork and break it up in little pieces with a wooden spoon. Cook for 5 minutes and add the onion and a good pinch of salt and pepper. Cook for 8-10 minutes, or until most of the moisture from the onion has evaporated. Add the rice, savory, and paprika, cook for 1 minute and turn the heat off. Taste for season and add more S&P if needed.

Line the bottom of a heavy bottomed pot, or cast iron dutch oven with 2-3 large cabbage leaves from the jar. Using 2-3 Tbsp of pork filling, stuff the larger sized leaves with the filling, and wrap like you are making an egg roll(watch video for technique). Place the stuffed leaves seam side down in the pot, and pack them snug right next to each other. If you have enough, you can begin on a second layer of stacked leaves. Place a small plate on top of the stuffed leaves and pour in the beer and stock and season with 1 tablespoon of salt, the plate will prevent the rolls from floating. Bring to a boil, reduce to a simmer and put the lid on the pot, cook for 1 hour.

After 1 hour, take the cabbage rolls out of the cooking liquid quickly, otherwise most of the liquid will get reabsorbed and you won't have anything to make the sauce with. In a small sauce pan over medium heat, make a roux by melting the butter and whisking in the flour. Whisk constantly and cook for 3-5 minutes until the mixture looks golden brown in color. Add 2 cups of the reserved cooking liquid to the pan, if you don't have that much left, add more veggie stock. Whisk constantly to make sure any lumps don't occur, and season with a nice pinch of salt and pepper. Cook for 15 minutes, or until the consistency is that of a loose gravy and take off the heat. Meanwhile, in a separate bowl, mix the yogurt and egg thoroughly, and add it to the beer sauce and cook over medium-low heat for 5 more minutes stirring constantly.

To plate, spoon some sauce over the cabbage rolls and garnish with more dill and parsley, and don't forget to pour a beer for yourself!
Recipe Notes
Cook's Note: You can find pickled cabbage leaves at eastern European stores or online.