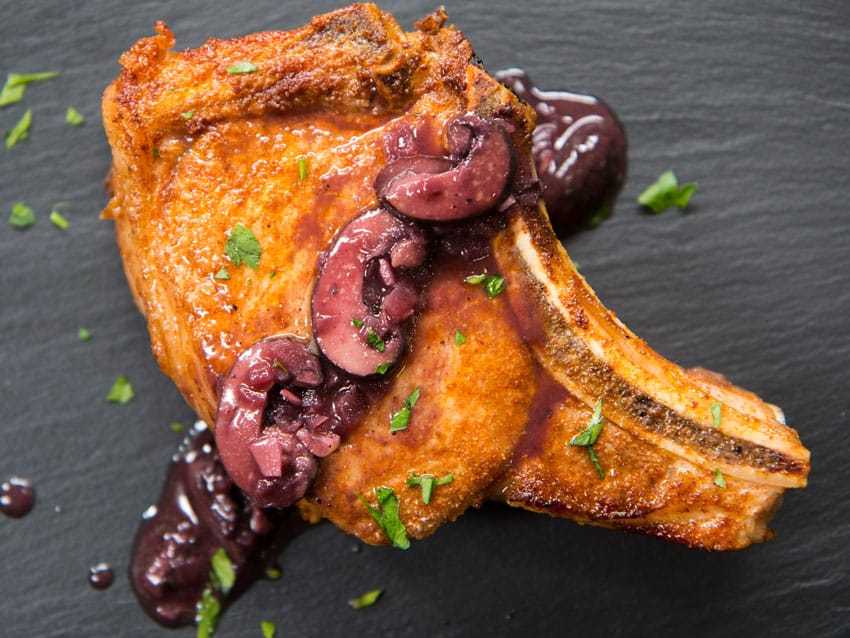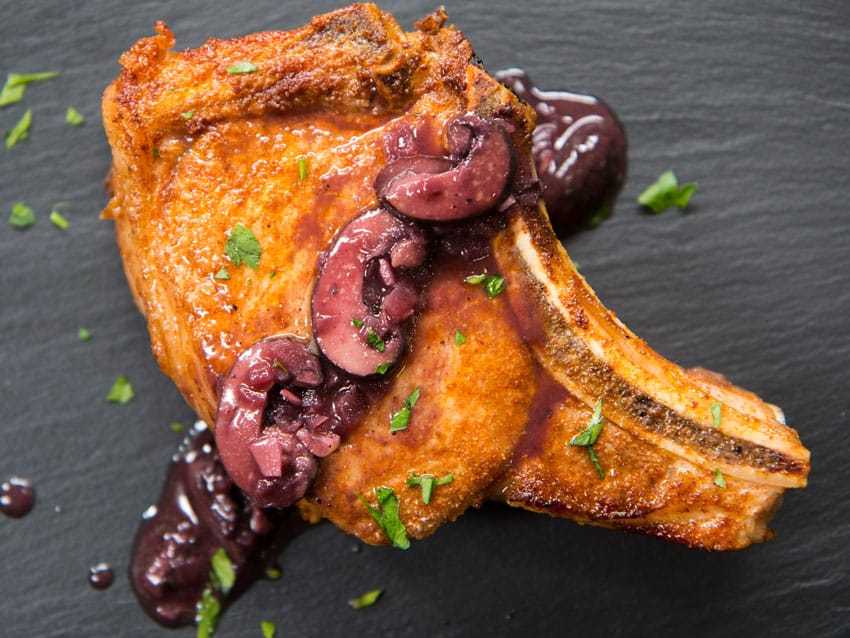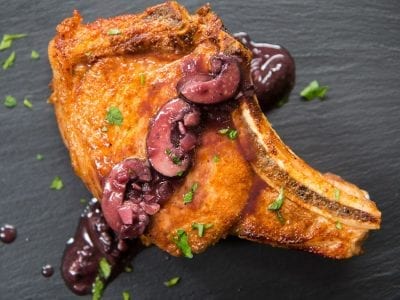 Smoky Spiced Pork Chops
Print
Ingredients
For the pork chops:
2

thick cut

bone-in ribeye pork chops

1.5

teaspoons

smoked paprika

1.5

teaspoons

ground cumin

½

teaspoon

ground coriander

¼

teaspoon

cinnamon

1

teaspoon

kosher Salt

1

tablespoon

vegetable oil
For the wine sauce:
8

ounces

cremini mushrooms

stems removed and finely sliced

¼

cup

red onions

finely chopped

½

teaspoon

dried thyme

2

cloves

garlic

minced

1/2

cup

of red wine

like merlot or pinot noir

2/3

cup

low sodium beef broth

1.5

tablespoons

unsalted butter

½

tablespoon

all-purpose flour

½

teaspoon

kosher salt

Few cracks of fresh black pepper
Instructions
Make the spice rub for the pork chops by combining the paprika and next 3 ingredients in a small bowl, mix well. Season the pork chops with the spice rub and salt on both sides. Let sit at room temperature for 20 minutes so the rub can marinate down into the pork chops.

Meanwhile, pre-heat a medium size steel or cast iron pan over medium heat with 1 tablespoon of butter. Add the mushrooms, onions, thyme, and cook for 15 minutes, stirring often. Add the garlic, and cook another 3-5 minutes, or until the mushrooms have wilted down considerably. Add the wine and cook until almost all of it has evaporated, about 2-3 minutes. Add the beef broth, lower the heat to medium-low, and cook until the liquid has reduced by one-third, about 5-7 minutes. Take the remaining ½ tablespoon of butter and mash it together with the flour using a fork, this will help thicken the sauce. Add the flour-butter mixture to the pan and stir well. Cook for 3-5 minutes until the wine thickens up to a sauce-like consistency.

To cook the pork chops, pre-heat oven to 400 degrees F. Pre-heat a cast iron pan over medium-high heat for 3 minutes along with 1 tablespoon of veggie oil. Sear the pork chops on the first side for 2 minutes, making sure not to touch them once they go in the pan. Flip, and immediately put the pan with the chops in the oven for 10-12 minutes, or until the internal temperature reaches 145 degrees F. The National Pork Board recommends to cook pork chops, loin roasts, and pork tenderloin to an internal temperature between 145 F (medium rare) and 160 F (medium), followed by a three minute rest.

Remove from oven and let the chops rest on a clean plate for 5 minutes so the juices can re-distribute. Serve chops with the sauce and enjoy!