I thought it would be fun to take some of the knowledge that I teach from the grocery store and make the healthiest grilled cheese your kitchen has even seen! In additional to actually being healthy, this grilled cheese is crispy, loaded with flavor, and topped with a cheese crown that will make your kids go wild. I think my take on the classic grilled cheese will be your new favorite recipe.
The key to making a healthy grilled cheese is using sprouted bread and 100% grass-fed cheese. These two products are best in class and offer far more nutrition then any other bread or cheese. When you are ready for more healthy takes on comfort food, check out my low carb double smashburger on cloud bread buns.
How To Make The Best Grilled Cheese
To make the most healthy grilled cheese at home, start off by grating one block on 100% grass-fed cheddar cheese on the largest setting of your box grater. For this recipe I used organic valley grass-fed, organic and raw cheese. This is the best cheese you can find at the store, but pricey at $18 per pound. You can also find grass-fed cheese at ALDI and Trader Joe's.
Add a generous amount of cheddar cheese to one slice of the sprouted bread along with a pinch of unrefined salt, a couple cracks of pepper, and the top slice of sprouted bread. Drizzle in enough avocado oil or grass-fed ghee to just cover the bottom of a non-stick pan and preheat just below medium heat. Place the sandwich in the pan and cook until deep golden brown, about 4 minutes, and flip and cook until the other side is deep golden and remove from pan.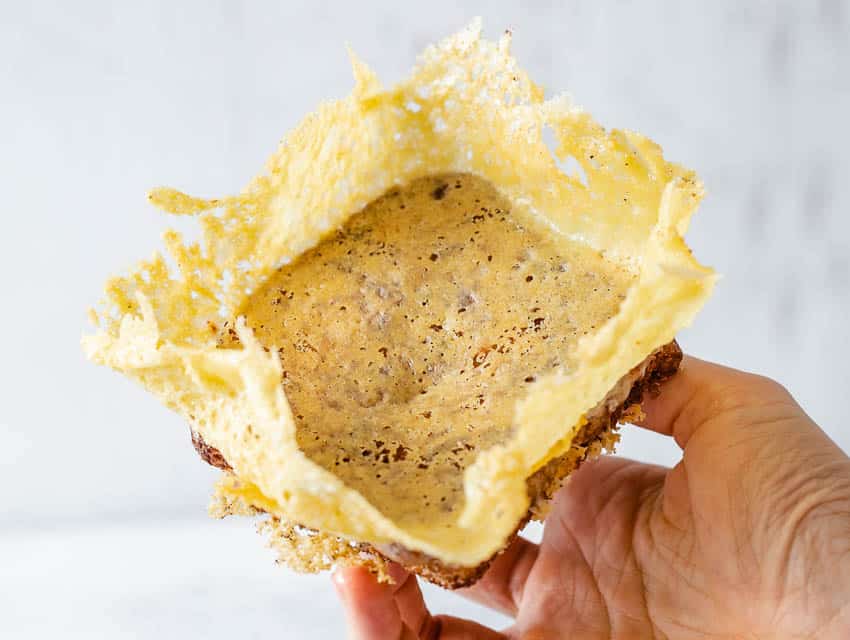 To make the glorious cheese crown, add 1/2 cup of cheddar cheese to the pan, add the sandwich to the middle of the cheese and press down. Allow to cook for 2 minutes or until the edges of the cheese have some color. Use a silicone spatula to lift the sandwich from the pan and hold for 30 seconds so the cheese crown can form. Flip the grilled cheese, slice, and enjoy.
What's The Best Cheese For Grilled Cheese?
The best cheese for making a grilled cheese is a soft and melty cheese, like mozzarella or cheddar. To make the healthiest grilled cheese, I highly advise buying 100% grass-fed cheddar cheese. If you can't find grass-fed cheese, you can get organic cheese, and at least the cows are not eating GMO grains. The nutritional profile of organic and better yet, grass-fed cheese, is superior to conventional dairy cheese and it's much better for the environment.
The cheese I used for this grilled cheese recipe was organic valley 100% grass-fed, organic, and raw cheese. Always buy block cheese and grate it yourself because the pre-grated cheese is covered with anti-caking agents and does not melt as well or taste as good.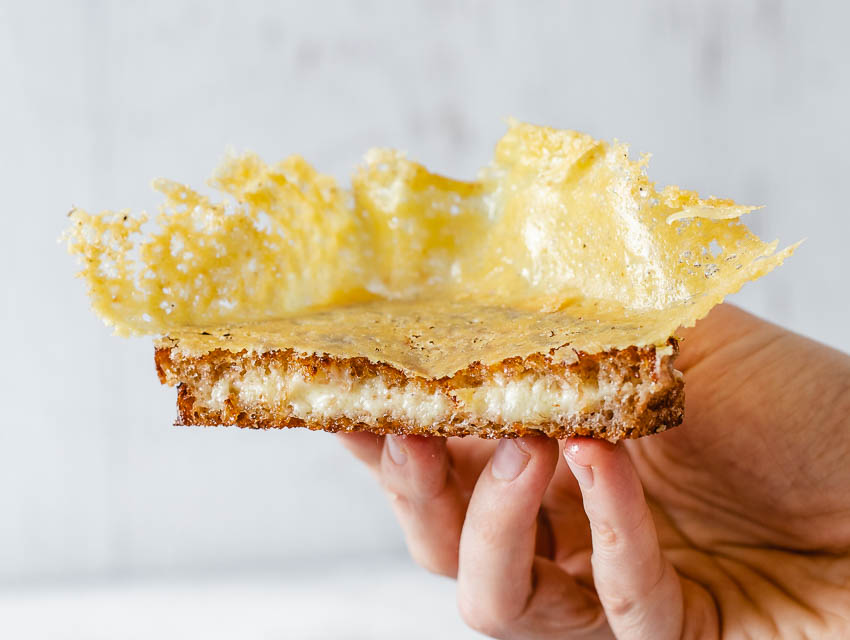 What's The Best Sprouted Bread To Buy?
Organic and sprouted bread is by far the most healthy and nutrient dense bread you can buy if you are looking for wheat bread. Sprouted grains are easier for your body to digest and you derive more nutrition form grains that have been sprouted. Sprouted bread tend to be hearty and very dense, which does not make for the best grilled cheese, but I found one that is perfect.
Silver Hills makes organic sprouted bread, and their little big bread the the closest thing to soft white bread on the market. It's exactly what I used for this recipe and you won't even be able to tell that it's healthy or sprouted.
Make sure to check out my other comfort food recipes: