Aussie Beef Tenderloin Roast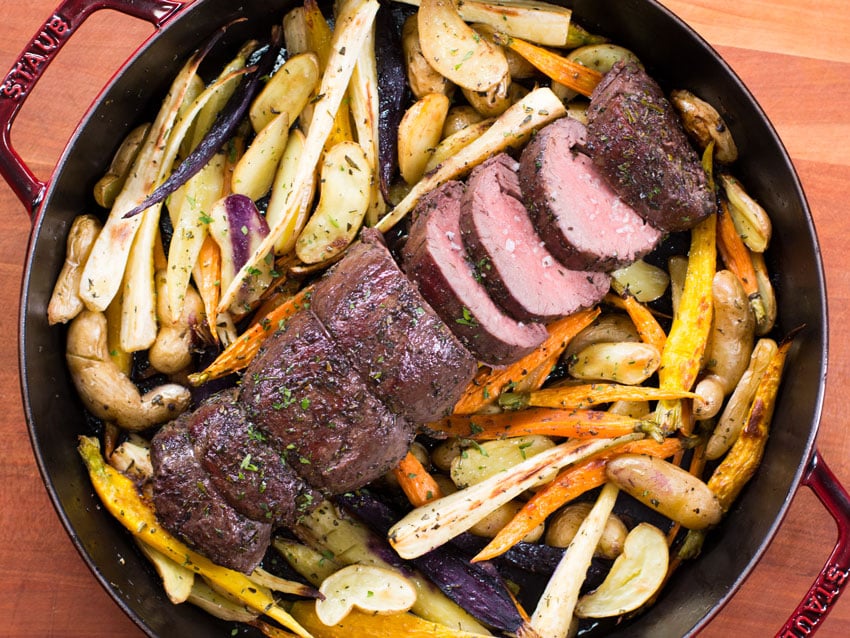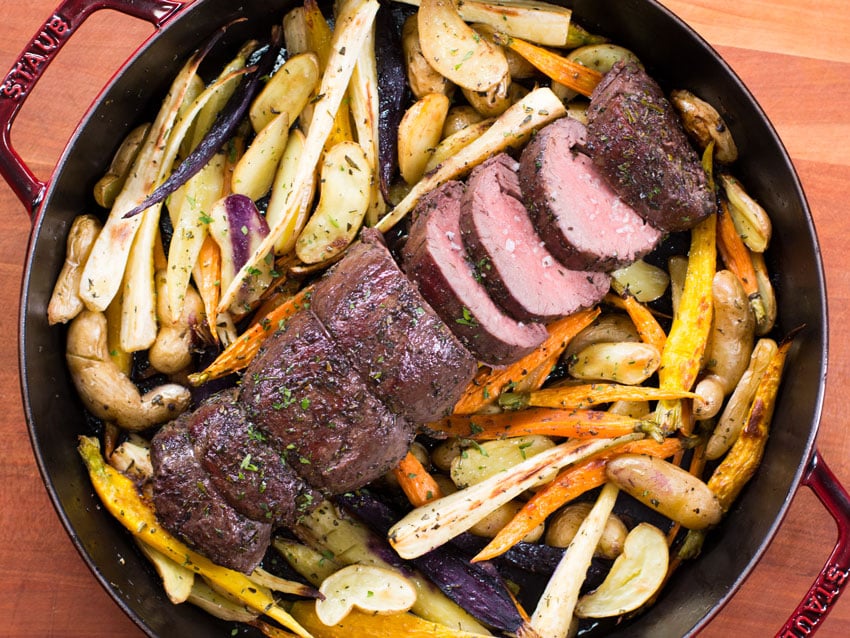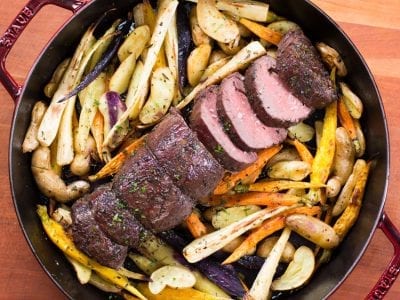 Aussie Grassfed Beef Tenderloin Roast
Grassfed Aussie beef tenderloin recipe with roast veggie.

Print
Ingredients
1

Aussie Grassfed Beef tenderloin

1-2

pounds

fingerling potatoes

halved

1-2

pounds

rainbow carrots

peeled & halved

1-2

pounds

parsnips

peeled & halved

¼

cup

finely chopped rosemary and thyme

Grapeseed or veggie oil

Kosher salt

Fresh cracked pepper

Butcher's twine
Instructions
Pre-heat oven to 400 degrees F and let the beef rest at room temperature for 30-60 minutes. Use the twine and tie 5-6 knots on the beef, this will hold the beef in shape and help it cook more evenly. Rub 1 teaspoon of oil all over the beef along with a generous pinch of salt and some pepper. Add a little more salt than you think, as it will really bring out the beefy flavor. Add all but 1 tablespoon of the chopped herbs to the beef and use your hands to rub it all around.

Place the prepped veggies in a roasting pan or large pan and season with 1 tablespoon of oil, 1 teaspoon of salt, a few cracks of pepper, the remaining herbs, and mix well using your hands. Place the beef directly on top of the veggies and roast in the oven for 30 minutes. Place a digital probe thermometer in the beef and continue cooking until the internal temperature reaches 135 F for medium(125 for medium rare), about 15 minutes. Take the beef out of the oven and check the veggies, they may need some more color, so turn the broiler on high and cook the veggies for 4-6 minutes, or until well browned.

You can serve the meat as is or you can reverse sear to make it nice and crusty. Pre-heat a large cast iron pan just under high heat with a shot of oil. Wait 2 minutes for the pan to heat and then place the beef in the pan and sear for 1-2 minutes on each side, or until nice and crusty. Allow the beef to rest for 10-20 minutes before carving so the juices can re-distribute. Serve the beef with the veggies and enjoy!