Clean and tasty meal prep for the week with this chicken and wild rice salad recipe. This superfood recipe is full of flavor and perfect for meal prep.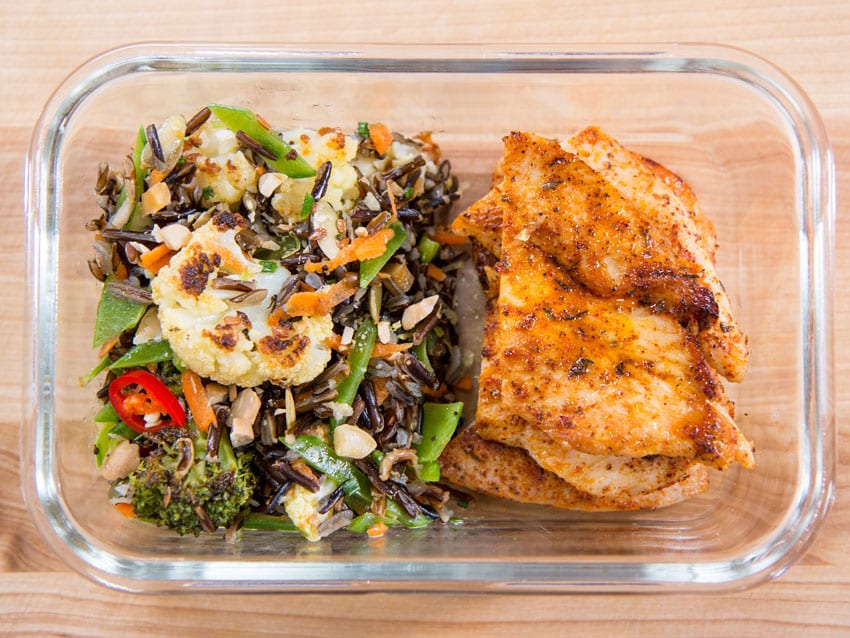 Superfood Chicken Meal Prep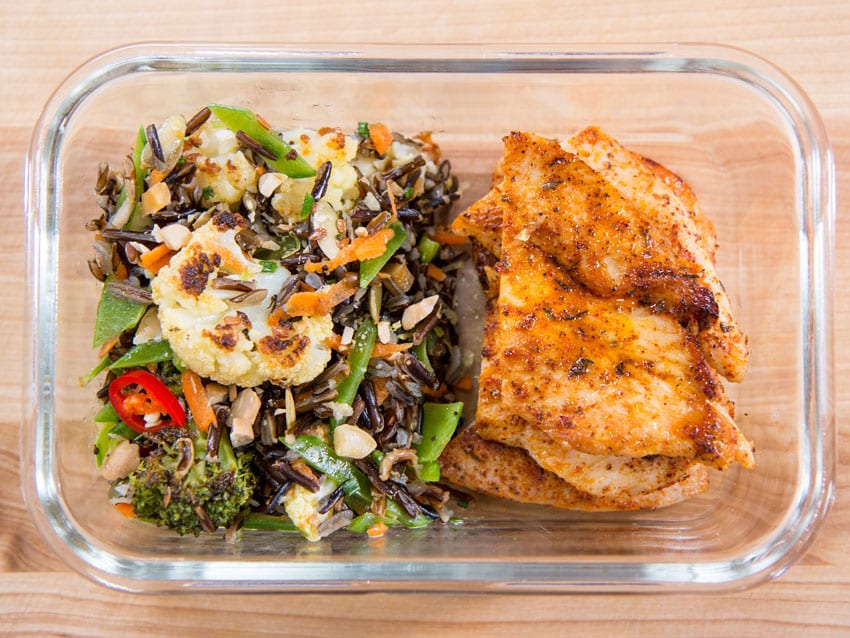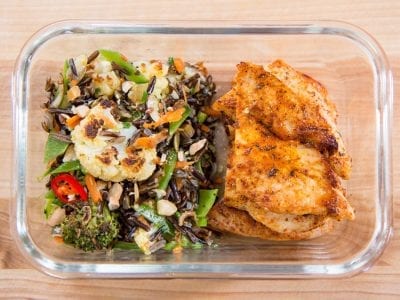 Chicken & Veggie Superfood Bowl
Print
Ingredients
For the Chicken:
5

boneless & skinless chicken breasts

cut butterfly or into strips

2

teaspoons

smoked paprika

2

teaspoons

ancho chile powder

1

teaspoon

garlic powder

1

teaspoon

onion powder

½

teaspoon

dried thyme

Kosher salt

Olive oil
For the salad:
1

cup

wild rice

uncooked

2

cups

broccoli florets

cut into bite size pieces

2

cups

cauliflower florets

cut into bite size pieces

2

tablespoons

unsalted cashews

roughly chopped & roasted if desired

2

tablespoons

pepitas

pumpkin seeds, roasted if desired

1

tablespoon

flax seeds

1

tablespoon

fresh chives

finely sliced

2

packed cups of snow peas

sliced on the diagonal

1

orange

cut into segments

2

medium size carrots

peeled & grated

1

small & thin red chile

finely sliced

Olive oil

Kosher salt

Fresh cracked pepper
For the dressing:
1

small clove of garlic

finely grated

1

teaspoon

of freshly grated ginger

2

teaspoons

agave nectar

Zest of half a lemon

Juice of 1 lemon

1

tablespoon

of fresh orange juice

¼

teaspoon

kosher salt

Couple cracks of fresh pepper

2-3

tablespoons

extra virgin olive oil
Instructions
Cook's Notes: You can buy butterflied chicken breasts or ask your butcher to do it for you. Or you can buy chicken breast strips. Large chicken breasts are tough to cook evenly.

Wild rice is loaded with nutrition and much healthier than brown rice. You can also use quinoa, but I want you guys to try using wild rice, you are gonna love it.

To cut the orange into segments, watch the video below and see how I do it.

Begin cooking:

To cook the wild rice, bring 4 cups of water to a boil. Place the rice in a strainer and thoroughly wash it under cold water for 1 minute. Add 2 teaspoons of salt to the boiling water along with the rice. Bring to a boil, reduce to a low simmer, place a lid on the pot and cook for 45 minutes. The rice is done when it's tender but still has a nice bite left to it, you may need to cook it another 10-15 minutes. Drain the rice and spread it out on a sheet tray or large platter to cool down. Let sit for 30 minutes or do this the night before and keep in the fridge.

Meanwhile, prepare the spice rub for the chicken by combining the smoked paprika and next 4 ingredients in a small bowl, mix well. Season the chicken with half of the spice rub on one side along with a generous pinch of salt, flip and repeat. Let the chicken sit at room temperature for 20 minutes so the marinade can go to work and the chicken won't be cold when cooked.

Meanwhile, start the salad by pre-heating the oven to 450 degrees F. Place the broccoli and cauliflower florets on a sheet tray and season with 1-2 tablespoons of olive oil, ¾ teaspoon salt, and a few cracks of pepper. Mix well using your hands and make sure the veggies are in 1 even layer. Roast in the oven for 25 minutes, or until the edges of the veggies are nicely browned. Remove and set aside.

Make the rest of the salad by adding the cooked and cooled wild rice to a large bowl along with the cashews and next 7 ingredients. When the roasted broccoli and cauliflower are ready, remove from oven and place in the bowl with the rice.

Make the dressing by adding the grated garlic and next 7 ingredients to a small bowl. Continually whisk and add the extra virgin olive oil until the dressing thickens up. Check for seasoning, you may need a little more lemon juice to make the flavors pop. Before dressing the salad, add ¼ teaspoon salt, a couple cracks of pepper, and the juice of half a lemon to the rice salad. Add the dressing and mix well.

To cook the chicken, pre-heat a large cast iron pan over medium-high heat with 2 teaspoons of olive oil for 2 minutes. Working in 2-3 batches, add some chicken to the pan, making sure not to overcrowd the pan, and cook for 5 minutes on the first side, flip and cook another 5 minutes. Once the chicken goes in the pan don't touch it until it's ready to flip, or you won't get a beautiful crust. Add more oil to the pan and cook the remaining batches.

The chicken will keep in the fridge for 5 days or you can freeze it for 2-3 months. When time to re-heat, take the lid off the container, cover with tin foil, and reheat in a 400 degree F oven for 10-15 minutes. If re-heating in the microwave, take the lid off, cover with a wet paper towel, and make sure not to re-heat too long or the chicken will dry out. It's best not to dress the salad until the day you want to eat it, or it might get a little soggy on day 5. Don't warm the salad in the oven, eat it cold or room temperature. Enjoy!
Recipe Notes
Macros:
550 calories per meal
17.3 grams of fat per meal
34 grams of carbs per meal
57.2 grams of protein per meal
6 grams of fiber per meal