You guys have been asking for more low carb snack recipes, so Dessi came up with a homemade cracker that could be the best keto snack yet! These crackers take no time at all to make, are gluten free and vegan, and they are so much cheaper than buying specialty crackers at the store. I got so tried of buying Simple Mills crackers at the store, a 4-ounce bag was $5! This recipe costs a fraction of that and the crackers are gluten free. Make sure to check out some of Dessi's other snack recipes like her keto biscotti and low carb gluten free bagels.
All you need for this low carb snack recipe is some almond flour, dried herbs like rosemary, and a spice grinder or food processor to pulse the sunflower seeds into flour. These crackers are vegan thanks to flax seed eggs, and they are gluten free because of the almond flour. We used the same everything bagel seasoning that we used in the low carb bagels to help season the crackers, they are loaded with sesame seeds, onion and garlic granules, and so darn tasty.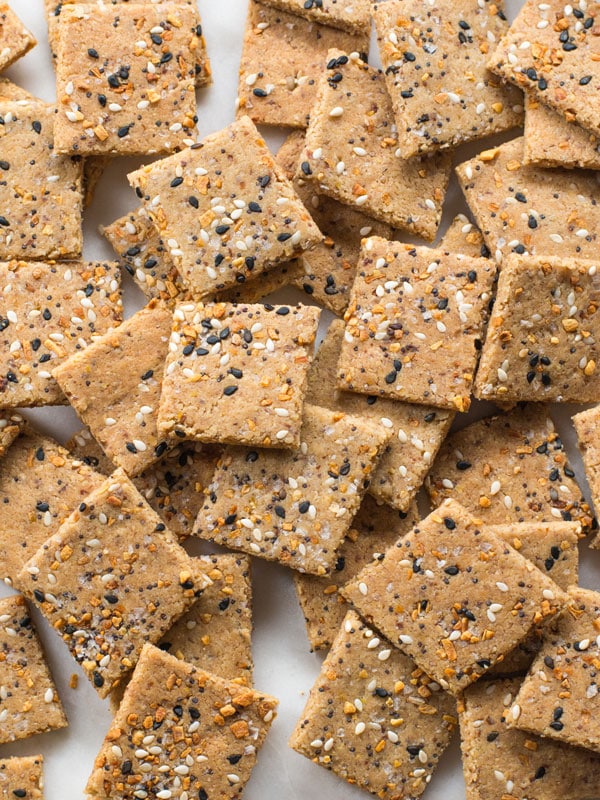 Low Carb Snack Recipe for Crackers
These keto crackers have less than 5 net grams of carbs per serving and are the ultimate mid-day snack to help you stay on your low carb diet. You will need two cups of almond flour for this cracker recipe, Costco sells it for $4 per pound now, which is the best deal I have seen! Combine the almond flour, sunflower seed flour, salt, and rosemary in a large bowl for the dry ingredients. The entire cracker recipe is gluten free because we are using nut flours, which works great in this type of recipe.
For the wet ingredients, allow the flax seed meal to sit in water for at least 15 minutes so it can thicken up. This is how you make a flax egg, which is the vegan substitute for eggs. Combine that with some good quality extra virgin olive oil and them mix it with the dry ingredients.
If you want to try some really good extra virgin olive oil, use my promo code and get 1 bottle for only $1 from the Olive Oil Club. It's some of the best EVOO I have ever tried!
Roll out the cracker dough on a piece of parchment paper and then cover with another piece and use a rolling pin to flatten into a wide disc. Sprinkle the seeds over the top and keep rolling until the cracker dough is very thin and then use a pizza cutter to cut into cracker shapes. Bake in the oven for 45 minutes or until slightly golden brown.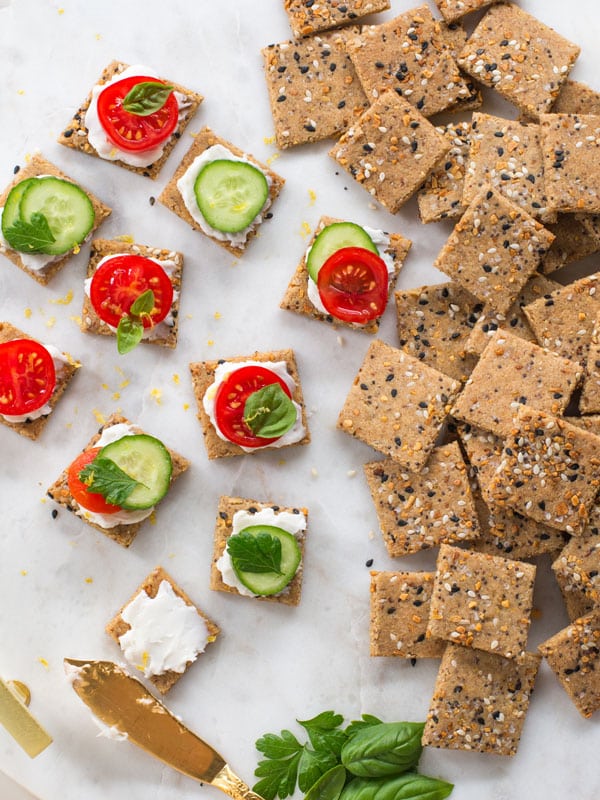 How To Make Gluten Free Crackers
Making gluten free crackers is easy: substitute the wheat flour with almond flour and sunflower seed flower. You can buy almond flour almost everywhere now, but you will need to grind roasted and unsalted sunflower seeds in a coffee or spice grinder or use a food processor. The combination of the two gluten free nut flours gives the crackers a great consistency and the nutty roasted flavor of the sunflower seeds is so darn tasty.
Keto Snack Recipes To Make At Home
Snacks are very important when you are on the keto diet. It's often the time between lunch and dinner when you can slip up and ruin your diet. These keto snack crackers can be stored in a zip-top bag for 5 days and are the perfect thing to munch on at work or school when you get a hankering. If you need more keto snack ideas, then check out our spinach and feta muffins and our low carb cheesy cauliflower tot recipe.
Is There An Egg Replacement For Vegans
Using a flax seed egg is the perfect vegan substitution when a recipe calls for an egg. Simply combine 1 tablespoon of ground flax seed meal with 3 tablespoons of water and let sit at room temperature for a least 15 minutes. For every egg a recipe calls for, you will need to use this ratio, so if you need 3 eggs, use 3 tablespoons of flax meal and 9 tablespoons of water.
Make sure to check out more of our keto recipes and meal prep ideas: