Chicken Meal Prep with Quinoa Salad and Roasted Veggies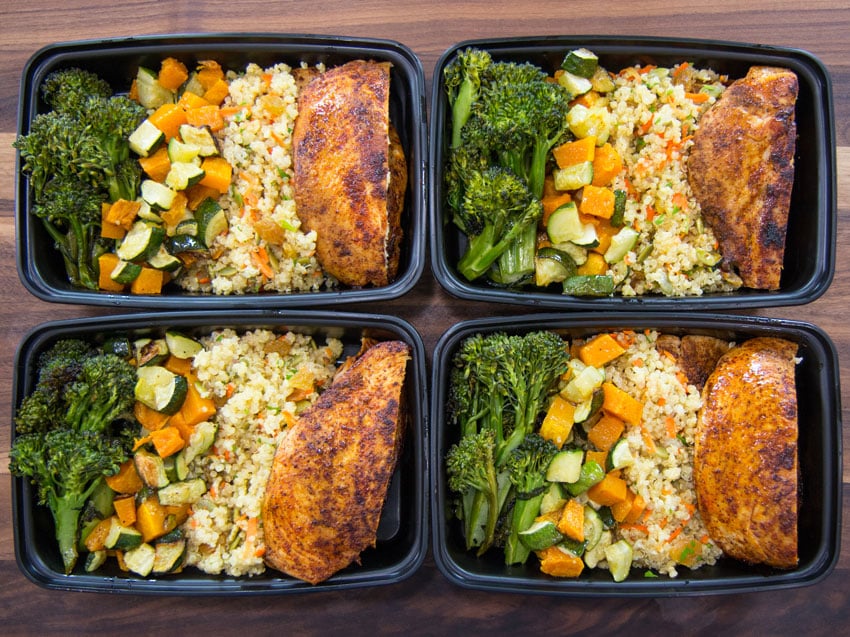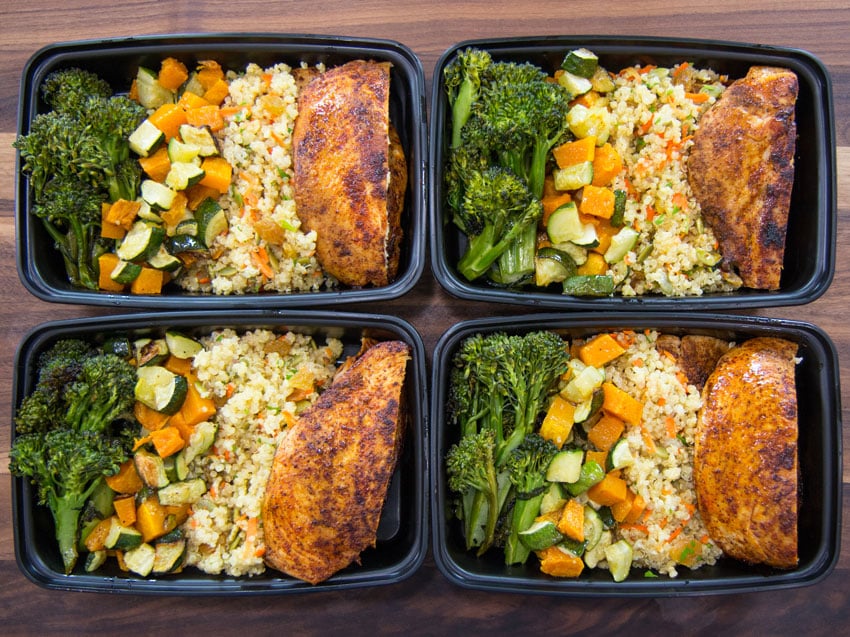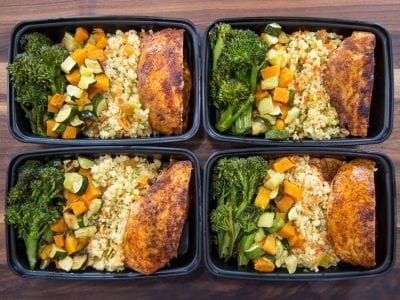 Original Spiced Chicken Meal Prep
Print
Ingredients
For the Chicken:
5

chicken breasts

cut butterfly so they are thin(ask your butcher to do it)

1

tablespoon

of smoked paprika

1

tablespoon

ancho chile powder

1

tablespoon

ground cumin

Olive oil

Kosher salt
For the Roasted Veggies:
1.5

pounds

broccolini

large pieces cut in half lengthwise

½

a butternut squash

peeled, seeded, and cut into small bite size cubes

3

medium size green zucchini

cut in small bite size cubes

Olive oil

Kosher salt

Freshly cracked pepper
For the Quinoa Salad:
1.5

cups

white quinoa

¼

cup

raw pepitas or pumpkin seeds

1

tablespoon

flax seeds

¼

cup

golden raisins

2

carrots

peeled and grated

3

tablespoons

fresh herbs

like parsley, finely chopped
For the Lemon Dressing:
Juice of half a lemon

Juice of half a orange

1

teaspoon

red wine or apple cider vinegar

½

teaspoon

Dijon or stone ground mustard

1-2

tablespoons

honey

¼

cup

extra virgin olive oil

¼

teaspoon

kosher salt

Couple cracks of fresh pepper
Instructions
Pre-heat oven to 425 degrees F.

Make the chicken dry rub by combining the smoked paprika, ancho chile powder, and cumin in a small bowl, mix well. Season the chicken breasts with a good pinch of salt and a healthy sprinkle of spice rub on each side. Let sit at room temperature for 25 minutes before you cook it. You will have some leftover dry rub, use it on beef, pork, or chicken.

Season the broccolini with a shot of oil and a pinch of salt and pepper. Toss well and place on a sheet tray in a single layer. On a separate sheet tray, toss the squash and zucchini with a shot of oil and a pinch of salt and pepper, spread everything in one single layer. Roast the broccolini in the oven for 15-25 minutes until the ends are slightly charred, remove from oven. Roast the squash and zucchini for 25-35 minutes until the squash is cooked through and has a nice dark golden color, remove from oven.

For the quinoa, bring 3 cups of water to a boil in a pot, use an electric kettle if you're in a hurry, and add the quinoa to the pot along with ½ teaspoon of salt. Bring to a boil and reduce to a simmer for 20 minutes, stirring a few times. After all the water evaporates the quinoa will be fluffy and cooked perfectly. If the quinoa is a little crunchy, add another ¼ cup of water and cook 5 more minutes. Set aside.

To cook the chicken, pre-heat two large pans, I prefer cast iron, over medium heat with a small shot of oil. Making sure not to over crowd the pans, add the chicken to the pan and press them down for 3 seconds to make sure they are making maximum contact with the pan, that will help form the crust. If you overcrowd the pan, the chicken will boil in their own juices and not create a nice crust. Cook for 5 minutes and flip, cook another 5 minutes and remove from the heat. If your chicken breasts are a little thick, you may need to cook another couple minutes each side.

Add the cooked quinoa to a large bowl and add all of the remaining salad ingredients. Mix well and add more pepitas or raisins if you like.

Make the dressing by adding everything but the olive oil to a bowl. Whisk well. Slowly add the oil to the bowl while whisking, the dressing should have thickened up a little bit. Give it a taste, it may need more lemon juice or honey. Add enough dressing to the quinoa salad to coat everything, don't drown it in the dressing. Mix everything well and give it a taste, you may need to add a big squeeze of lemon directly to the salad for a nice bright flavor.

To assemble your meal prep containers, cut the chicken breasts in half and tuck it in the corner of the container. Add a big scoop of quinoa salad, some roasted zucchini and squash, followed by some roasted broccolini. Repeat 5 times and enjoy your meals all week long!
Recipe Notes
Macros:
703 calories per meal
49 grams of protein per meal
23.6 grams of fat per meal
50 grams of carbs per meal
12.6 grams of fiber per meal