Easy Chicken Curry & Rice Meal Prep
Juicy curry spiced chicken breast recipe serve with golden turmeric rice & salad.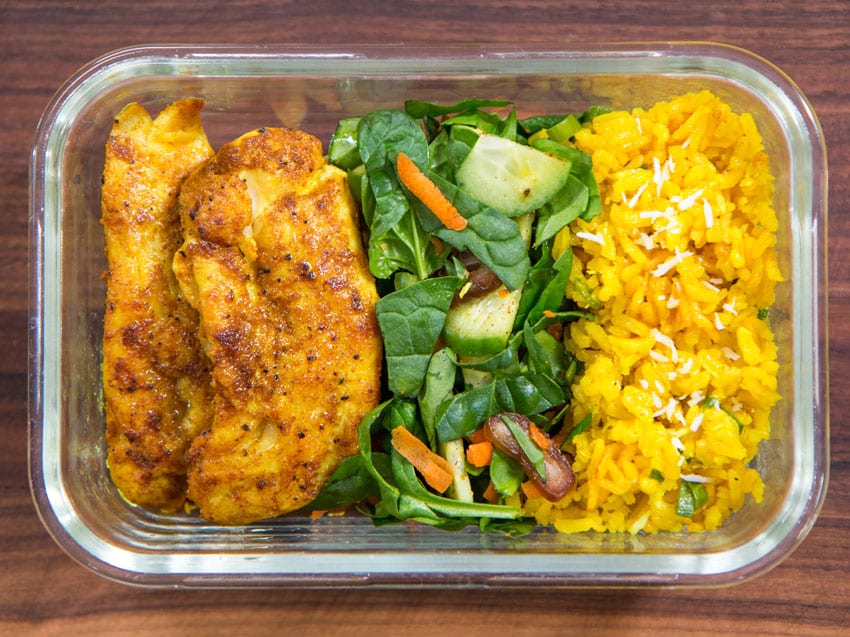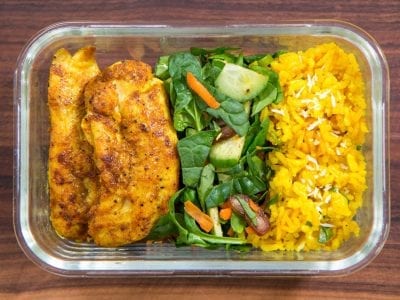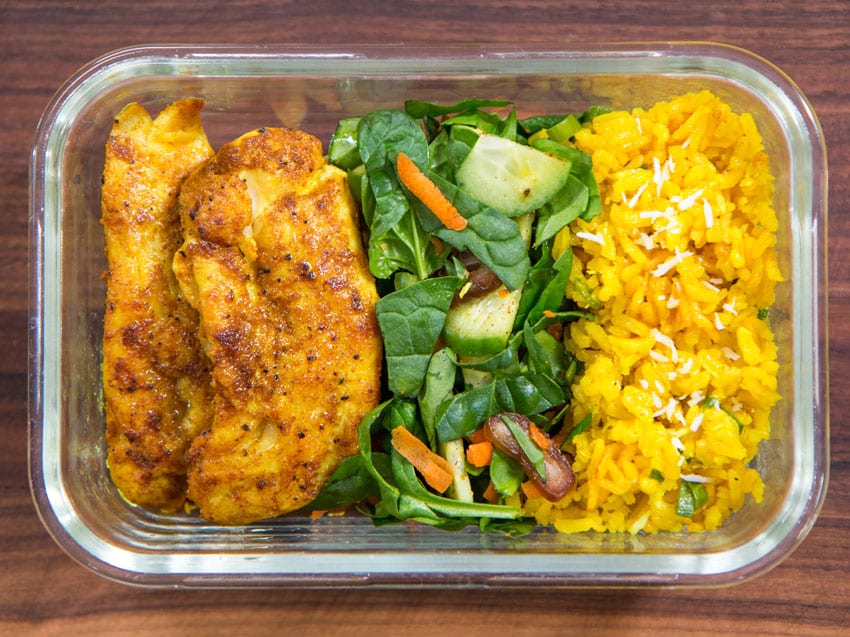 Curry Spiced Chicken Meal Prep
Print
Ingredients
For the Chicken:
2

pounds

of chicken breast strips or tenders

3

tablespoons

of yellow curry powder

I use "muchi"

Olive oil

Kosher salt
For the yogurt sauce:
¾

cup

greek style yogurt

full or non-fat

Zest of half a lime

1

teaspoon

extra virgin olive oil

or regular olive oil

1

clove

of garlic

finely grated

¼

teaspoon

kosher salt

Small crack of fresh pepper

2-3

tablespoons

water

1

tablespoon

pomegranate molasses
For the rice:
½

a red onion

finely chopped

2

cloves

of garlic

minced

1.5

teaspoon

freshly grated ginger

1.5

teaspoons

turmeric powder

1 ¼

cups

jasmine rice

1

cup

each light coconut milk and water

¼

cup

green onions

finely sliced

Zest of 1 lime

2

tablespoons

unsweetened & shredded coconut flakes

Olive oil

Kosher salt

Freshly cracked pepper
For the salad:
¼

cup

of unsalted & roasted peanuts

½

teaspoon

each smoked paprika & cumin

¼

teaspoon

cayenne pepper

Olive oil

Kosher salt

6

ounce

bag of baby spinach

1-2

small persian cucumbers

thinly sliced

2

carrots

peeled and grated

¼

cup

dates

sliced
For the salad dressing:
Zest and juice of 1 lemon

Zest of half an orange

Juice of 1/3 an orange

1

tablespoon

agave nectar or honey

¼

teaspoon

kosher salt

Couple small cracks of pepper

2-3

tablespoons

extra virgin olive oil
Instructions
Cook's Notes:

Pomegranate molasses is awesome. Try calling a few grocery stores to see if they carry it or I have an Amazon link below the recipe. You can also use reduced balsamic syrup.

Yellow curry powder is high in turmeric, you can find in most grocery stores.

To grate the ginger, use a spoon to peel away the skin and then grate using your microplane zester or the smallest setting on your box grater. If using a knife, make sure to chop it very fine.

The spiced nuts make for a great snack, so you can double or triple the recipe. If you don't want to turn on the oven, you can toast them in a small non-stick pan for 5-6 minutes over medium heat, making sure not to burn them.

Begin Cooking:

Season the chicken breast strips with enough curry powder to thoroughly dust them on both sides along with a generous pinch of salt all over. Let the chicken sit at room temperature for 20-30 minutes so the marinade can go to work and the chicken is not cold when cooked.

Meanwhile, make the rice by pre-heating a medium size pot over medium heat with 1 tablespoon of olive oil. Add the red onions along with ½ teaspoon salt and couple cracks of pepper. Cook for 5 minutes, stirring often. While the onions are cooking, place the rice in a strainer and rinse under cold water for 1 minute, set aside. Add the chopped garlic, ginger, and cook for 1 more minute. Add the turmeric powder and cook 1 minute, stirring often. Add the rinsed rice and cook for 1 minute stirring often. Add the water, coconut milk, ½ teaspoon of salt, and mix well. Turn the heat to high and bring to a boil. As soon as the rice come to a boil, give it a good stir to make sure the rice is not sticking to the bottom of the pot and reduce the heat to a bare simmer. Place the lid on the pot and cook for 20 minutes. When the rice is ready, use a large fork to fluff the rice and then add the lime zest, coconut flakes, and green onions. Mix with fork, and set aside.

Make the salad by preheating the oven to 350 degrees F. In a small bowl, combine the peanuts with the smoked parika, cumin, cayenne pepper, 1 teaspoon of olive oil, and a small pinch of salt. Mix well and bake on a sheet tray for 6-8 minutes, but watch them closely because they burn easily. Remove from oven, let cool, and roughly chop them.

Add the spinach, nuts, and remaining salad ingredients to a large bowl. Set aside. Make the vinaigrette by adding everything except the extra virgin olive oil to a small bowl, whisk well. While whisking, add 2 tablespoons of olive oil until the dressing thickens up, you may need to add 1 more tablespoon of oil. Check for seasoning, you may need a little more lemon juice. Make sure not to dress the salad until right before eating it, or the morning you are going to eat it, as the spinach will get soft and wilted.

Make the pomegranate yogurt dipping sauce by combining everything but the pomegranate molasses in a small bowl and whisk well. Keep adding water until the yogurt has a sauce like consistency. Add the pomegranate molasses and use a spoon to swirl it in the yogurt a few times. Set aside.

To cook the chicken, pre-heat a large cast iron pan over medium heat with 1 tablespoon of olive oil. Working in two batches, cook the chicken for 5 minutes on the first side. You will know it's ready to flip when the chicken becomes white and opaque around the edges. Flip, and cook for another 4-5 minutes. Set aside.

Assemble your meal prep containers and enjoy! The chicken and rice will last in the fridge for 5 days or can be frozen for 2-3 months. The yogurt sauce and undressed salad will last in the fridge for 5 days, but can't be frozen.
Recipe Notes
Macros:
717 calories per meal
25 grams of fat per meal
57.4 grams of protein per meal
58.6 grams of carbs per meal
3.4 grams of fiber per meal