How to make the perfect filet mignon at home.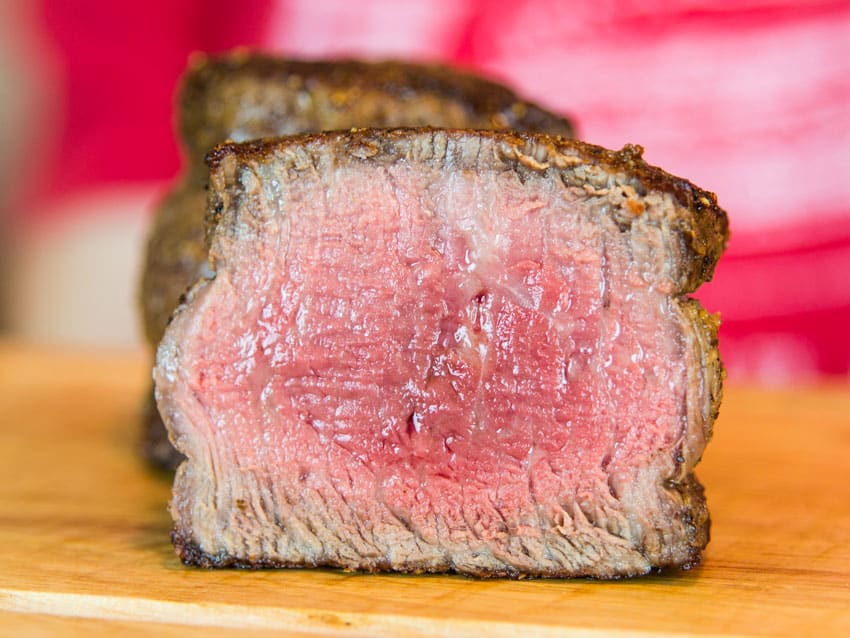 Filet Mignon
Print
Ingredients
2

filet mignon steaks

at least 1.5 inches thick

Kosher salt

Freshly cracked pepper

Avocado or grapeseed oil

Butchers twine

Digital probe thermometer
Instructions
Use two pieces of twine and tightly tie the steaks around their "waist", one piece towards the top and one towards the bottom. This will help the steak cook evenly and not sag. Season the steaks with a few cracks of pepper and a generous amount of salt all over. Let the steaks sit at room temperature for 20-30 minutes because you never want to put cold meat in a hot pan/oven. Pre-heat oven to 400 F.

Pre-heat a cast iron pan over medium-high heat with 2 tablespoons of oil for 3 minutes. Sear the steak on one side for 2 minutes, flip, insert the probe thermometer in the deepest part of the steak, and immediately put in the oven. Cook for about 15 minutes, or until the internal temperature reaches 125-130 for medium rare(very pink inside). Cook 5 minutes longer or 135 degrees for medium.

Take the steak out, leave the thermometer in, and place them on a clean plate with some tin foil covering them. Let rest for 7-10 minutes so the juices can re-distribute. During this time the internal temperature will rise another 5-7 degrees. Cut the twine off and enjoy!