Pork Chops with Sweet Potato Puree & Kale Salad
Spice crusted pork chops with sweet potato puree and kale salad. This is a fantastic budget meal prep for the week!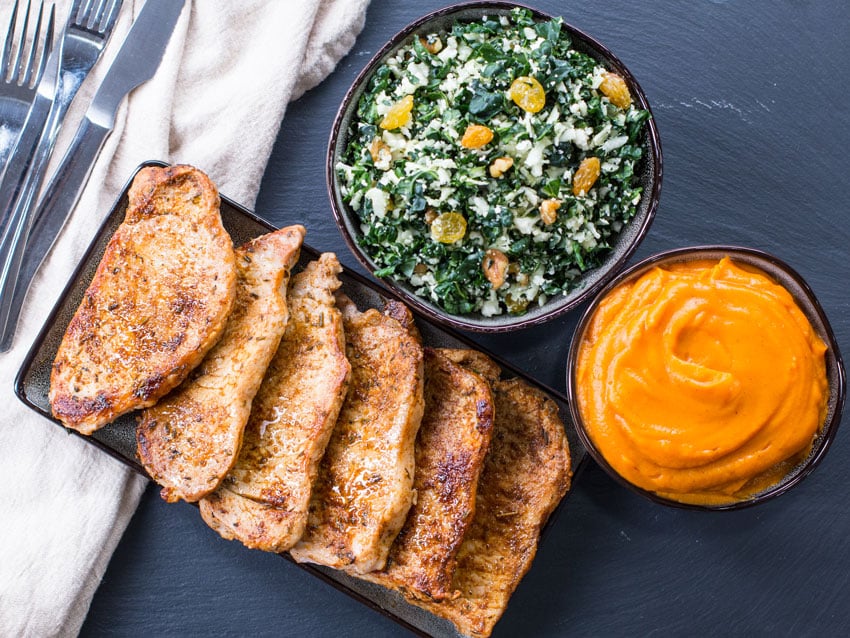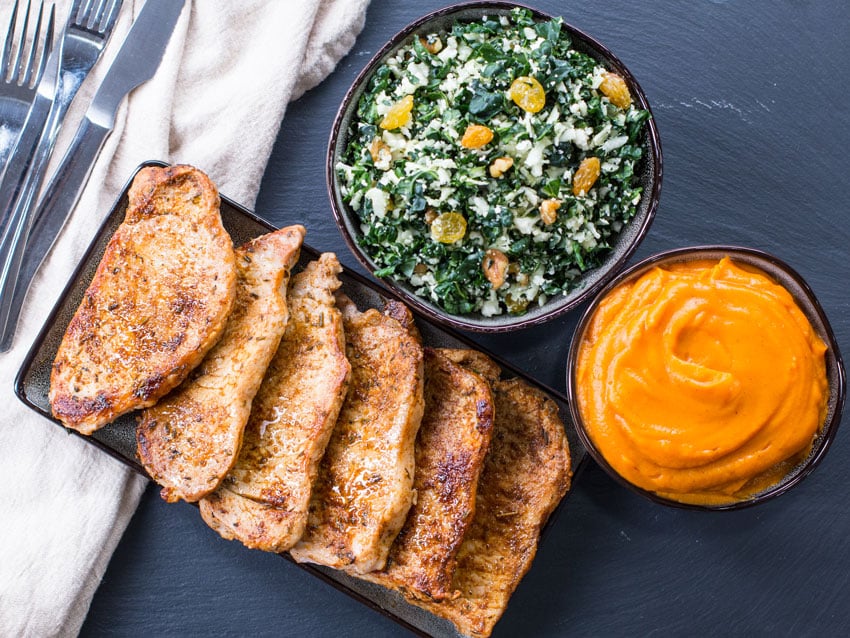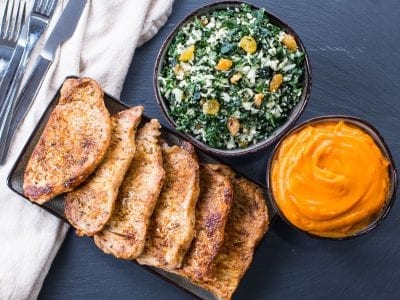 Pork Chops with Sweet Potato Puree & Kale Salad
This healthy pork chop meal prep is budget friendly, only $3 per meal. The pork chops are spice crusted and cooked in a hot cast iron pan until juicy. The sides for this meal prep recipe are fantastic, a sweet potato puree with maple syrup and orange, and a kale and cauliflower crunch salad. It's amazing that this entire meal prep recipe comes in at only $3 per meal, and is healthy.

Print
Ingredients
For the pork chops:
2

pounds

of thin cut pork chops

2

teaspoons

chili powder

1

teaspoon

dried thyme

Avocado or grapeseed oil

Kosher salt

Fresh black pepper
For the sweet potato mash:
2

pounds

sweet potatoes

1

tablespoon

maple syrup

Zest of half an orange

¼

teaspoon

ground cinnamon

Pinch

of freshly grated nutmeg

1/8

teaspoon

cayenne pepper

Kosher salt

Fresh black pepper
For the salad:
1

bunch lacinato/black kale

1

small head cauliflower

¼

cup

walnuts

chopped & roasted if desired

¼

cup

raisins

¼

cup

finely grated pecorino romano cheese

Extra virgin olive oil

Lemon Juice

Kosher salt

Fresh black pepper
Instructions
Make the spice rub for the pork chops by combining the chili powder and thyme in a small bowl, mix well. Season the pork chops with a generous pinch of salt and half the spice rub on one side, flip and repeat. Let the chops sit at room temperature for 20-30 minutes.

Meanwhile, bring a medium size pot of water to a boil. Peel the sweet potatoes and cut them into large bite size pieces. Add 1 teaspoon of salt to the boiling water and cook the sweet potatoes for 10-12 minutes. The potatoes are ready when you can mash the pieces with a fork, make sure not to overcook otherwise they will get too watery. Drain the potatoes very well and add to a blender. Add all the remaining ingredients along with ¼ teaspoon salt and a couple cracks of pepper. Blend well until smooth and creamy, you can also do this with a potato masher. Check for seasoning, you may need a little more salt. Set aside.

Make the salad by pulling the kale off the stem and finely chopping it, add to a large bowl with the raisins, walnuts, and cheese. Use a box grater to grate the cauliflower directly in the bowl, trying not to grate too much of the stalk. Store the salad in the fridge and when ready to eat a portion, season with a tiny pinch of salt, a crack of pepper, a shot of extra virgin oil, and a little lemon juice. Mix well and check for seasoning and add more lemon if needed. You can dress the salad in the morning and eat it for lunch, the kale is hearty and won't wilt.

To cook the pork chops pre-heat a large pan, preferably cast iron, over medium-high heat for 2 minutes. Add 2 teaspoons of oil and wait 30 seconds, then add half of the pork chops. Cook for 3 minutes then flip. Cook another 2 minutes and remove from pan. Thin pork chops cook extremely quickly and will dry out if overcooked. Repeat with remaining pork chops.

Serve the chops with some sweet potato puree and salad, enjoy! Everything will keep in the fridge for 5 days, the chops and puree can be frozen for 2-3 months. Reheat the chops and puree in a 400 F oven with the container covered in foil for 10-12 minutes. If using the microwave, place a wet paper towel over the container and make sure not to overheat or the chops will get dry. Salad serving instructions are above.
Recipe Notes
Macros:
537 calories per meal
17.5 grams of fat per meal
42.5 grams of carbs per meal
40.6 grams of protein per meal
8.6 grams of fiber per meal