Healthy Comfort Food Meal Prep
Light shepherd's pie with whipped cauliflower topping served with charred broccoli. Weight loss meal prep.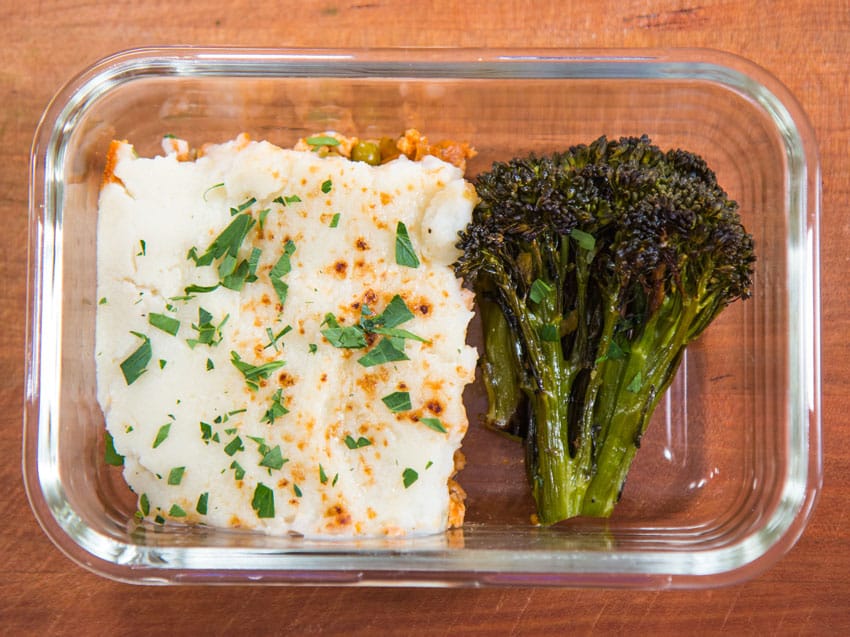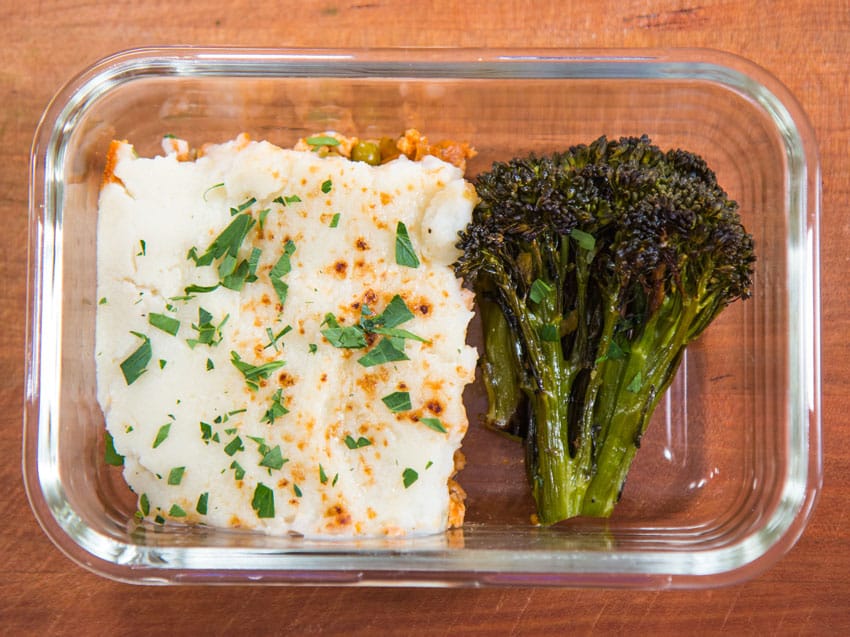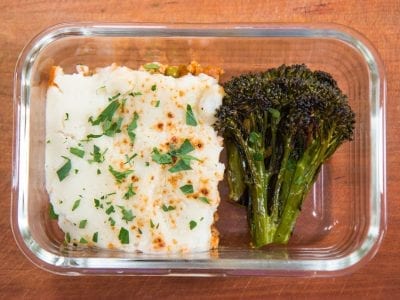 Shepherd's Pie & Roasted Broccoli
Print
Ingredients
For the shepherd's pie:
1.5

pounds

ground chicken breast

1

medium size onion

chopped

2

medium size carrots

peeled & diced

2

stalks celery

diced

½

teaspoon

dried oregano

½

cup

frozen or fresh peas

3

cloves

garlic

minced

2.5

tablespoons

tomato paste

Zest & juice of half an orange

2

teaspoons

fresh Italian parsley

finely chopped

Olive oil

Kosher Salt

Fresh cracked black pepper
For the cauliflower mash:
2

heads of cauliflower

cut into florets

3

cloves

garlic

3

tablespoons

grated pecorino romano or parmesan cheese

Kosher salt

Freshly cracked black pepper
For the broccoli:
1.5

pounds

baby broccoli

broccolini, or broccoli florets

Zest of 1 lemon

Olive oil

Kosher Salt

Fresh cracked black pepper
Instructions
Cook's notes: The shepherd's pie can be made and baked in the same pan. Ideally you want to use a 12-13 inch cast iron pan. Or if your pan s not oven safe, you can transfer the cooked chicken mixture to a baking dish, top it with the cauliflower mash, and bake it.

When blending the cauliflower mash, you will need to use a plunger attachment or a silicone spatula to carefully push the mixture down while it's blending. The residual water in the cauliflower will help make the texture soft and creamy. You can also use a potato masher and do this step in a large bowl.

Begin cooking:

To make the pie, pre-heat a large pan, preferably cast iron, over medium-high heat with 2 teaspoons of olive oil for 2 minutes. Add the ground chicken and spread it into 1 even layer. Season the chicken with 1 teaspoon of salt and a few cracks of pepper. Let it cook for 4 minutes and then flip the meat while breaking it up at the same time using a spatula. Try and break the pieces very small. Cook another 4 minutes just until the chicken is cook through, making sure not to over-cook and make the chicken dry. Check for seasoning, you may need a little more salt. Scoop the cooked chicken into a clean bowl. Add 2 more teaspoons of oil to the pan along with the onions, carrots, celery, oregano, ½ teaspoon salt, and a few cracks of pepper. Cook for 8 minutes over medium heat, stirring a few times. Add the garlic, peas, and cook another 3 minutes. Add the tomato paste and cook another 2 minutes and then turn the heat off. Add the cooked chicken back to the pan along with the orange zest, juice, and parsley. Stir well and check for seasoning, set aside.

While you are making the chicken mixture, pre-heat the oven to 450 degrees F and get ready to roast the broccoli. Place broccoli or a sheet tray and toss with 1 tablespoon of olive oil, ¾ teaspoon salt, and a few cracks of pepper. Mix well using your hands, distribute into 1 even layer, and roast in the oven for 20-25 minutes or until the edges are nicely browned. Remove from oven, add lemon zest right over the top, and set aside. Keep the oven on at the same temperature for the pie.

To make cauliflower mash, cut the heads of cauliflower into florets and discard the stalks. Bring a large pot of water to a boil and season it with 2 teaspoons of salt. Boil the cauliflower florets with the garlic cloves for 10-12 minutes, you know it's ready when you can mash the florets with a fork, but make sure not to over boil them so they get very mushy. Thoroughly drain the cauliflower and garlic and transfer them to a blender along with 2 teaspoons grated cheese, ¼ teaspoon of salt, a couple cracks of pepper. Blend on high until smooth and creamy, about 1 minute. Check for seasoning, it may need a little more salt or cheese.

Flatten the chicken mixture into one even and compact layer in the cast iron pan, or transfer mixture to a baking dish and do the same. Pour the cauliflower mash over the top of the chicken mixture and smooth out into 1 even layer, making sure you seal the edges. Top the pie with 1 more tablespoon of grated cheese and bake in a 450 degree F oven for 10 minutes. After 10 minutes, turn the broiler on medium or high, and broil for about 5 minutes until the top is nicely browned, but watch closely so it does not burn.

Remove from broiler and allow to cool at room temperature for 20 minutes before you cut into the pie, otherwise it will fall apart. You can store the entire pan in the fridge and prepare 1 portion each day, or you can divide into 5 portions are store separately in the fridge.

Storage & Re-heating Instructions: The shepherd's pie and the broccoli will last for 5 days in the fridge, or you can freeze both for 2-3 months. . When reheating, I like to take the lid off, cover the container with tin foil, and place in a 400 F for 10-15 minutes. If you are using a microwave, take the lid off, cover the container with a wet paper towel, this will keep the food moist. Enjoy!
Recipe Notes
Macros:
317 calories per meal
9.7 grams of fat per meal
29.2 grams of carbs per meal
42.2 grams of protein per meal
11.4 grams of fiber per meal