Meal Prep For Weight Loss
This weight loss meal prep had lean glazed pork chops with cauliflower fried rice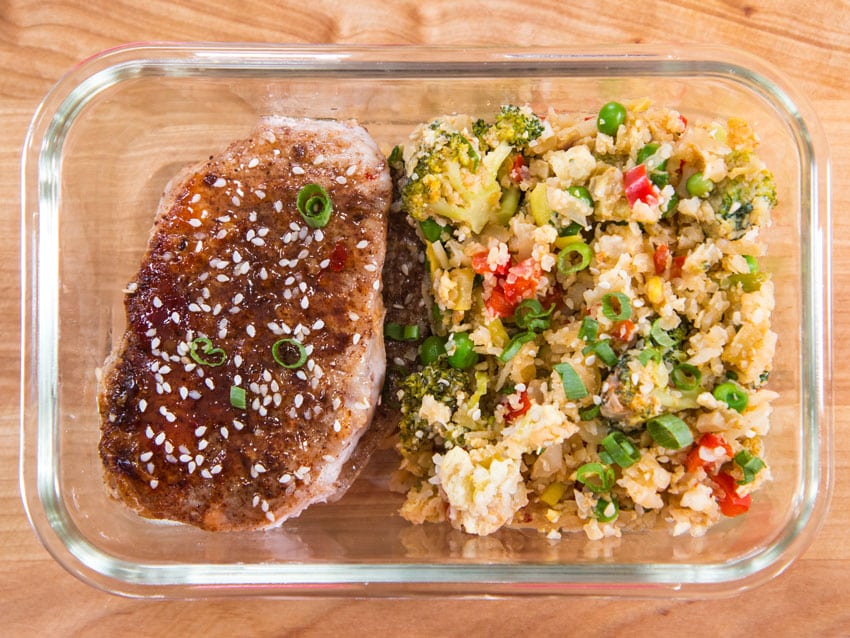 The best cauliflower fried rice recipe with sticky glazed pork chops. Perfect for meal prep for weight loss.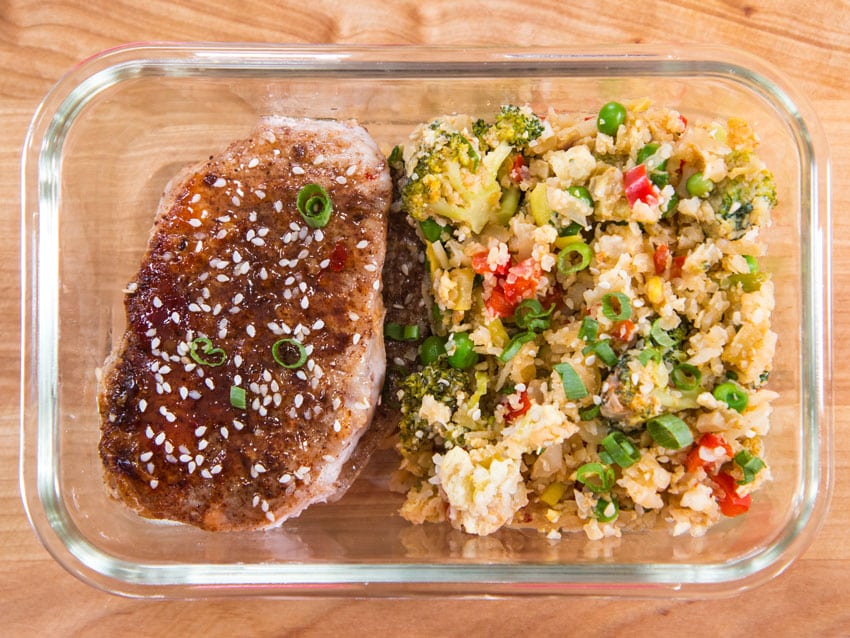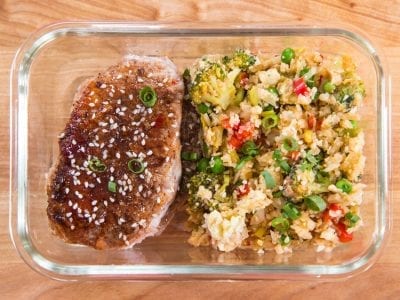 Cauliflower Fried Rice With Pork
Print
Ingredients
For the cauliflower rice:
2

medium size heads of cauliflower

½

a red onion

diced

1

red bell pepper

diced

2

cups

of broccoli florets

cut in small bite size pieces

2

medium size yellow squash

diced

4

cloves

of garlic

minced

2

teaspoons

of fresh ginger

peeled & grated

2

eggs

lightly beaten

1

cup

frozen peas

1.5

tablespoons

of low sodium soy sauce

1-2

teaspoons

sambal olek

sriracha, or chili sauce

1

teaspoon

toasted sesame oil

¼

cup

green onions

finely sliced

1

teaspoon

sesame seeds

toasted if desired

Kosher salt

Grapeseed or veggie oil
For the pork:
10

small

thin cut pork chops, 2 pound total

1-2

tablespoons

Chinese 5 spice powder

1

tablespoon

sweet chili sauce

found in the Asian aisle of stores

½

teaspoon

sesame seeds

Kosher salt

Grapeseed or veggie oil
Instructions
Cook's Notes: Thin cut pork chops will cook quickly and get nice and crusty. This recipe calls for chops that weigh just under ¼ pound each. They are cut thin and look pretty small at the store, ask for them at the meat counter.

Things happen really quickly when making a stir fry, so make sure to chop/prep all ingredients and have all of the sauces ready when making the fried rice.

Chinese 5 spice can be found at spice stores, or in the spice aisle at your grocery store, but call ahead and ask if they have it. I will put an Amazon link to it below this recipe.

Begin Cooking:

Season the pork chops with a generous pinch of five spice powder and a good pinch of salt on each side. Let sit at room temperature for 20-25 minutes.

While the chops are resting, make the fried rice by cutting the heads of cauliflower in half. Use the large setting of a box grater to grate all of the cauliflower, trying not to grate much of the stalk, only the florets. I did not use all of the cauliflower because it was too much, so you may need to omit ¼ of one head of cauliflower. Once finished, place in a large bowl and set aside. Pre-heat a large non-stick pan or wok over medium heat for 1 minute along with 2 teaspoons of oil. Add the onions along with the next 3 ingredients, ¼ teaspoon of salt, and a couple cracks of pepper. Cook for 10 minutes, stirring a few times. Add the garlic, ginger, and cook another 2 minutes, or until the bigger veggies have softened. Lightly beat the eggs in a bowl, make a well in the middle of the pan with the veggies and add the eggs. Mix the eggs until they look like a soft scramble and immediately add all of the grated cauliflower, the frozen peas(don't thaw), and mix very well. Place a lid or a sheet tray over the top of the pan and allow to cook and steam for 3 minutes. Remove the lid, stir well, and taste the cauliflower. You know it's cooked when the raw flavor is gone, but it still has a bite to it, don't over-cook and make it mushy. Add the soy sauce and next 4 ingredients, mix well and check for seasoning. You may need more soy sauce or chili sauce. Turn the heat off and set aside.

To cook the chicken, Pre-heat a large cast iron pan over medium-high heat with 2 teaspoons of oil for 2 minutes. Working in 2 batches, cook the chops for 4 minutes on the first side. You will know the pork chops are ready to be flipped when the meat turns white/opaque around the sides, and it's nicely golden brown. Flip and cook another 3-4 minutes and remove the pork chops from the pan. Immediately brush some of the sweet chili sauce all over the chops then sprinkle over some sesame seeds. Cook remaining pork chops and set aside. It's important not to over-crowd the pan otherwise the chops won't get crusty, so make sure to cook them in batches.

Storage and Reheating Instructions:

The pork chops and fried rice will keep in the fridge for 5 days or can be frozen for 2-3 months. When time to re-heat, take the lid off the container, cover with tin foil, and reheat in a 400 degree F oven for 10-15 minutes. If re-heating in the microwave, take the lid off, cover with a wet paper towel, and make sure not to re-heat too long or the pork will dry out. Enjoy!
Recipe Notes
Macros:
426 calories per meal
16 grams of fat per meal
23 grams of carbs per meal
46.2 grams of protein per meal
8 grams of fiber per meal