If you are looking for a funky new take on meatballs, then this recipe is for you! These ground pork meatballs are studded with pepitas and raisins, and cooked until crusty on the outside and juicy inside. The pork meatballs are served with a nogada sauce made of walnuts, and goat cheese, the perfect tangy sauce to compliment the rich pork meatballs. If you are looking for more meatballs recipes, check out my ultimate Italian meatballs and my mini lamb meatball breakfast scramble.
These meatballs are a great way to use ground pork in an exciting new way, and are perfect for a party or get together. Put out a big tray of these meatballs and they will be gone in no time at all.
Easy Ground Pork Recipes
Using ground pork for this recipe ensures that the meatballs are very juicy and won't dry out. Season the ground pork with ancho chile powder, cumin, cilantro, and oregano, then add the raisins and Mexican pumpkin seeds know as pepitas. The balance of sweet, heat, and crunch is fantastic for this ground pork recipe. All you have to do is form the meatballs to a small size and cook them in a hot cast iron pan until cooked through and nice and crusty on all sides.
Dessi and I love the classic Mexican dish chile en nogada, it's a poblano pepper stuffed with ground meat, raisins, and covered with a white walnut sauce. It's a bit complicated to make, so we decided to make this easy pork meatball recipe in the style of nogada. It is served with blistered shishito peppers and garnished with pomegranate seeds for color and texture.
Do I Need To Cook Meatballs In The Oven?
As long as you form the meatballs on the smaller side, you can cook them in the pan over medium-high heat. Just make sure to cook the meatballs on all sides and if you are not sure they are cooked through, cut one in half. I like to use a cast iron pan to cook the pork meatballs because it helps make them really crusty, but a non-stick pan will work also.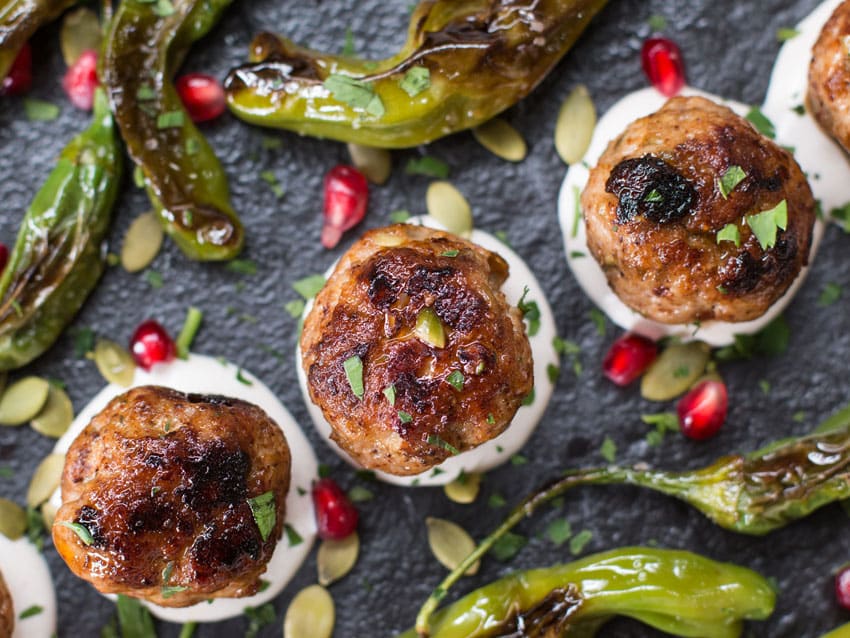 Make sure to check out my other meatball recipes: