Low Fat Turkey Meatball Meal Prep
The best turkey meatball meal prep with healthy quinoa and beans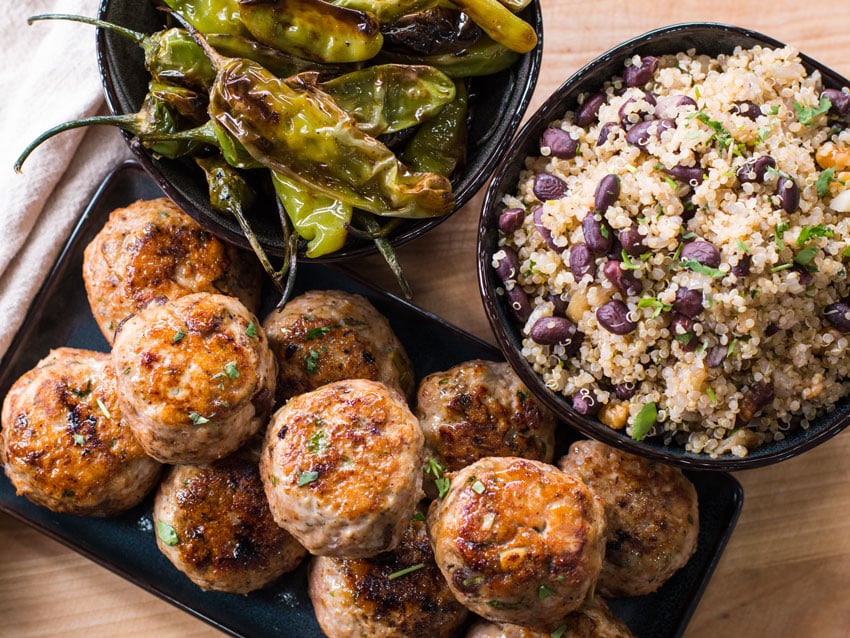 Mexican Turkey Meatballs with Shishito Peppers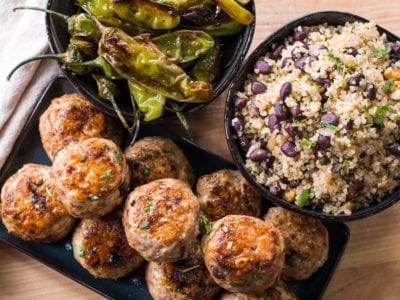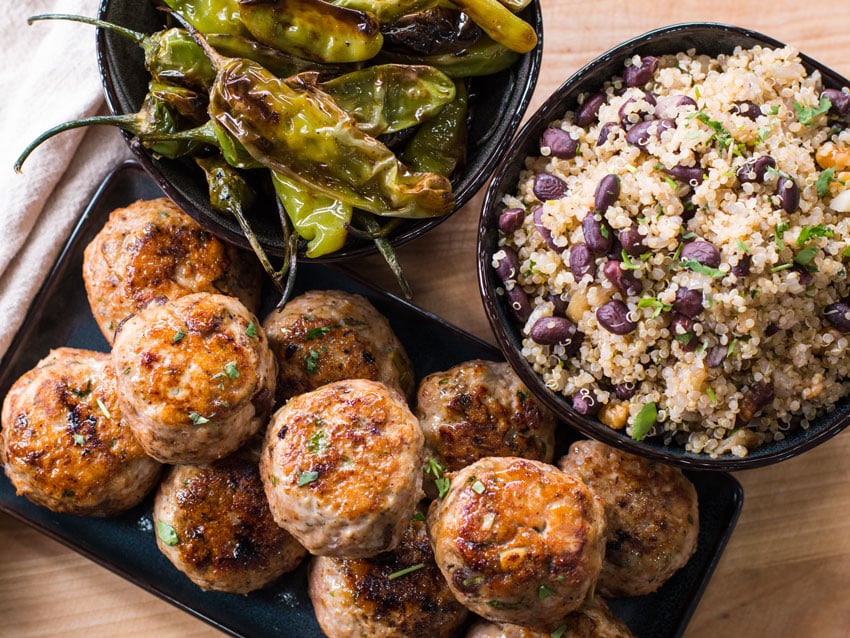 Turkey Meatballs with Quinoa & Black Beans and Shishito Peppers
This turkey meal prep is my healthy take on the Mexican dish chile en nogada. The turkey meatballs are low fat and studded with raisins and pepitas. Instead of starchy rice, I used the superfood quinoa and mixed it with seasoned black beans and lime juice. The charred shishito peppers are slightly sweet and smoky, a well balanced low fat meal prep.

Print
Ingredients
For the meatballs:
2

pounds

ground turkey thigh

1.5

teaspoons

each ancho chile powder & cumin

¼

teaspoon

cayenne pepper

½

teaspoon

dried thyme

2

tablespoons

raisins

2

tablespoons

pepita seeds

roughly chopped

1

tablespoon

fresh cilantro or parsley

chopped

Kosher salt

Fresh black pepper

Grapeseed or avocado oil
For the quinoa & beans:
3

cups

cooked quinoa

1

onion

chopped

3

cloves

garlic

15.5

ounce

can of black beans

½

teaspoon

each ancho chile powder & cumin

1

lime

1

tablespoon

fresh cilantro or parsley

chopped

1

tablespoon

chopped walnuts

Kosher salt

Fresh black pepper

Grapeseed or avocado oil

12

ounces

shishito peppers
Instructions
Cook's notes: 1 cup of raw quinoa makes 3 cups of cooked quinoa. This recipe works best with leftover quinoa, so make it the previous day or at least 3 hours before starting the recipe. You can cool it down and let it dry by spreading the quinoa on a sheet tray and keeping at room temperature or the fridge.

You can find shishito peppers at trader joe's or sometimes at the bulk section of whole foods. If you can't find, use roasted red peppers from the jar.

Begin cooking:

For the meatballs, add the ground turkey to a large bowl along with the ancho chile, cumin, cayenne, thyme, raisins, pepitas, cilantro, 1 teaspoon salt, and a coupe cracks of pepper. Mix very well using your hands, dip hands into water, and form into meatballs that are slightly larger than a golf ball, should make 15 balls. The water prevents the meat from sticking to your hands. Store formed meatballs in the fridge for at least 20 minutes so they can firm up.

Meanwhile, pre-heat a large non-stick pan over medium-high heat for 2 minutes along with 2 teaspoons of oil. Add the onion along with ¼ teaspoon of salt and a few cracks of peppers. Cook for 6 minutes then add the garlic. Make sure to thoroughly drain and rinse the black beans then add them to the pan after the garlic has been cooking for 3 minutes. Add the ancho chile powder and cumin, mix well. Cook for 2 minutes then add all the quinoa, ¼ teaspoon salt, a few cracks of pepper, and mix well. Cook for 3 minutes, stirring often then turn the heat off and add the walnuts, cilantro, and juice of half a lime. Mix well and check for seasoning, you may need more lime juice and/or salt. Set aside.

Pre-heat oven to 350 F and pre-heat a large pan(preferably cast iron) over medium-high heat for 2 minutes. Add 2 teaspoons of oil to the pan and wait 30 seconds before adding half of the meatballs to the pan, making sure not to overcrowd the pan. Cook on one side for 2-3 minutes or until golden brown, flip and repeat. Remove meatballs from pan and place on a sheet tray. Repeat with remaining meatballs. Place meatballs in the oven for 15 minutes, if you are not sure the balls are cooked through, cut one in half. Ground turkey can overcook and become dry very quickly so make sure to check the meatballs after 15 minutes.

While the meatballs are cooking, pre-heat the same pan you used for the meatballs just below high heat. Add 1 teaspoon of oil to the pan along with all the peppers. Cook for 10-13 minutes or until nicely charred on all sides, stirring often. Turn the heat off and squeeze the juice of half a lime over the peppers and mix well, remove peppers from pan.

Serve the meatballs with some of the black beans and quinoa and some peppers. Garnish with cilantro and lime zest, enjoy! Everything will last in the fridge for 5 days, the meatballs and quinoa can be frozen for 2-3 months, but the peppers can't be frozen. The best way to reheat everything is in a 400 F oven for 10 minutes, if using the microwave, cover the container with a wet paper towel and make sure not to overheat, otherwise the meatballs will get dry.
Recipe Notes
Macros per serving of meatballs, makes 5 servings:
318 calories per serving
17.8 grams of fat per serving
3.24 grams of net carbs per serving
34.5 grams of protein per serving
0.4 grams of fiber per serving
Macros per serving of quinoa & rice, makes 5 servings:
245 calories per serving
5.4 grams of fat per serving
32.8 grams of net carbs per serving
10.1 grams of protein per serving
7.8 grams of fiber per serving
Macros per serving of shishito peppers, makes 5 servings:
32 calories per serving
1 gram of fat per serving
1.6 grams of net carbs per serving
3.2 grams of fiber per serving
8 grams of protein per serving