Grilled Lemon Chicken Recipe
Whole grilled chicken with lemon and herbs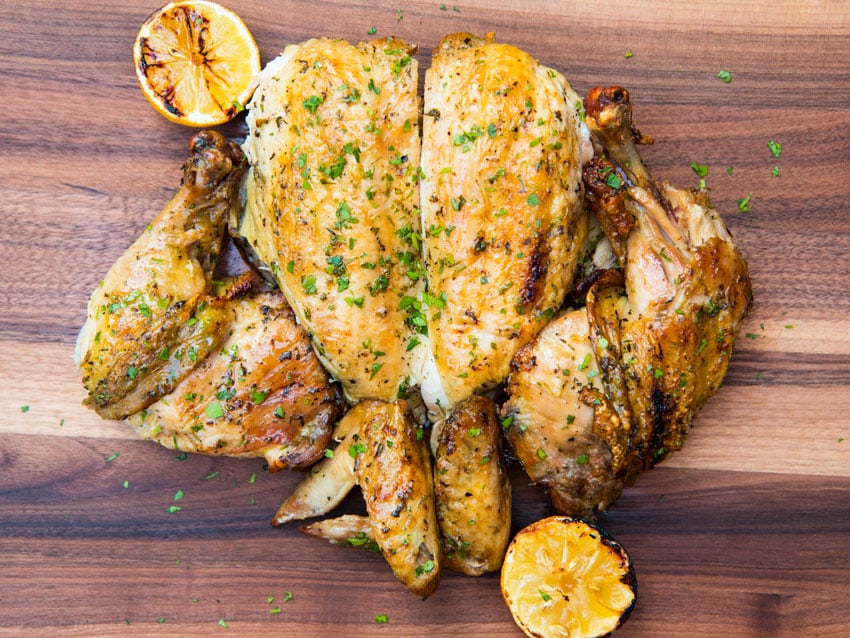 Grilled Spatchcock Chicken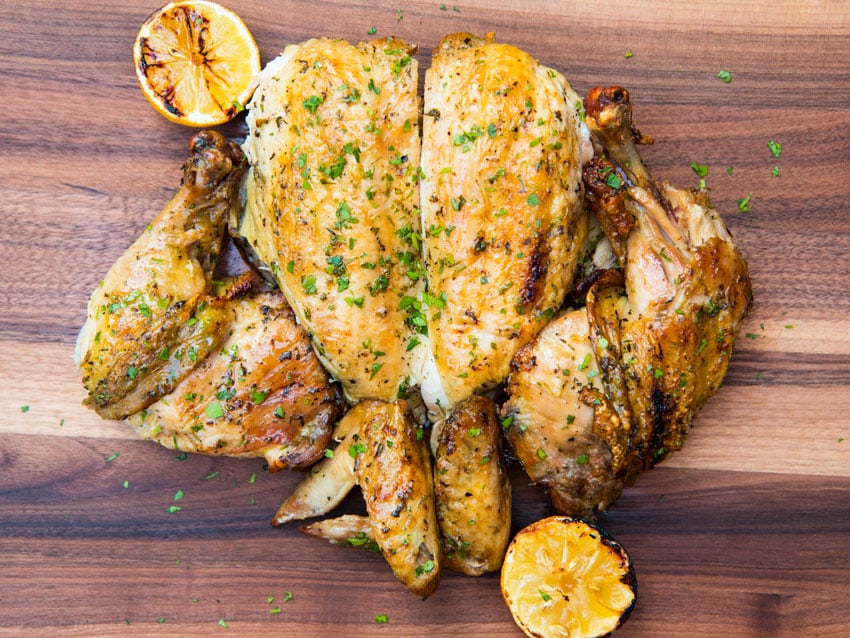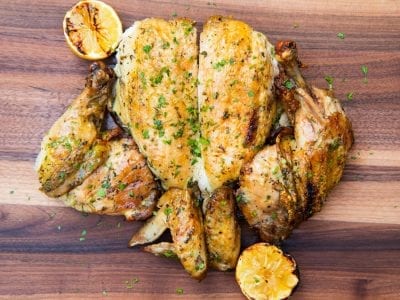 Lemon & Herb Grilled Chicken
Print
Ingredients
1

whole chicken

back bone removed, ask your butcher to do that

2

tablespoon

fresh rosemary

finely chopped

2

tablespoons

fresh thyme

finely chopped

1

lemon

halved

Olive oil

Kosher salt

Freshly cracked pepper
Instructions
When the back bone has been removed that's called spathcock chicken. It allows the chicken to lay flat which means it will quick quicker and more evenly.

Season the inside part of the chicken with 1 tablespoon of oil, 1.5 teaspoons salt, a few cracks of pepper, and half of the rosemary and thyme. Turn the chicken over and repeat. Make sure the chicken is room temperature before you grill it.

Pre-heat your grill to medium for 10 minutes. Place the chicken skin side down and watch it very closely for 20-30 minutes, keeping the grill lid open. Chicken skin is very flammable, so make sure the heat is not too high and if you have flare up, move the chicken around. The skin should be nice and golden now, flip the chicken over, close the lid, and cook for 20-30 minutes. Keep checking the chicken and make sure it's cooking evenly. During the last 10 minutes, place the lemons flesh side down and grill until slight charred, remove from the grill.

Check the internal temperature of the chicken with a thermometer, or make a small cut in the meat. The temperature should be 160 degrees F and the juices should run clear. Take chicken off the grill and place on a clean platter under tin foil. Rest for 5 minutes so the juices can re-distribute. Before serving, squeeze the grilled lemon juice all over the chicken and drizzle over a nice shot of olive oil. Serve and enjoy!