Chicken Shawarma Meal Prep
This chicken meal prep recipe features healthy chicken shawarma with a tasty yogurt sauce. This entire meal prep is for weight loss, but still has big flavors.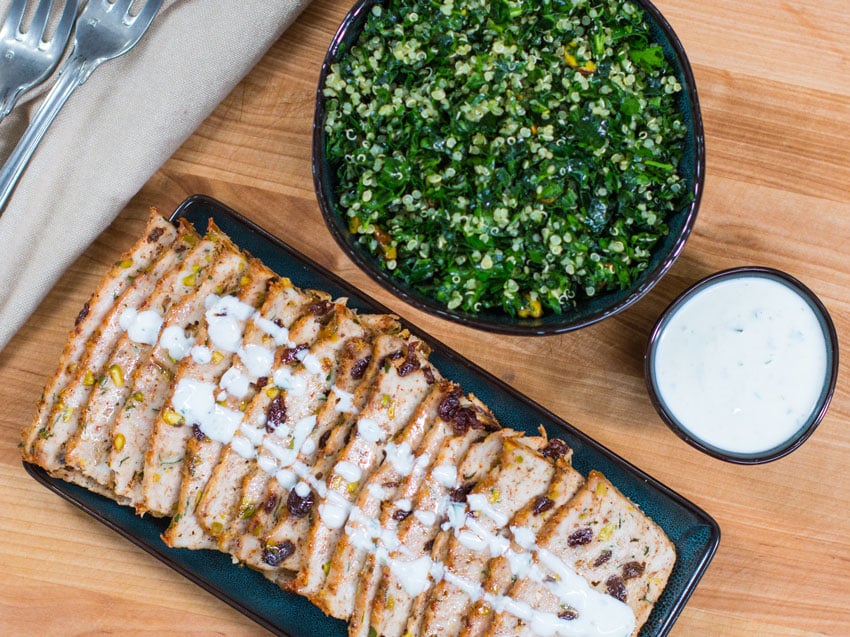 Chicken meal prepping for weight loss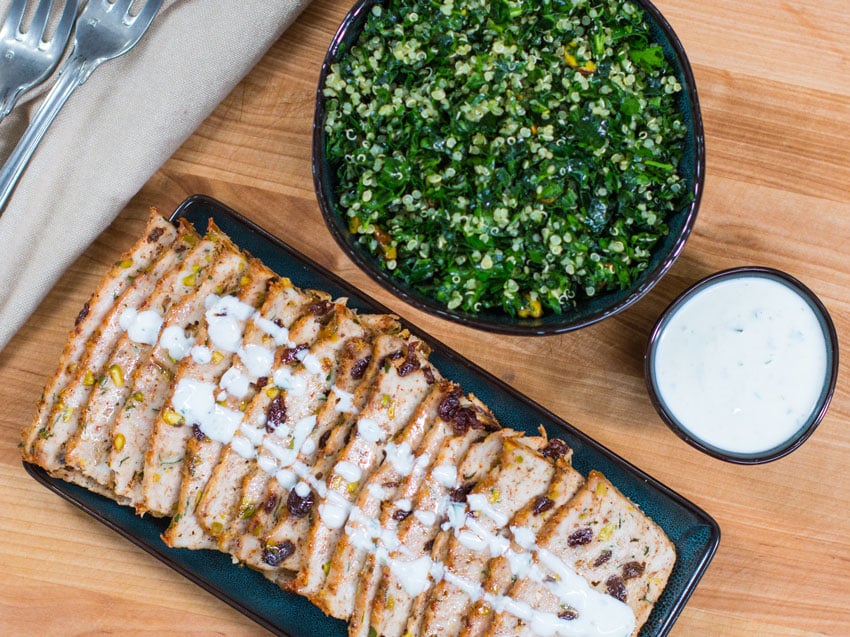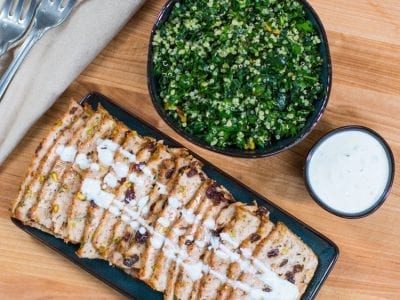 Chicken Shawarma with Herby Salad
Print
Ingredients
For the chicken:
2

pounds

ground chicken breast

3

cloves

garlic

grated or finely chopped

Zest of 1 lemon

2

tablespoons

fresh parsley

chopped

2

teaspoons

each smoked paprika & ground cumin

1

teaspoon

ground coriander

½

teaspoon

ground cinnamon

2

tablespoons

raisins

3

tablespoons

chopped pistachios

unsalted

1.5

teaspoons

kosher salt

Few cracks of fresh black pepper
For the yogurt sauce:
½

cup

non fat greek yogurt

Zest & juice of half a lemon

¼

teaspoon

ground cumin

1

teaspoon

fresh parsley

chopped

¼

teaspoon

salt

Couple cracks of pepper
For the salad:
1

bunch of Italian flat leaf parsley

1

bunch of lacinato/dino kale

1

cup

of cooked quinoa

about 1/3 cup raw

2

tablespoons

chopped pistachios

unsalted

Juice of 1 lemon

2

tablespoons

extra virgin olive oil

¼

teaspoon

salt

Couple cracks of pepper
Instructions
Cook's notes: Cook the quinoa ahead of time so it dries out a little before adding to the salad. You could make 1 day ahead of time, or even use cooked and frozen quinoa or brown rice for this recipe. Just reheat it, cool it down, and add to the salad.

For the chicken shawarma, pre-heat oven to 350 degrees F. In a large bowl, combine the ground chicken and remaining shawarma ingredients. Use your hands and mix until everything is very well combined. Line a meatloaf tin with parchment paper and pack in the chicken mixture, making sure it's evenly distributed. If you are not using parchment, oil the inside of the tin, or you can use a sheet tray and free form it like meatloaf. Bake in the oven for 40-45 minutes, or until the internal temperature is 158 degrees F. Remove from oven let cool for 10 minutes.

While the shawarma is baking, make the salad by cutting the parsley leaves from the stalk, finely chopping them, and add to a large bowl. Remove the center stalks from the kale, finely chop the leaves, and add to the bowl along with 1 cup of cooked quinoa. Add the chopped pistachios, lemon juice, olive oil, salt, pepper, and mix well. Check for seasoning, you may need more lemon juice as you want the flavor to be bright and fresh. Set aside.

Make the yogurt sauce by combining everything in a small bowl and whisking well. Check for seasoning and set aside.

After the shawarma has cooled for a few minutes, remove from the tin and throw away the parchment paper. Finely slice the loaf using a sharp knife, the thinner the better. Serve the sliced shawarma with some salad and sauce, enjoy!

Everything will keep in the fridge for 5 days, the only item you can freeze is the chicken shawarma, it will keep for 2-3 months in the freezer. When time to reheat the chicken shawarma, either heat in a 400 degree F oven covered with tin foil, or warm in a pan on the stove. If using the microwave, cover the container with a water paper towel and make sure not to heat too high or too long, otherwise the meat will dry out.
Recipe Notes
Macros:
359 calories per meal
11.5 grams of fat per meal
48 grams of protein per meal
16.8 grams of carbs per meal
2.5 grams of fiber per meal