This is some hearty low carb meal prep that is big on flavor. The lamb shoulder chops are very versatile, you can either cook them like a steak, or slow cook them for 2 hours. For this keto meal prep recipe, I spice crust the lamb and cook them in a hot cast iron pan. The lamb should chops get so crusty on the outside and cook through perfectly. I serve them with a crunchy green bean salad loaded with veggies and tossed in a dairy free tahini dressing.
How To Make Lamb Shoulder Chops
Lamb shoulder chops are a very versatile cut and perfect for the keto diet, because they have lots of yummy fat. You can either braise them for 2 hours or cook them just like you would a steak. The first thing you want to do is season the lamb with a spice rub made with smoked paprika, cumin, oregano, cayenne pepper, and cinnamon. That little bit of cinnamon will add such a great depth of flavor.
Allow the lamb shoulder chops to sit at room temperature for 20 minutes, cold meat in a hot pa will cook unevenly. Pre-heat a cast iron pan over medium-high heat with a couple of tablespoons of oil. Once hot, add the lamb and allow to cook for 6 minutes undisturbed. You will have to do this in two batches, as to not overcrowd the pan. Flip and let the lamb cook another 6 minutes, or until the internal temperature is 150 F.
While the lamb is cooking, make the greek yogurt sauce by combining full fat greek yogurt with lemon juice, dill, salt, olive oil, and you can even grate 1 clove of garlic in. Check for seasoning and set aside. Once the lamb shoulder chops are done, allow them to rest for 5 minutes before cutting int them. The recipe makes enough for 5 servings of meal prep for the week.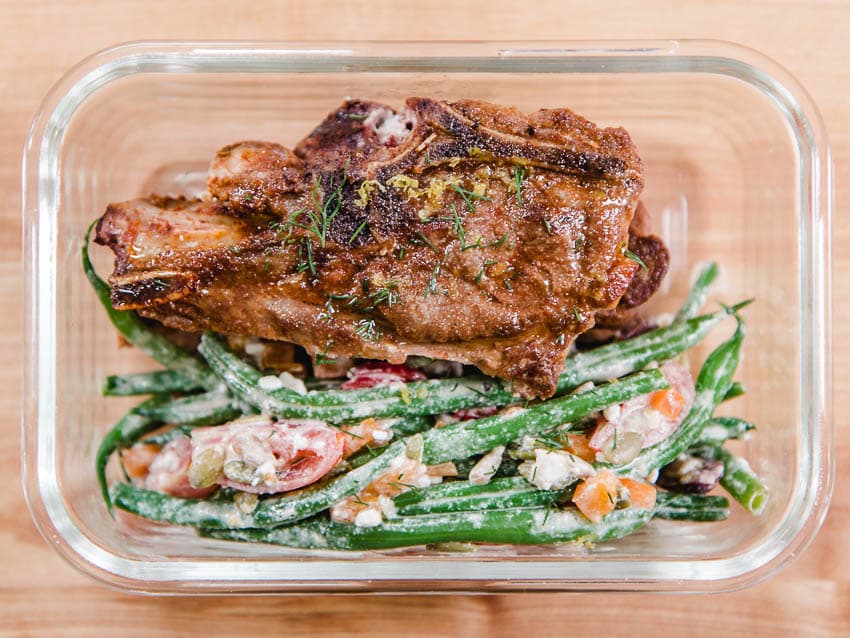 What To Serve With Lamb Shoulder Chops
To stick in the Mediterranean theme, I made these crunchy green beans with lots of veggies tossed in a creamy tahini dressing. First, you need to blanch the green beans of salted boiling water. You only want to do this for 3 minutes, and then immediately drain and place the green beans in a ice bath to stop the cooking process.
Make the tahini dressing by adding it to a bowl along with lemon juice, olive oil, parsley, and water. Whisk well and add enough water to make the dressing loose and pour-able. The dressing is dairy free, but still creamy and rich.
Toss the green beans with sunflower seeds, olives, orange peppers, cherry tomatoes, feta cheese, and pour over enough dressing to coat. Mix well and check for seasoning.