Chicken Pot Pie with Keto Biscuits
Veggie loaded chicken pot pie & low carb almond flour biscuits with cheddar cheese.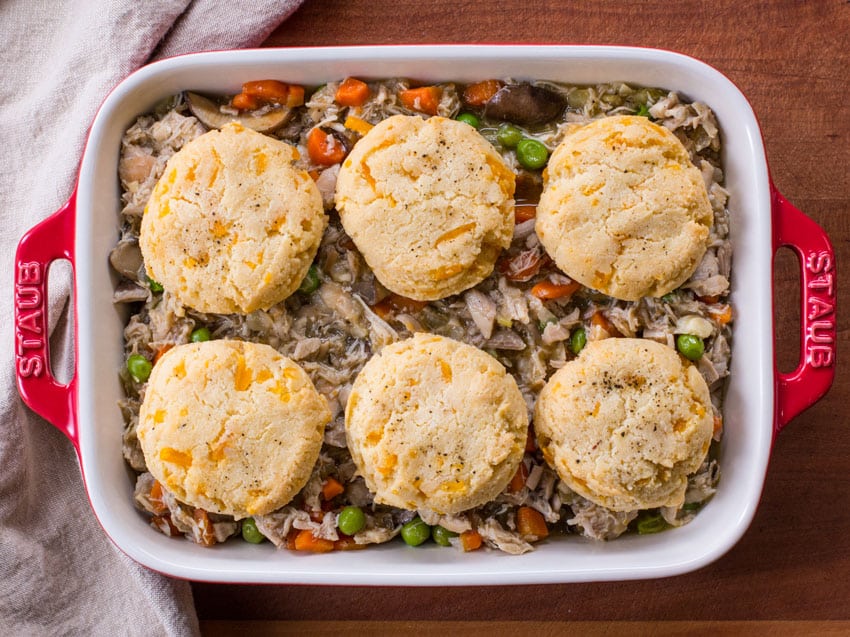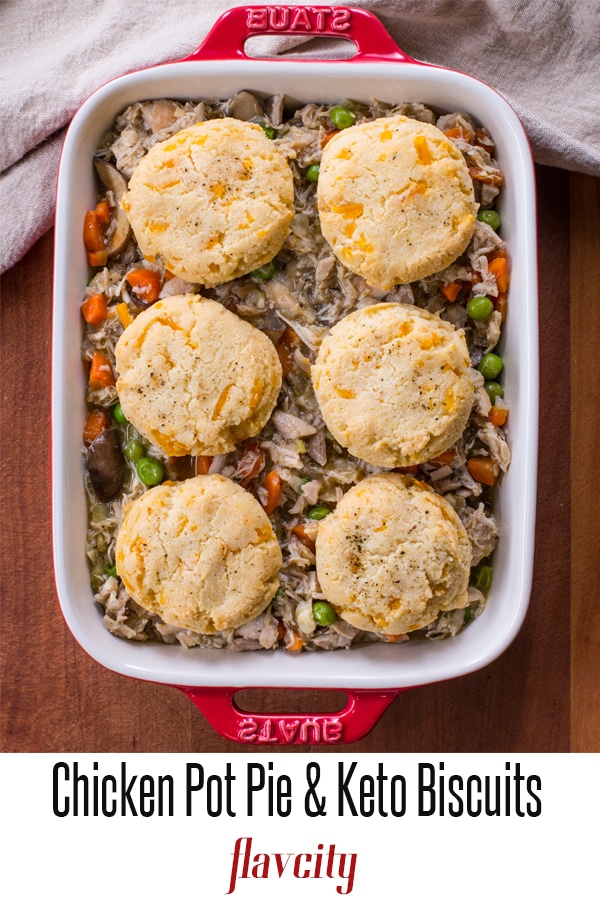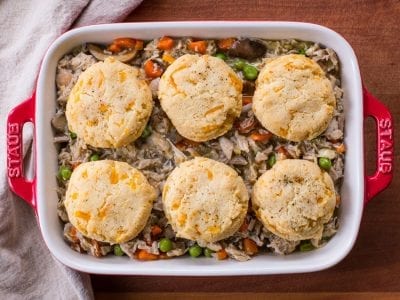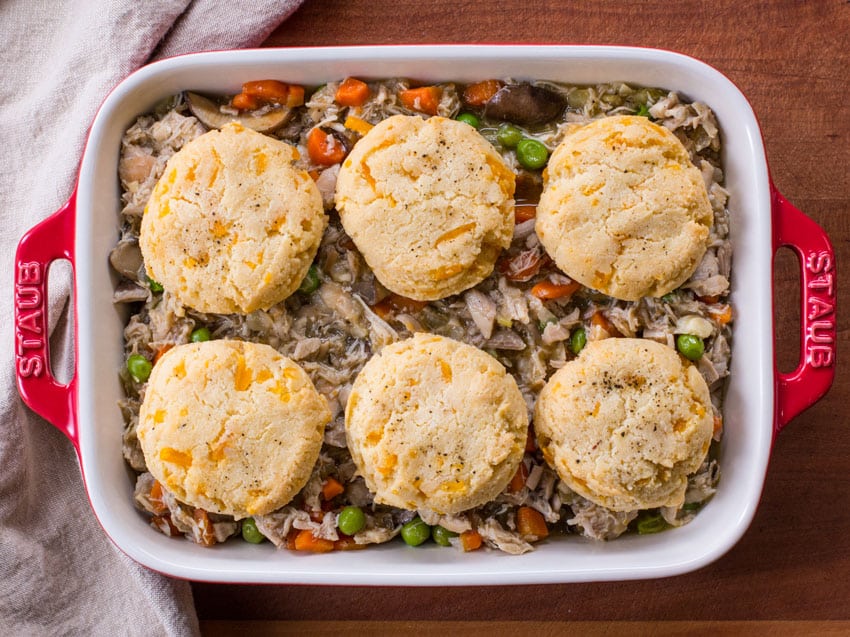 Chicken Pot Pie with Keto Cheddar Biscuits
Print
Ingredients
For the pot pie:
3.5

pounds

chicken thighs

bone & skin on

1

large yellow onion

chopped

4

medium size carrots

diced

4

stalks celery

diced

10

ounces

cremini mushrooms

sliced

½

teaspoon

dried thyme

3

cloves

garlic

minced

½

cup

frozen peas

1-2

cups

low sodium chicken broth

2

tablespoons

corn starch

Olive oil

Kosher salt

Fresh cracked pepper
For the biscuits:
2

cups

almond flour

2

teaspoons

baking powder

½

teaspoon

each garlic & onion powder

¾

teaspoon

kosher salt

Fresh cracked pepper

2

eggs

beaten

½

cup

melted coconut oil or butter

½

cup

low fat shredded cheddar cheese
Instructions
For the pot pie, pre-heat oven to 400 degrees F. Allow the chicken thighs to come to room temperature for 20 minutes and season both sides with a generous pinch of salt and a few cracks of pepper. Place the chicken, skin side up, on a sheet tray a cook in the oven for 1 hour. When the chicken is ready, allow it to cool for 5-10 minutes then remove the chicken skin. Use two forks to shred all the meat off the bones and then chop everything into small chunks, set aside.

While the chicken is cooking, pre-heat a large and wide pot over medium heat for 2 minutes with 1 tablespoon of oil. Add the onions, carrots, celery, mushrooms, dried thyme, ¾ teaspoon of salt, and a few cracks of pepper. Cook for 12 minutes, stirring often. Add the minced garlic and continue cooking until the veggies have wilted down and the onions have some color, about 5-7 minutes. If the chicken is not ready yet, turn the heat off the pot and wait until you have shredded the chicken(move on to the biscuits). Add the shredded chicken to the pot with the veggies along with the frozen peas, and make sure the heat is on medium. Add 1.5-2 cups of chicken stock to the pot, just enough to make everything loose and wet, but not like a soup. Cook for 10 minutes and check for seasoning, you will need more salt. In a small bowl, mix the cornstarch with 3 tablespoons of chicken broth and mix to combine. Add the corn starch slurry to the pot and cook for 5-10 minutes. Make sure the mixture is simmering, otherwise the cornstarch won't thicken properly. If the mixture is too thick, add more chicken broth, if it's too loose, and more cornstarch slurry. Take off heat and set aside.

For the biscuits, pre-heat oven to 350 degrees F. in a large bowl, sift in 2 cups of almond flour. If you don't have a sifter, make sure there are no large clumps of flour. Add the salt, pepper, onion and garlic powder, baking powder, and mix well. In a small bowl whisk the eggs and add the melted oil, mix well. Pour the wet batter over the dry batter and use a spatula to mix well. Add the shredded cheese and mix until well incorporated. Line a sheet tray with parchment paper and use a cookie scoop or large spoon to form equal size round biscuits, should make about 15. Use your fingers to push down the dough and make it look like a biscuit and then grind a bit of pepper over the top of each one. Bake for 15-17 minutes and remove from oven.

Place a few biscuits on top of a serving of the pot pie and enjoy! Store the biscuits and chicken mixture separately in the fridge for 5 days or freeze for 2-3 months. My fav way to reheat the chicken mixture is in a pot while I re-heat the biscuits in a toaster oven or toaster. If using a microwave, place a wet towel over the chicken mixture and make sure not to heat too high or to long. Don't microwave the biscuits.
Recipe Notes
Macros per serving of chicken:
333 calories per meal
12.4 grams of carbs per meal
14 grams of fat per meal
30.4 grams of protein per meal
2.8 grams of fiber per meal
Macros per biscuit, recipe makes 15 biscuits
170.5 calories per biscuit
2.7 grams of carbs per biscuit
16.4 grams of fat per biscuit
5 grams of protein per biscuit