This roasted chicken salad is easy to make, moist and creamy, and full of flavor. The key to making the ultimate chicken salad recipe is roasting chicken thighs in the oven. Don't even think about using canned or rotisserie chicken! Once you pull those juicy chicken thighs and toss them in a tangy mayo dressing, it makes the most epic chicken salad sandwich you can crush at work.
Some people have asked if you can use white meat. If you do that to make the chicken salad, make sure you buy bone on and skin on chicken breasts and roast them in the oven. It won't be as juicy as thighs and you have to make sure not to overcook the white meat or it will be dry.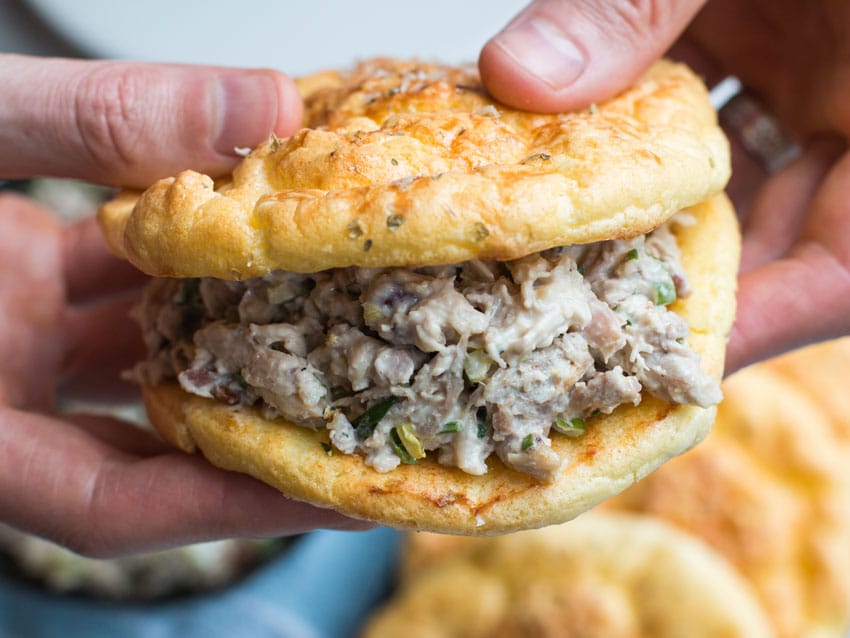 One of the most popular requests I get on my FlavCity YouTube channel is for lunches recipes that don't need to be heated up. I get it. Cold lunch recipes are hard to come up with and not everyone has access to an oven or microwave.
I have developed a few cold lunch recipes for work the last few months that have been very popular. You can also check out my citrus salmon with cauliflower salad recipe for lunch and my keto roasted cauliflower and broccoli salad with fennel spiced chicken. Both recipes for lunch are full of flavor and taste great eaten cold.
This lunch meal prep recipe will last 5 days in the fridge. I would not recommend freezing the keto cloudbread or the chicken salad as the texture will get really funky. The low carb cloudbread recipe is so easy to make that you can easily make another batch during the week if you run out.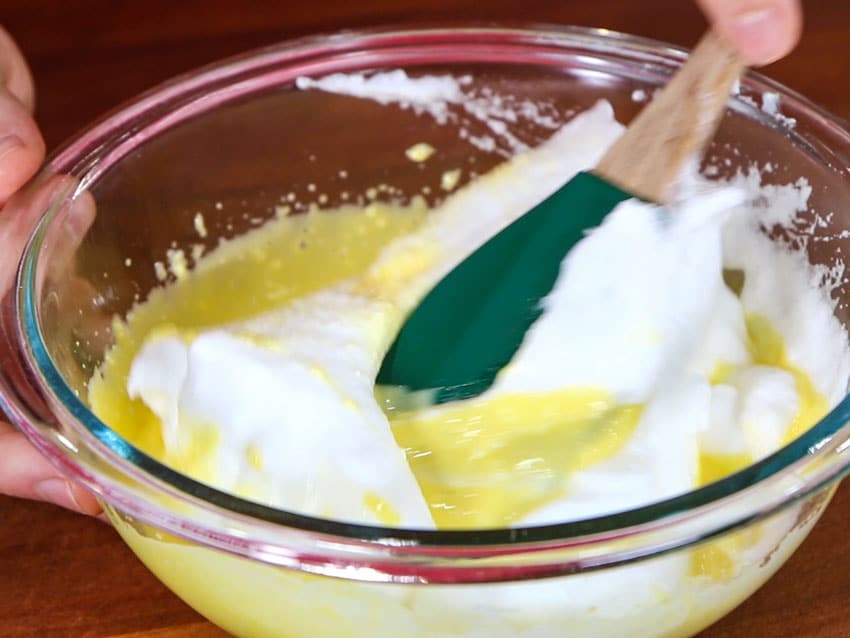 The Best Cloud Bread Ever
Te key to making keto cloud bread is to gently fold the beaten egg whites into the egg yolk and cream cheese mixture. The most common mistake people make is not beating the egg whites until the get stiff. This is essential for the cloud bread to achieve a light and airy texture. Look at the texture of my egg whites in the video.
I like to add a bit of dried oregano and grated Pecorino cheese to the tops of the cloud bread before baking them in the oven. This gives the cloud bread recipe a bit of a Italian focaccia flavor. The baking time is about 30 minutes, but bake them until the cloud bread is very nice and golden brown. Then yank them from the oven asap.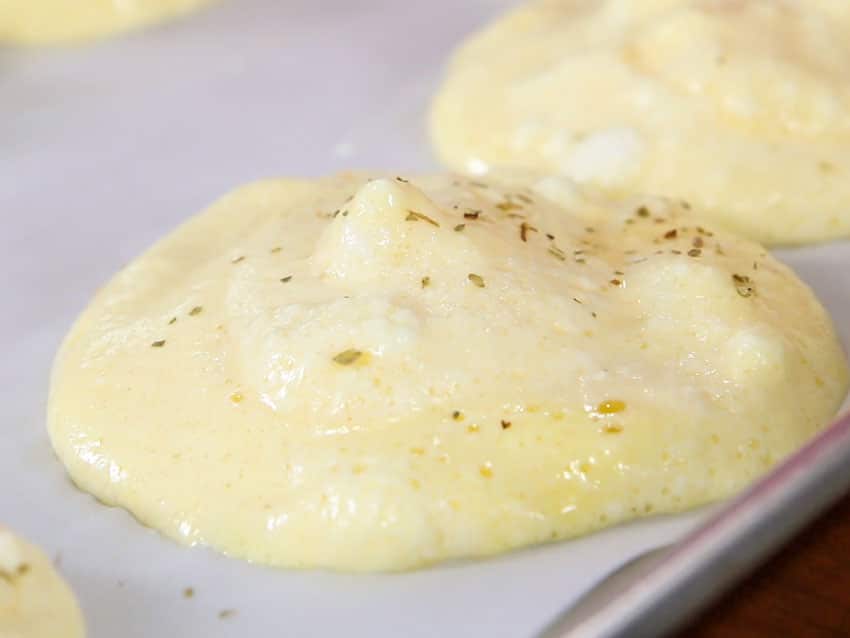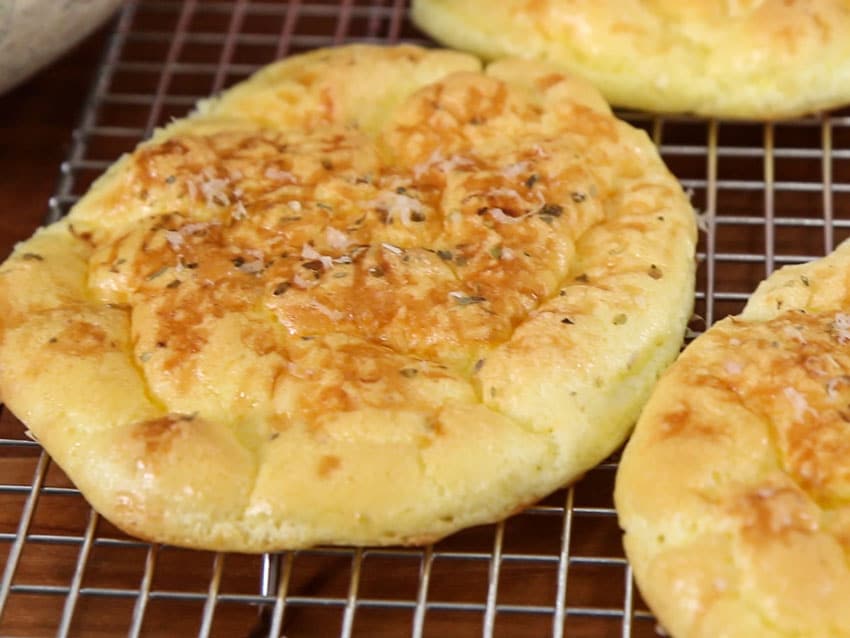 Just look how golden brown and delish the low carb cloud bread looks. I love how the cheese and oregano are speckled on top of the bread, and I like to move them to a cooling rack so moisture does not accumulate on the bottom, but its not necessary if you don't have one.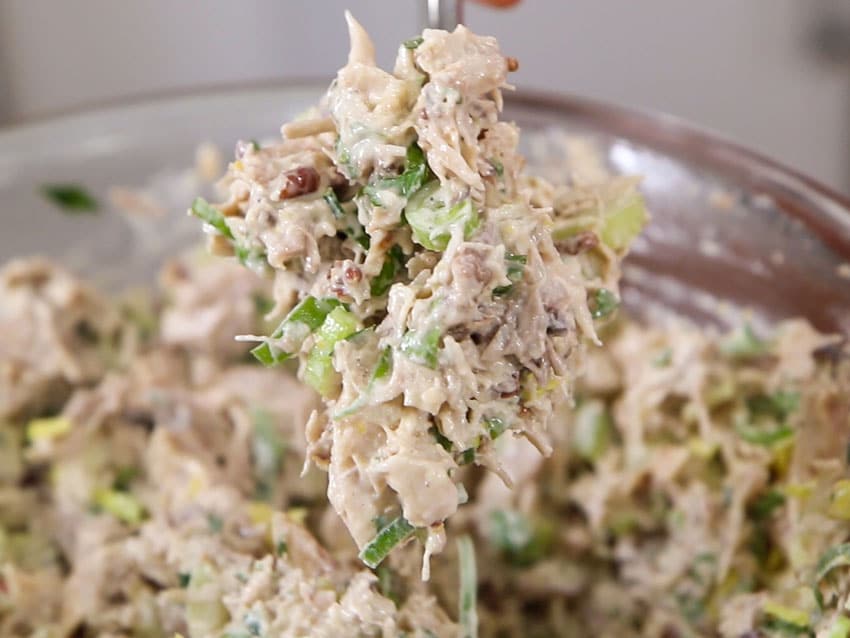 This keto chicken salad is life, you guys! It's all about roasting the bone-on, skin-on chicken thighs and then shredding them like wolverine after they are cooked. The chicken is so darn moist and flavorful this way.
Many people have asked me if it's ok to use a rotisserie chicken from the store for the chicken salad recipe. The answer is yes, but have you looked at the ingredients in those chickens!? Yikes! I would not want to put that in my body. You are better off roasting your own. You can eve use bone-on chicken breasts and shred them after. Just don't use boneless skinless breasts.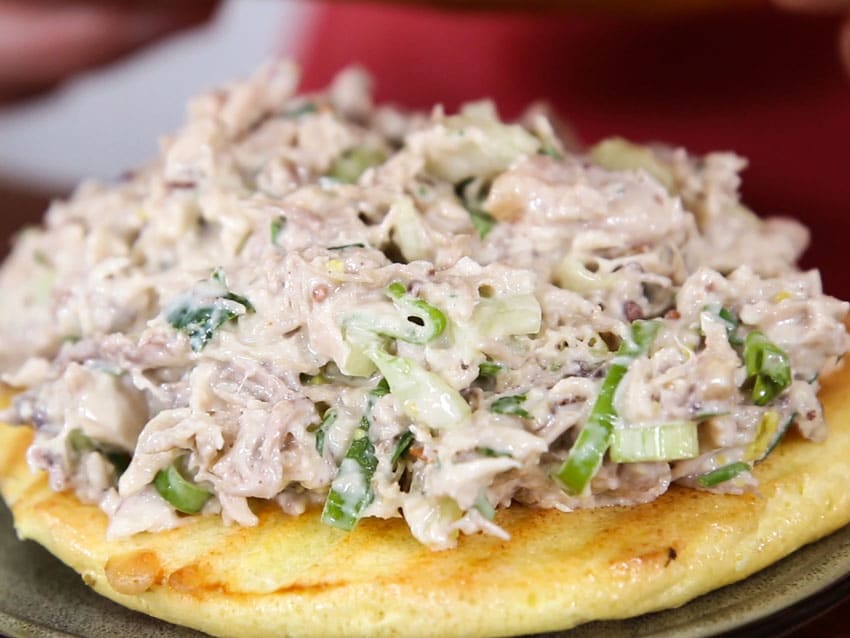 School Lunch Ideas
You guys are always asking me for work and school lunch ideas that can be eaten cold since not everyone can heat up their lunch. That's why I created this chicken salad sandwich recipe. Not only can it be enjoyed cold, but it actually gets better after a couple days because the flavors develop. This keto lunch ca be enjoyed for 5 days at work or school and it will be the tastiest low carb lunch ever.
You can eat your keto lunch chicken salad sandwich open face or use a second bun to make a sandwich. The cloud bread recipe is so low carb you can pretty much eat however many you want!