smashI am so stoked to share this recipe with you guys! This low carb double cheeseburger smash burger is so epic and perfect for the keto diet. It's all about the keto cloud bread buns, they have less than 1 net carb per piece, and they make the perfect bun for this juicy double smash burger.
You can make these beefy smash burgers in a hot cast iron pan or griddle an like I did, or you can even make them on the grill. Just make sure to smash them on a plastic cutting board with a heavy metal spatula first, then transfer to the grill.
How To Make A Low Carb Smash Burger
To make a juicy smash burger, weigh 4 ounces of meat on a scale and form it into a ball. You want to make sure each ball is the same size, so if you don't have a scale just eyeball it. This recipes makes enough for 2 double cheese smash burgers, but you can easily double it.
Pre-heat a large cast iron pan over medium-high heat. You can even use a non-stick pan, but the sear won;t be quite as nice. Add 2 teaspoons of avocado oil and wait for it to get hot. Add two of the balls of meat to the pan and use a large and heavy metal spatula to press down as hard as you can.
The goal is to make the smash burgers flat. Season the top side of the burgers with a generous pinch of salt and pepper and let cook for about 3 minutes. Flip the burgers, and if using a cast iron pan, really get in the and scrape the meat off the pan, as it liked to stick.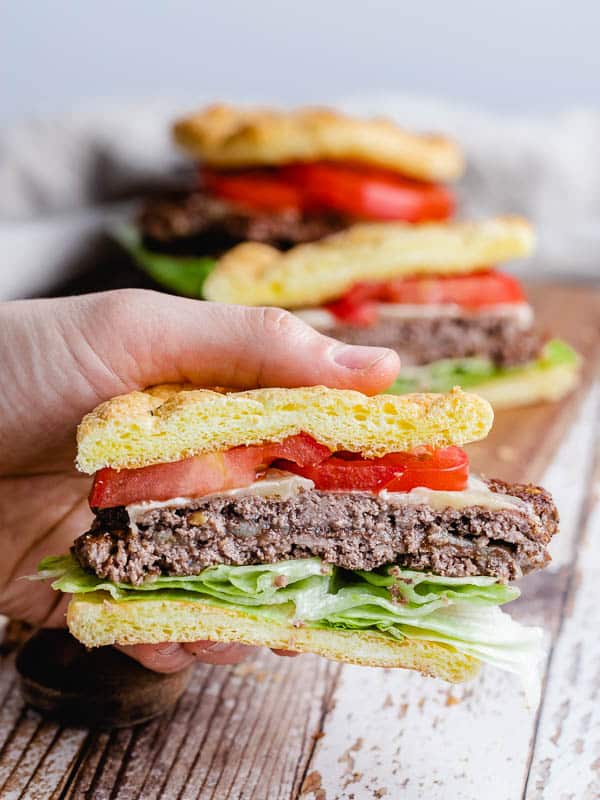 How To Melt Cheese For A Cheeseburger?
All it takes is two ice cubes and a lid to help the cheese melt perfectly and hug the sides the the cheeseburger in a way you have never seen before. First, grate some cheddar cheese or any cheese of your liking. Grated cheese melts quicker and more evenly then slices of cheese.
After you top the burgers with some cheese, add two ice cubes to the pan and cover with a lid or sheet pan. This amazes people every time I do it! The steam not only helps melt the cheese but it adds some moisture to the burgers.
Allow the smash burgers to cook 1 minute after putting the cheese on and then take the lid off. You will see the most beautifully melted cheese ever.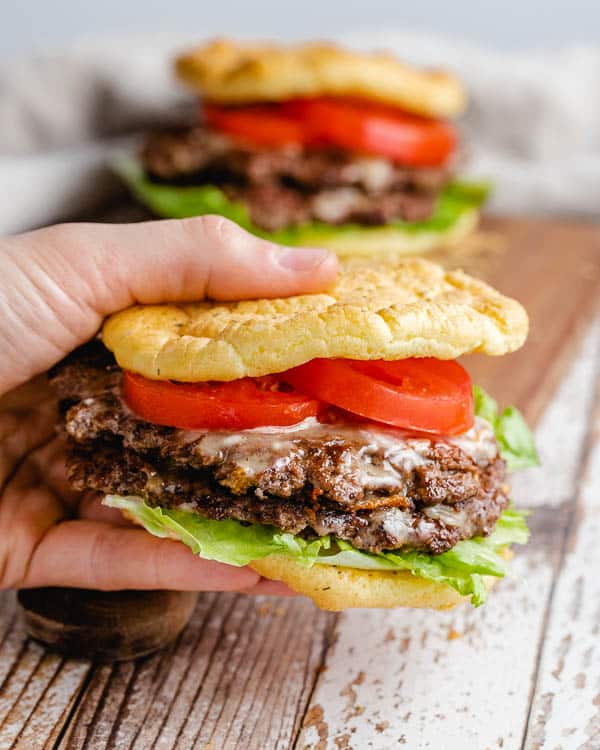 How Do I Make A Keto Hamburger Bun?
The easiest way to make a low carb keto hamburger bun is by making cloud bread. You only need two ingredients to make cloud bread, cream cheese and eggs. Make sure the cream cheese is room temperature and that it is full fat.
Beat the egg whites until they are very stiff peaks. If you are not sure what that looks like, watch the video in this post. I add 1/4 teaspoon of cream of tartar to the egg whites, that helps make them more stuff, but it's optional if you don't have it.
Beat the egg yolks with the cream cheese and then fold in the egg whites. More sure to gently fold, don't mix, as you want the air bubbles to stay inflated. Use a 1/2 cup measuring cup to pour the batter on to parchment paper lined sheet trays, form a bun size, and bake in the oven for 30 minutes.
Make sure to check out my other beef recipes: