I've got a provolone and prosciutto stuffed meatloaf recipe that could be the best one yet. What makes this meatloaf so unique is that you lay the ground beef /filling out flat, stuff it with the cheese and prosciutto, and then roll it up back into the shape of a loaf. This creates layers of flavor and makes for the juiciest low carb meatloaf recipe that is perfect for the keto diet!
If you are looking for more meatloaf recipes, check out my turkey meatloaf with cauliflower rice pilaf recipe and this chicken shawarma meatloaf.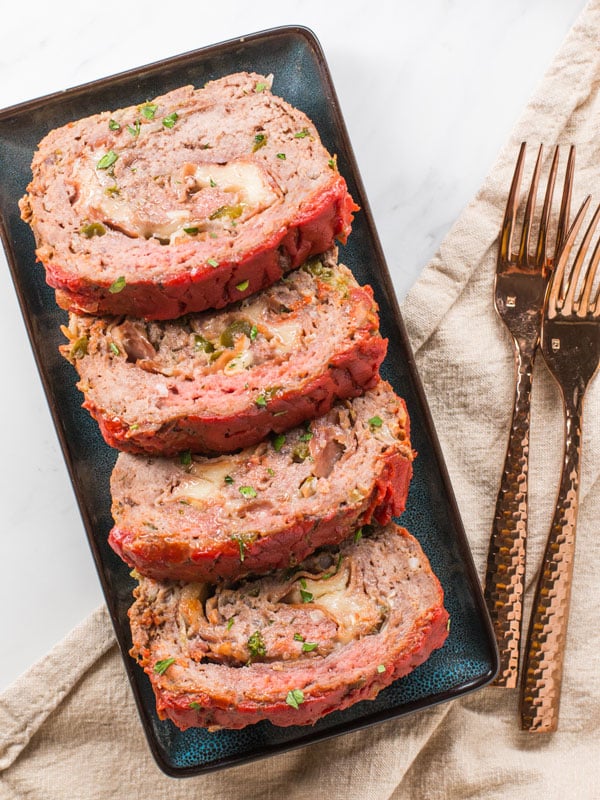 Low Carb Meatloaf
It's is easy to make a low carb meatloaf. Just leave out the binder that normally comes in the form of breadcrumbs and make sure to substitute that with moist and soft veggies. You have to use keto friendly veggies for a low carb meatloaf, so stay away from carrots and opt for green peppers, a little sweet onion, and garlic.
I am a firm advocate for cooking the raw veggies before adding to the ground beef mixture. The one time I did not do this was on Food Network's Cutthroat Kitchen and I got sent home. The raw veggies have too much moisture and a very strong flavor, so you want to take a good 15 minutes to cook them down and make them soft.
Cook the veggies in a pan for a good 15 minutes or until soft and wilted. Combine that with two pounds of ground beef, 2 eggs, and some grated Parmesan cheese. Here is the best part of this keto meatloaf, spread it out on a piece of parchment paper, and layer pieces of sliced mozzarella and prosciutto over the top. Then use the parchment paper to roll up the meatloaf and place it in a tin. This will create that pinwheel look when you cut into the meatloaf later on.
If you want your meatloaf to be soft and moist, you have to make sure to to over mix the beef and the ingredients. The longer you mix, the harder the meatloaf will get while it cooks, so make sure to combine just until everything is incorporated.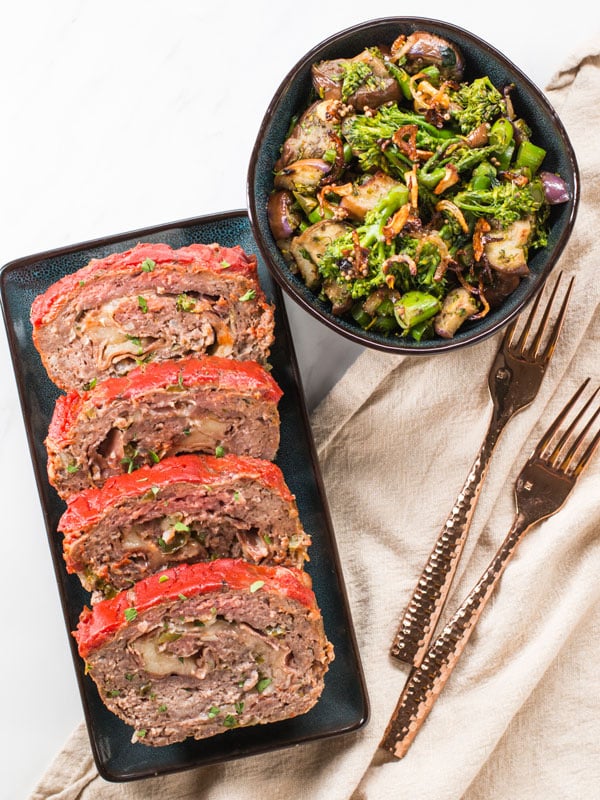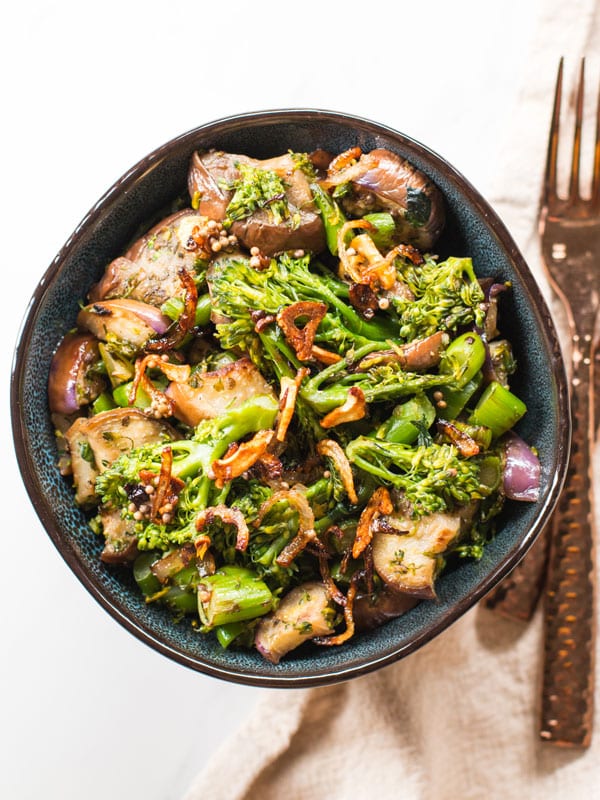 How Do I Cook Japanese Eggplant?
The Japanese eggplant is less bitter than the large purple variety. That is because it has less seeds. The key to making the eggplant and broccoli tender and slightly blistered on the outside is a very hot pan.
First I fry the aromatic in the oil to infuse their flavor, then I put the sliced Japanese eggplant and blanched broccolini in the pan set just under high heat. This will create nice texture on the veggies and prevent them from getting mushy. Once ready, top the eggplant and broccolini with the crispy shallots and garlic and you have one tasty side dish to compliment the meatloaf.