This stuffed bell pepper recipe is a gem! It's low carb and keto friendly, plus the addition of walnuts and not cooking the ground beef before stuffing the bell peppers makes this one of the best recipes for stuffed peppers I have ever had! I am not sure why people choose to brown the beef before stuffing. This results in the beef drying out or the stuffed pepper does not have enough time to cook. If you are looking for more stuffed recipes that are keto, check out my low carb keto stuffed pork chops and my stuffed and rolled chicken breasts.
I don't know about you, but I want my stuffed peppers soft enough where I can actually eat the pepper and the filling moist and juicy. Who said I can't have my cake and eat it too!?
Low Carb Stuffed Peppers Recipe
Not only is the flavor and texture of these low carb stuffed bell peppers the bomb, but this is also a keto recipe. Most recipes for stuffed peppers call for using rice or other starchy fillers. I work around that by using walnuts and a combo of ground pork and beef for a soft, creamy texture.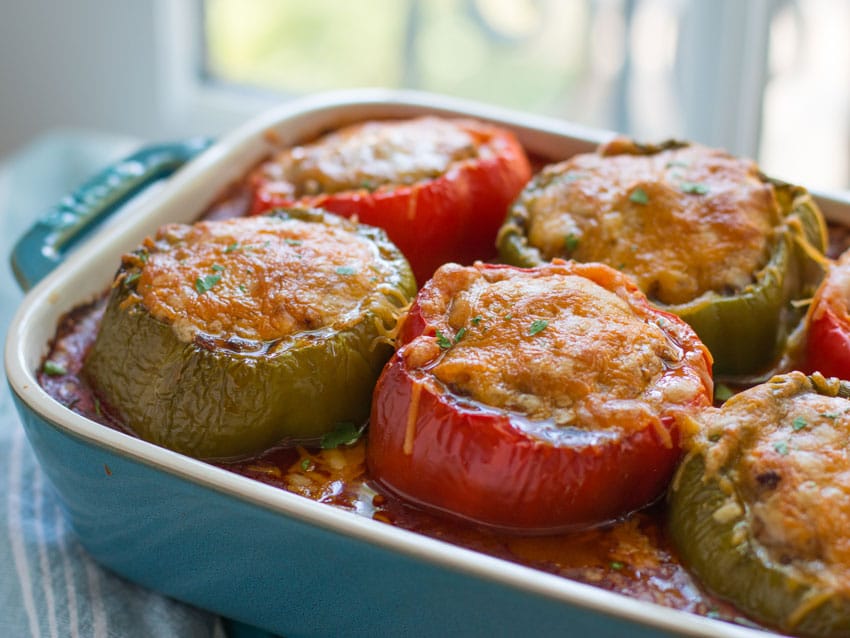 Stuffed bell peppers cook in the oven for 1 hour and 30 minutes, so they need some liquid love to prevent them from shrinking like a frightened turtle. Most marinara sauce recipes are loaded with sugar and high carb veggies, but if you just take a 28 ounce tin of good quality whole tomatoes, San Marzano are the best. Puree that into a sauce and season with salt and pepper, and you just made a keto tomato sauce.
The stuffed peppers don't absorb the cooking liquid. They just stay nice and moist, so don't worry about eating too many tomatoes if you are on keto. Plus, I only use a couple tablespoons at garnish over the tops of the bell peppers at the end.
How To Make Stuffed Peppers?
The first step in making the perfect stuffed peppers recipe is to saute the aromatic veggies, the onions, zucchini, and garlic need to sweat out there moisture before being stuffed inside the green and red bell peppers. Next, add some tomato paste, cauliflower rice, and walnuts to the pan and let the nuts toast and the paste cook so the flavors develop. Add a bit of chicken bone broth to loosen the mixture up and then you can add it to the ground meats.
If you want juicy meat inside the bell peppers, (and who doesn't?) then I recommend a mixture of ground beef and pork, which will add some nice fat to the blend and prevent it from drying out while baking in the oven.
Total cook time for the stuffed peppers is 1.5 hours, and during the last 30 minutes, sprinkle a healthy amount of shredded cheese over the top so it melts in the oven.
How Long Do I Cook Stuffed Peppers For
Cook stuffed peppers at 350 degrees F for 1.5 hours total. Remove the parchment and tin foil after 30 minutes and  cook for another 30 minutes, and then top the peppers with cheese and bake another 30 minutes or until the internal temperature of the peppers is 155 degrees F.
How Do I Reheat Stuffed Peppers
The best way to reheat stuffed peppers is in a 350 degree F oven for 8-10 minutes. You can also reheat them in a microwave, but make sure to cover them with a wet paper towel and don't overheat or the peppers will dry out. Cook stuffed peppers will last in the fridge for 5 days or can be frozen for 2-3 months.
Check out my other keto recipes: