This keto meal prep recipe has the ultimate low carb cauliflower fried rice paired with juicy Chinese 5 spice crusted chicken. I realized that even though I have this bomb cauliflower fried rice recipe paired with sticky glazed pork chops, it's not keto, so I had to make a low carb version to hook you guys up with some seriously easy and tasty keto meals for the week. I am kind of obsessed with cauliflower. It's such a blank canvas that can adsorb many flavors and textures. You guys gotta check out my keto cauliflower tots recipe and my low carb keto burrito bowl that puts Chipotle to shame. 😉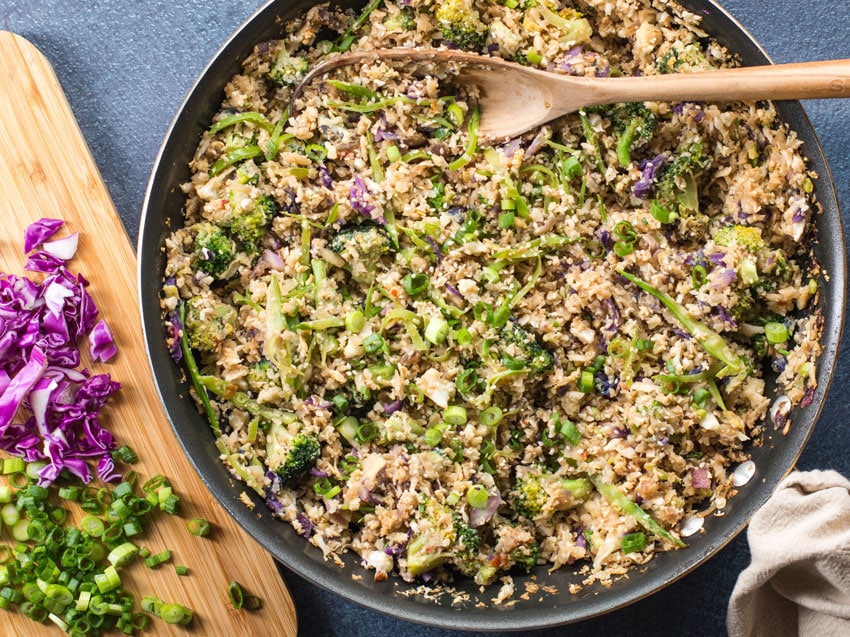 How Do I Make Keto Cauliflower Fried Rice?
I would advise not to buy the grated cauliflower rice at the store. The texture and flavor will be much better if you use the large setting of a box grater and do it yourself. The riced cauliflower at the stores is made up of stalks. Can you believe that? You are paying for cauliflower stalks, not the tender and juicy florets. Not only will it be cheaper to make your own cauliflower rice at home, but the florets will yield a tender, juicy cauliflower rice.
One large head of cauliflower will make about 5-7 cups of grated cauliflower rice. Make sure to cut the cauliflower head into 4 parts and the grate it directly into a large bowl, trying not to use too much of the stalks. You can save the cauliflower stalks and use them to make veggie stock or chop thin and add to a stir fry if you want. To cook the cauliflower fried rice, first cook the veggies in this recipe like the broccoli, cabbage, onions, and garlic. Then scramble the eggs and add the riced cauliflower.
The key is to cook the cauliflower rice long enough to get rid of the raw crunch, but not too long that it becomes mushy. I find that cooking it over medium-high heat for 5 minutes with the veggies, stirring often, will yield the perfect texture and make the cauliflower almost have that fluffy texture like white rice.
To keep this meal prep recipe ketogenic, I am using coconut amino acid instead of low sodium soy sauce. You can find this at Trader Joe's for a really good price. My fantastic 3 sauces that I use to make the flavors of this keto cauliflower fried rice pop are: toasted sesame oil, sambal olek or sriracha sauce, and amino acid. You can adjust the amount you use based upon personal preference.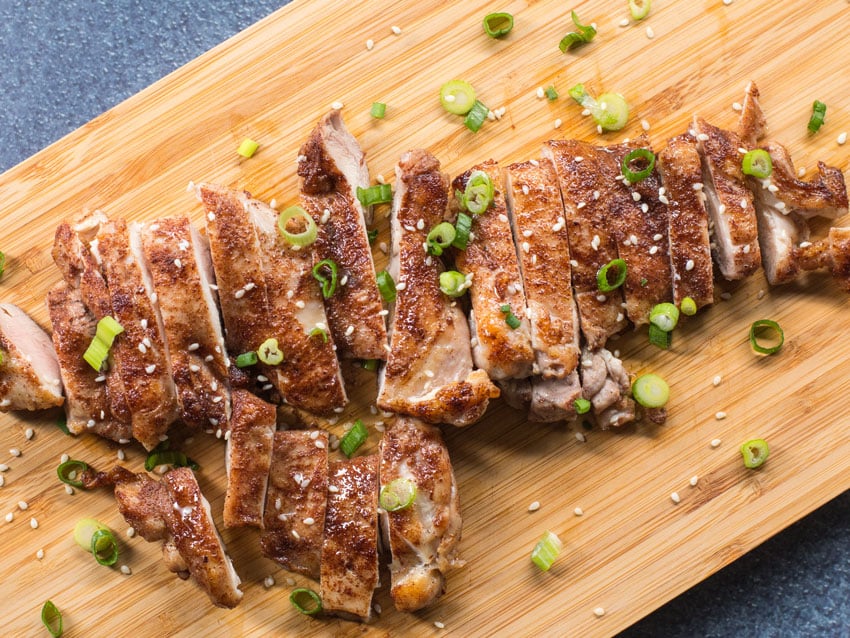 Tasty Keto Meal Prep Recipes For The Week
To add some extra healthy fat to this recipe and make it keto, I decided to use boneless chicken thighs and dust them in Chinese 5 spice. This spice is incredible because it's made up of 5 different spices, so the rub is already made for you. Allow the spice rub to sit and marinate on 10 chicken thighs for 20-20 minutes. This will take the chill off the chicken and allow the marinade to inject some flavor.
When it is time to cook the keto chicken, make sure to pre-heat the pan for two minutes, add 2 teaspoons oil, wait 30 seconds for the oil to heat up, and then add the chicken. The goal for this keto chicken is to get nice and crusty, and you need a hot pan for that to happen. I have more keto meal prep recipes that feature incredibly tasty chicken thighs, like my:
The meal prep recipe makes enough for 5 servings for the week. Each meal has two 4-ounce chicken thighs plus a healthy portion of low carb cauliflower rice. You can freeze the chicken, but I don't recommended freezing the cauliflower rice. I will explain why below. The best way to re-heat this keto meal prep the following days is in a 350 degree F oven for 7-10 minutes. If using a microwave, cover the container with a wet paper towel and make sure not to overheat or the chicken will dry out.
Can I Use Frozen Cauliflower Rice?
You should not be buying frozen cauliflower rice because the texture will be mushy and not nearly as good as if you grate fresh cauliflower florets. Once you freeze cauliflower, ice crystals form, and when defrosted, the texture is soft and mushy. Plus, the frozen and pre-made cauliflower rice at the stores is made up almost entirely of stalks. Who wants to pay money for cauliflower stalks!?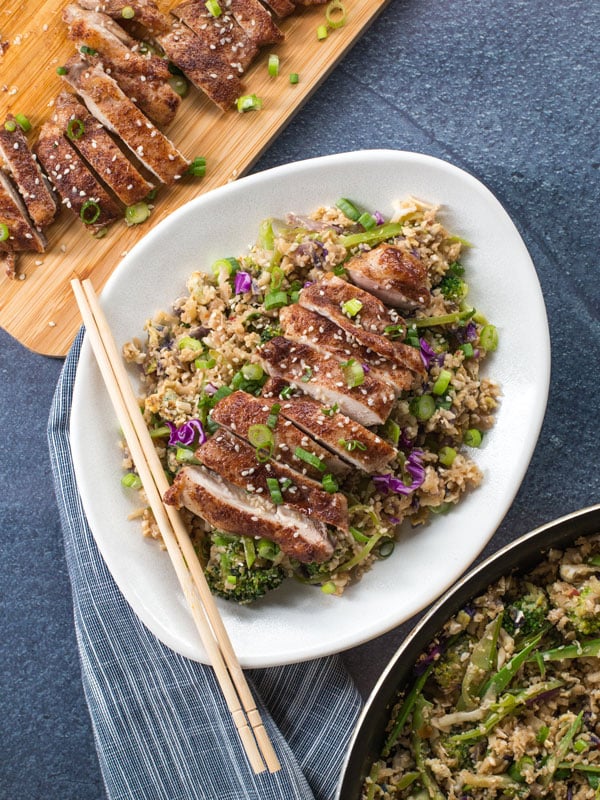 Are Keto Recipes Gluten Free?
Yes, all keto recipes are gluten free because wheat, grains, and starches are very high in carbs, making them a no-no for the low carb keto diet. You will often find dairy in keto recipes, but I try to always give you the option to go diary free because that makes the recipe Whole30 compliant also. A good example of that is my keto shrimp burger meal prep and Dessi's epic keto fat bread.
Check out more of my tasty keto meal prep recipes for the week: