I wanted to see if I could make 3 healthy meals on a very limited budget. The average food stamp benefit per person is $126 per month, which comes out to $1.40 per meal. So that begs the question,is it possible to not only eat healthy, but buy good quality ingredients like grass-fed beef and organic cheese using a very limited budget!?
I decided to head to ALDI and buy the ingredients needed to make a healthy breakfast, lunch, and dinner. I knew I had to cut some corners hear and there, but I did not want to sacrifice to the quality of ingredients that I normally buy. That meant if I bought beef, I wanted it to buy the organic 100%grass-fed beef from ALDI, which is the best price ever at $5.29 per pound. They also have organic sliced cheese, which I feel is so superior to conventional dairy, that it was worth the added expense.
I am pretty happy to sat that I came in under budget for breakfast and dinner, but a bit over budget for lunch. Below is a breakdown of each recipe, how to make it,and my thought process about buying budget ingredients.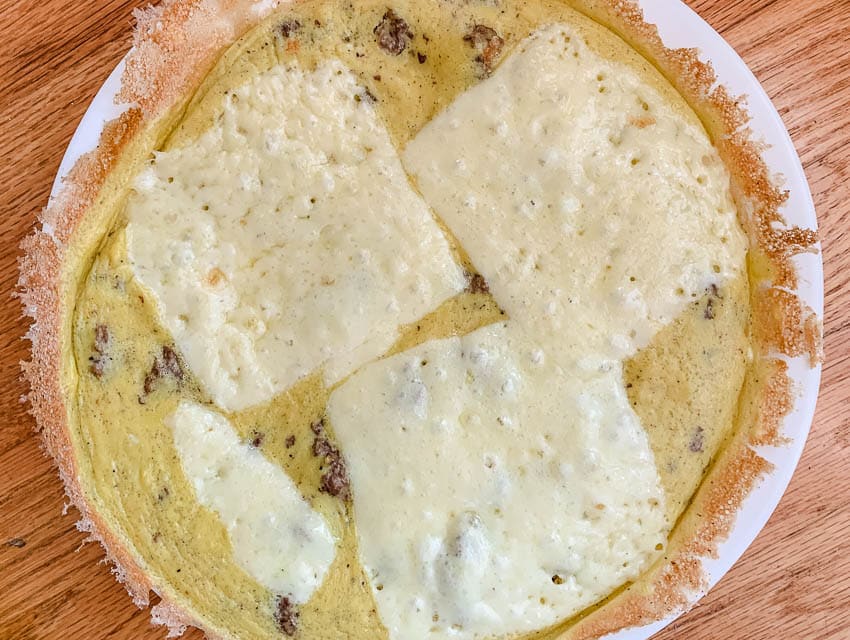 How To Make Breakfast On A Budget
For a budget breakfast I made a cheeseburger frittata with organic grass-fed beef, organic cheddar cheese, and conventional eggs. I am very big on buying grass-fed beef, the nutritional profile is far superior to conventional beef, and I really try to avoid eating protein that has been fed GMO grains.
Organic dairy is far superior to conventional, and the organic cheddar is not that much more at ALDI, so I scooped it. When it came to eggs, I opted for conventional eggs over organic. I only like to splurge on pasture raised eggs, and since ALDI did not carry that, I felt it was not worth the money to buy organic, so I saved big money on the conventional eggs.
The cheeseburger frittata is really easy to make, just preheat your oven to 400F along with a non-stick 8 inch pan. First brown off 5 ounces of the grass-fed beef until it's nice and crusty, and then whisk in 8 eggs. Once the egg are half set, lay down 3 slices of cheese and pop it in the oven for 8 minutes. Remove and serve.
Now on to the cost! This cheeseburger frittata makes 3 servings and comes in at only $1.08 per serving. The food stamp budget allows for $1.40 per meal, so major score with this breakfast recipe.
Healthy Lunch Recipes On A Budget
For lunch I made a taco salad with seasoned tortilla chips. This was the most expensive meal I made, but so tasty. I opted for bagged spinach fort e greens, as they are very nutrient dense and only costs $1.39. I used the rest of the grass-fed beef along with some organic tortilla chips and an easy dressing made from mayonnaise.
To make the taco salad, cook 1 cup of onions in a non-stick pan for 8 minutes until slightly caramelized. Add the remaining 11 ounces of grass-fed beef and cook for a couple minute then add some taco seasoning mix. Normally I make my own spice mix, but  ad to buy one for $0.49 from ALDI.
Add 1/2 cup of water to make the beef mixture saucy and cook for a few more minutes. Chop the spinach and add it to a large bowl and then make the salad dressing by scooping in 3 tablespoons of mayo, 1 tablespoon of apple cider vinegar, a shot of olive oil, salt, and pepper.
This is my go-to easy dressing and is so tasty. to add extra flavor to the chips, heat them in a 425F oven for 2 minute then toss them with a pinch of the leftover taco season mix. Free flavor!
This taco lunch salad comes in at $2.95 per serving. Way over the allowed budget of $1.40, but we tried to offset that with breakfast and dinner.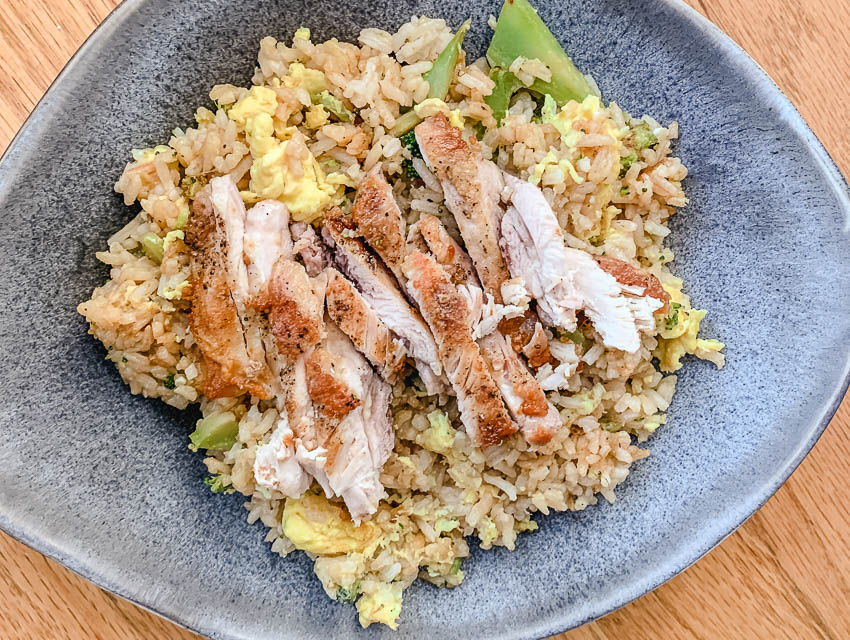 How To Make Dinner On A Budget
For dinner I made a budget friendly chicken fried rice. Juicy and crusty chicken thighs, soft scrambled eggs, and fluffy white rice. I did not have the budget to buy organic chicken, something I always do. This means I had to buy conventional chicken thighs, but at least thighs are cheaper than breasts and have way more flavor! Even though conventional chicken is feed GMO grains and have a terrible life stuffed into a hen house, I had to cut some corners here and there.
Season the boneless and skinless chicken thighs with slat and peeper, and cook in a hot non-stick pan for 4-5 minutes on each side. the key s to let the chicken come to room temperature first, and place it in a really hot pan, this will result in a beautiful crust. Remove the chicken and use the same pan to cook the broccoli for 8 minutes then add the cooked rice. The biggest tip for making epic fried rice is to use leftover rice that has been made the day before, or at least 4 hours ahead of time.
Cook the rice for a couple minutes, add 3 scrambled eggs to the middle and whisk well. Combine the rice and eggs well then add 3 tablespoons of low sodium soy sauce. Cook another few minutes ad serve the rice with sliced chicken.
This recipe makes 4 servings and the cost is only $0.79/ serving. Giddy up!
Ultimately I failed at making 3 meals for the day at $1.40 per meal. The had a total of $4.20 to sped of all 3 meals, and I ended up spending $4.82. I went $0.62 over budget, and it's because my lunch recipe was a bit pricey. That being said, if you used conventional beef and cheese, then…..??? I still think I did a great job making 3 meals for the day that are healthy, extremely tasty, and very budget friendly. I realize that it is hard to cook healthy meal on a very limited budget, and I only did this for one day, but I really feel that if you know how to shop correctly, you can make your money stretch and still eat healthy meals.
Make sure to check out more budget friendly recipes: