This could be the easiest keto egg recipe because all of the work is done by the blender and it's the perfect to take to work or school. It's low carb, full of cheese, and bacon, and all you need is a blender for this keto breakfast recipe.
You can add low carb veggies to these keto egg muffins. Just make sure to cook them first so they don't release too much water in the egg bites. Green peppers, a little onions, and zucchini would all be low carb veggies. Just make sure to season and cook them a few minutes in a hot pan. Make sure to check out my keto breakfast Mc'Muffin sandwiches too – they are part of my breakfast meal prep and are paired with coconut chia seed pudding.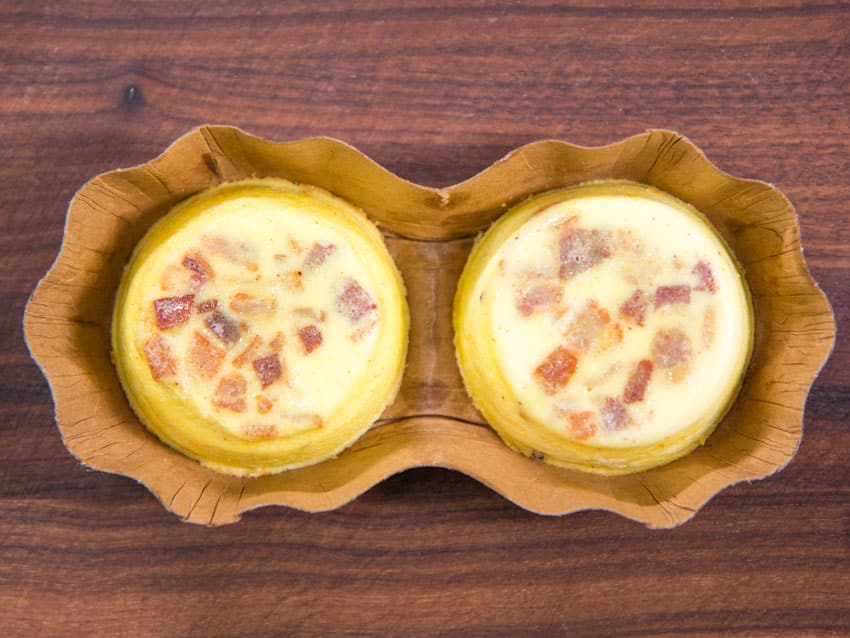 I wanted this keto breakfast idea to be a knockoff of the Starbucks sous vide egg bites, which is why I even saved the container that they come in! The keto egg bites are way cheaper than Starbucks and honestly taste better. All you need is a blender and an oven for this keto breakfast recipe. It could not be any easier.
Starbucks Sous Vide Egg Bites
Give this copycat Starbucks egg bites recipe a chance and I know you will love them. They are low carb, keto friendly, and extremely easy to make. Starbucks makes the egg bites in an actual sous vide machine, but I realize that not everyone has one.
The way I worked around that is by creating a moist and humid environment in the oven. Fill a large baking dish halfway with water and place that on the bottom rack. The steam will help the egg bites cook gentle and make them soft and custard like.
To make the egg bites, just add everything to a blender and mix on high for 20 seconds. Add the egg mixture to a greased muffin tin, top with chopped bacon, and bake at 300F for 30-34 minutes.
Egg Recipes For Breakfast
The best part about the breakfast recipe for eggs is that it's easy to make and portable. So Imagine making these bites ahead of time and just grabbing them on the go to work or school. You can reheat the egg bites in the microwave or oven, and it's just a great egg recipe to have in your rotation.
Many people have asked me if you can make this recipe with egg whites, and the answer is yes! Feel free to add and veggies or toppings to this recipe. Just make sure you cook raw veggies first. Otherwise they have too much water.
Check out my other breakfast meal prep recipes: