I have over a dozen meal prep recipes that feature juicy chicken breasts along with tips on how to make them perfect every time, but I wanted to make a video and a blog post that features three ways to cook perfect, juicy chicken beast every single time. These techniques will show how to cook a chicken breast in a pan, baked in the oven, and poached in water.
If you are looking for meal prep recipes that feature boneless skinless chicken breasts, then try my spice crusted chicken breast with wild rice superfood salad or my oven baked bone on Greek style chicken breast with spaghetti squash.
You are going to be a chicken breast boss after learning these game changing techniques. Hint, if you are not allowing chicken breasts to come to room temperature before cooking, you are doing it wrong.
You want to buy chicken breasts that are on the small side, not these huge chicken breasts that look like they have been lifting weights. I only buy organic chicken breasts as the texture and flavor are much better than conventional, and they are not as big.
Big chicken breasts are almost impossible to cook evenly. By the time the inside is cooked through, the outside is overcooked. This can also be true for organic and smaller chicken breasts, which can be a bit lopsided. The answer to this problem is to pound them a bit to make them flat.
How Do I Pound Chicken Breasts?
Lay a piece of plastic wrap down, place the chicken breast on top, and cover with another piece of plastic wrap that overlaps the chicken by at least 3 inches. Use the flat side of a meat mallet or a rolling pin to firmly pound down and to the side. Don't just pound down or you may tear the chicken breast meat.
The goal is to make the boneless chicken breast more even so it cooks quickly and more evenly. Don't pound it into a pancake. Just make it so the breast is even all the way across.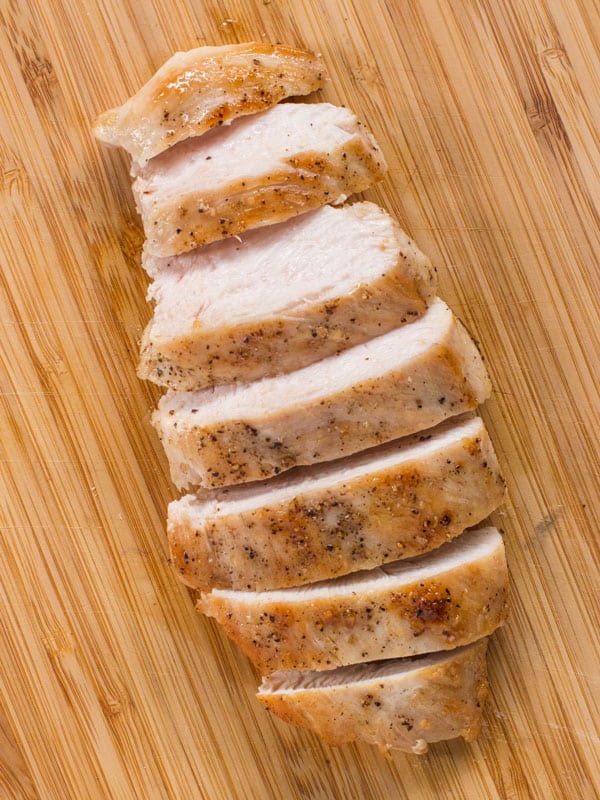 How To Cook Chicken Breast in the Pan
Let's first focus on how to cook a chicken breast in the pan, which is my favorite technique because of the flavorful crust that forms. Chicken breasts must be at room temperature before going in the pan as cold chicken can cook unevenly and tends to be tough. Allow the chicken breast to sit out for 20 minutes. That should do the trick.
One of my favorite pieces of kitchen gear is a cast iron pan. If it's good enough for grandma, it's good enough for me. Nothing sears a piece of chicken or meat like cast iron, but you can also do this in a stainless steel or non-stick pan. Preheat the pan for 2 minutes on medium-high heat. Meanwhile, season the chicken breast with a generous pinch of salt and a few cracks of pepper on both sides. You can use a spice rub if desired. almost all of my recipes use that, but we will keep it simple here.
Add 2 teaspoons of oil to the pan, wait 30 seconds so the oil can heat up, and then place the boneless chicken breast in the pan and don't touch it for 4 minutes. You need to leave the chicken breast alone so the crust can form. After 4 minutes, flip the chicken and let it cook another 3-4 minutes depending on how thick it is. Remove the chicken breast from the pan and place on a clean plate and allow to rest for 3 minutes before slicing.
Why Are Chicken Breasts Dry and Tough?
Make sure to rest chicken breasts for 3-5 minutes once they are done cooking. If you slice into the breast right away, the juices inside are boiling and they will leak out of the breast and make it tough. You also have to make sure to allow the chicken breast to sit at room temperature for 20 minutes before cooking. This will take the chill off and allow the chicken breast to cook more evenly.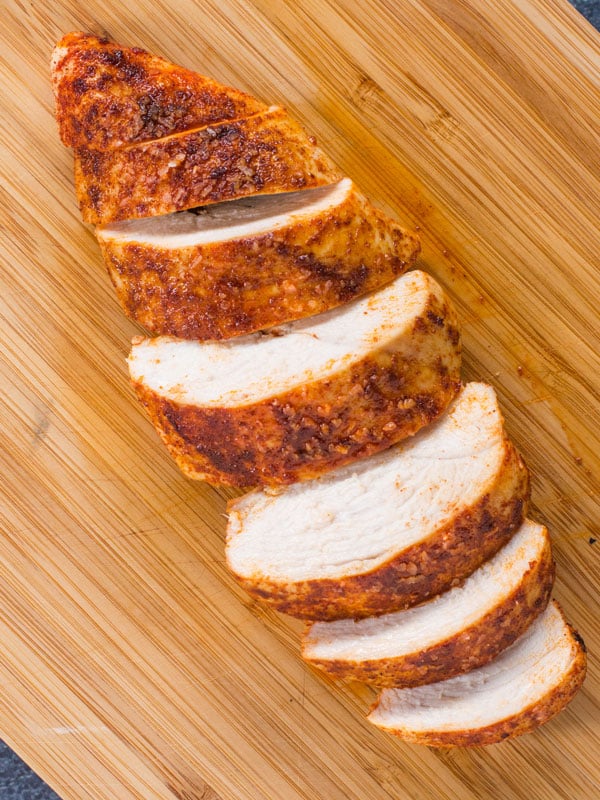 How To Bake Chicken Breast In The Oven
Baking chicken breasts in the oven is my second favorite way. You just need to make sure to use a thermometer so you don't overcook the chicken, which is a common problem most people have. To begin, allow the chicken breast to sit at room temperature to remove the chill, but while it is doing that you can apply a flavorful spice rub.
Season the chicken breast with a shot of olive oil and a generous pinch of smoked paprika, cumin, salt, and a few cracks of pepper on both sides. Preheat the oven to 450 degrees F, place the chicken breast on a tin foil lined sheet tray, and bake in the oven for 15-18 minutes. The key to not overcooking the chicken breast is to take its temperature using a digital probe thermometer that can stay in the oven during the cooking process. I highly recommend this one from Polder. I have two of them and use them all the time.
Stick the probe into the middle of the chicken breast after it's been baking for 10 minutes, and once the internal temperature reaches 155 degrees F, pull the chicken from the oven and move it to a clean plate, leaving the thermometer inside.
Most chicken breast recipes call for cooking the chicken to 160 degrees F, which is the desired final temperature, but if you pull the chicken breasts from the oven at 155 degrees F, they will continue cooking and the temperature will rise at least another 5 degrees to 160 degrees F (known as carry-over cooking).  If you wait to pull the chicken from the over until it reaches 160 degrees F, the chicken breasts will be slightly overcooked.
Allow the chicken breasts to rest for 3-5 minutes after they come out of the oven and enjoy.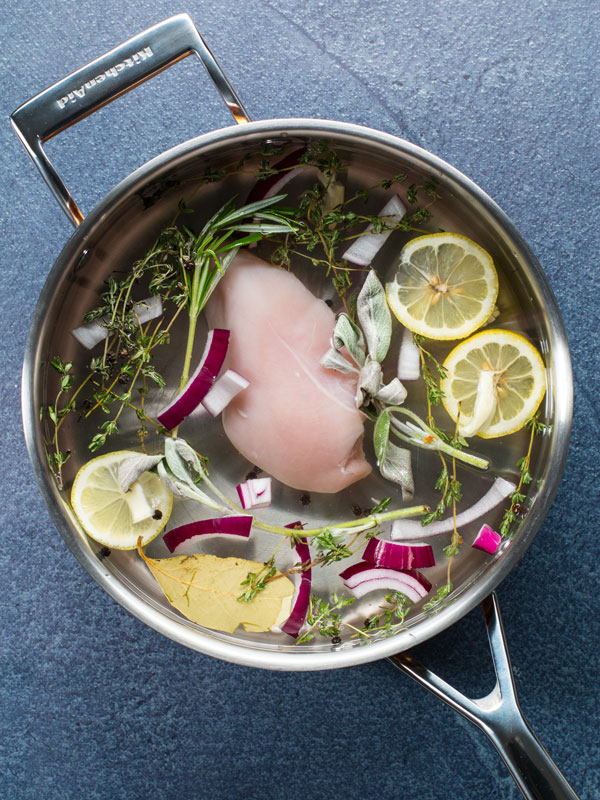 How To Poach a Chicken Breast
Poaching chicken in water is the hardest technique of the three we have talked about. Most people overcook the chicken breast while poaching, but I am going to show you how to avoid that.
Chicken breasts are lean and don't have a lot of fat, so they need as much love as they can get in the flavor department. Instead of poaching the chicken in bland water, you first need to add some lemon slices, 1 teaspoon of peppercorns, 1 bay leaf, some fresh thyme, rosemary, sage, smashed garlic cloves, sliced red onions, and a couple generous pinches of salt.
The goal while poaching chicken to infuse the cooking liquid with as much flavor as you can, which will season the chicken while it is gently poaching. To poach the chicken breast, and all of the aromatics to a shallow pot along with the chicken, and enough cold water to just cover the breasts.
Turn the heat on medium-high and wait for the water to come to a simmer and then immediately turn the heat down to right below a simmer. The goal is to gently poach the chicken so it cooks evenly and does not dry out. A simmer or boiling water is too much heat for the chicken breasts.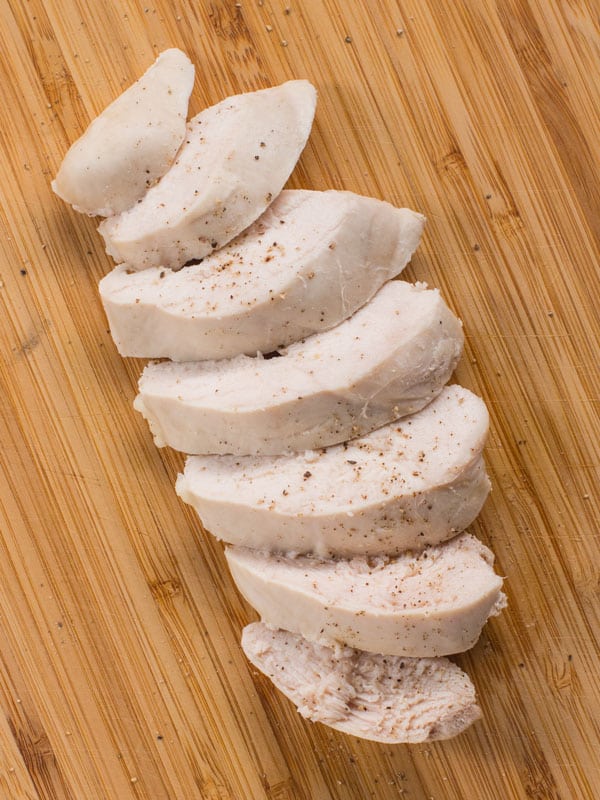 Once you turn down the heat, set a timer for 10 minutes and then take the temperature of the chicken breast by removing it from the water and sticking the probe thermometer into the deepest part of the breast. Once it reaches 155 degrees F, the chicken breast is done.
Poached chicken can overcook very quickly, which is why you need to regulate the heat and use a thermometer. It takes the guessing out.
How Many Calories Does a Chicken Breast Have?
An 8-ounce boneless chicken breast that is raw and uncooked has 156 calories, 1 gram of fat, 24 grams of protein, and no carbs or fiber. Keep in mind that when you cook the chicken breast, every teaspoon of oil will add 40 calories and 5 grams of fat.
What Is The Best Way To Cook A Chicken Breast?
Cooking a boneless and skinless chicken breast in a hot cast iron pan is by far the easiest and most tasty way to cook the breast. You are far less likely to overcook the chicken breast compared to baking it in the oven or poaching it in water. Just make sure to follow my steps above for bringing the chicken breast to room temperature before cooking, seasoning the breast aggressively, and only flipping the chicken breast one time once it goes in the pan. Don't forget to allow the chicken breast to rest for 3-5 minutes after cooking so the juices can re-distribute and the breast doesn't dry out.
Make sure to check out my chicken breast recipes:
Asian marinated chicken breast strips with low carb noodle stir fry
Chicken breast pomodoro with garlicky spinach
5 ingredient chicken and kale and black bean salad
Stuffed and rolled chicken breast with lentil salad