This chicken meal prep recipe is gluten free with a paelo flatbread. Roasted beet hummus and juicy chicken thighs.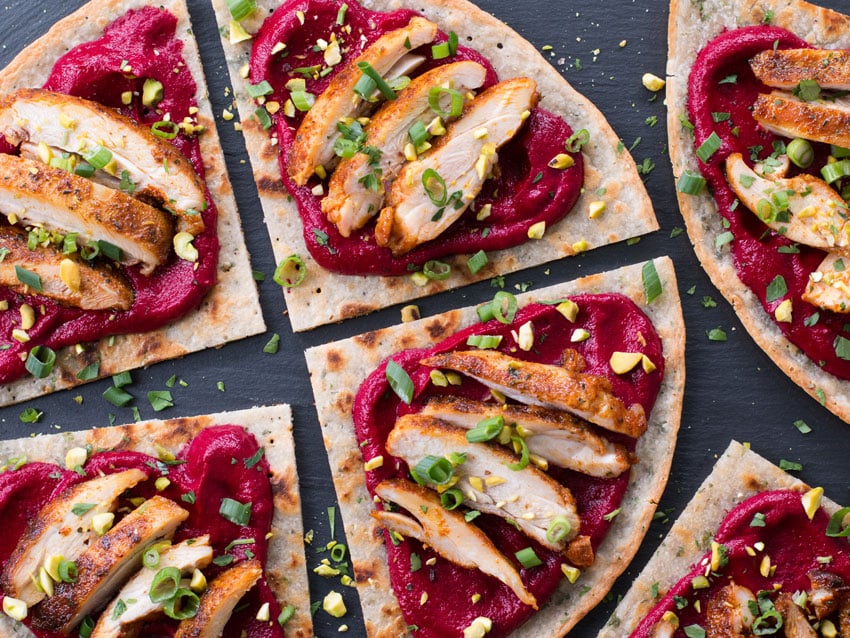 Chicken Meal Prep with Paleo Flatbread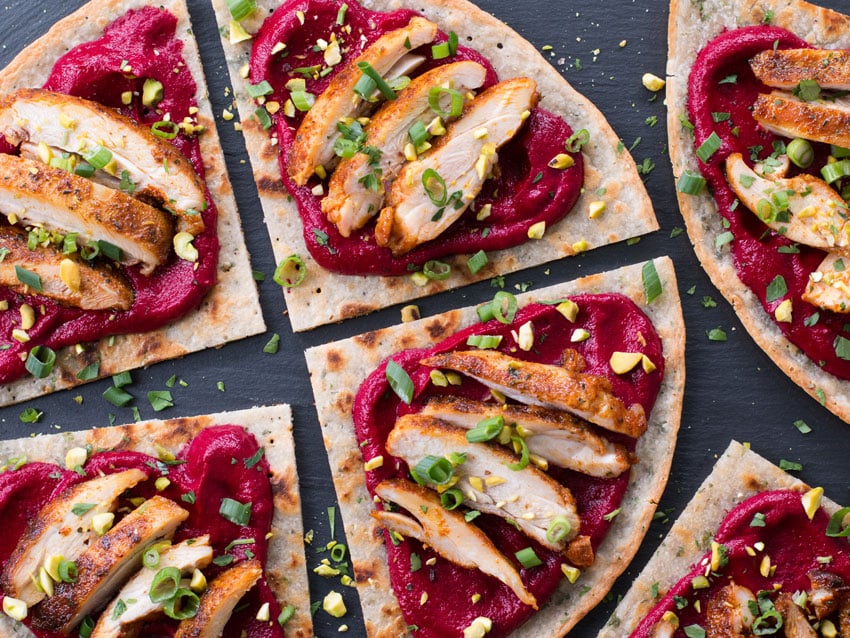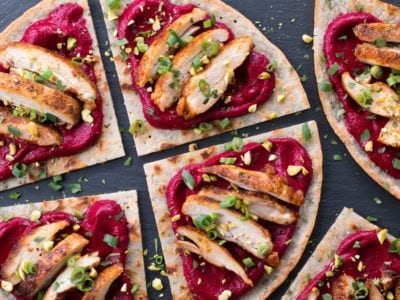 Crusty Chicken with Beet Hummus And Herby Paleo Flatbread
I absolutely love this clean eating chicken meal prep. The chicken thighs are spice crusted and cooked until juicy and crusty, perfect for chicken meal prepping. The roasted beet hummus has way less starch than traditional hummus, and the paleo herb flatbread is a game changer.

Print
Ingredients
For the chicken:
10

boneless & skinless chicken thighs

1.5

teaspoons

each smoked paprika & cumin

1.5

teaspoons

fresh chopped thyme

½

teaspoon

ground coriander

¼

teaspoon

cayenne pepper

Kosher salt

Avocado oil or grapeseed oil

2

tablespoons

chopped pistachios or walnuts
For the beet hummus:
2

pounds

raw beets

¼

cup

tahini

½

teaspoon

each smoked paprika & cumin

2-3

cloves

garlic

grated

Zest of half lemon & juice of whole lemon

2

tablespoons

extra virgin olive oil

Kosher salt & black pepper
For the flatbread:
2

cups

full fat coconut milk

1 ¼

unpacked cups almond flour

1 ¼

unpacked cups tapioca starch/flour

Zest of half a lemon

¼

teaspoon

cinnamon

1/8

teaspoon

ground cloves

1

teaspoon

fresh chopped thyme and parsley

¾

teaspoon

salt

Few cracks black pepper
Instructions
Pre-heat oven to 400 F and place the beets in a roasting dish with ¼ cup of water. Cover dish with tin foil and bake for 75 minutes. The beets are ready when a thin knife goes in and out with relative ease. Remove from oven and place a wet paper towel directly over the beets.

Meanwhile, make the spice rub for the chicken by combining the smoked paprika, cumin, thyme, coriander, and cayenne in a small bowl, mix well. Season the chicken thighs with a generous pinch of salt and half the spice rub, flip and repeat. Pour a shot of oil over the chicken and rub the marinade all around. Let sit at room temperature for 20-30 minutes.

For the flatbread, in a large bowl combine almond flour, tapioca flour, lemon zest, cinnamon, cloves, thyme, parsley, salt, and pepper. Whisk well to combine and add the coconut milk. Let the batter sit for 5 minutes so it can thicken a bit, it will have the consistency of slightly loose pancake batter. Pre-heat a large 12-13 inch non-stick pan over medium-high heat for 2 minutes. Add just enough batter to the pan to make it look like a very thin pancake, or a slightly thick crepe. Cook for about 8 minutes, or until well browned on the bottom, flip and cook another 6-8 minutes until brown. Repeat with remaining batter, should have enough for 3 large pancakes. If you have a smaller pan, this will take longer. Set aside.

Once the beets have cooled a bit, use paper towels to peel the skin off, I like to wear food safe gloves for this. Once peeled, add to the blender along with all the remaining ingredients, ½ teaspoon salt, and a couple cracks of pepper. Blend well using a plunging stick until smooth and creamy. Check for seasoning, you may need more salt or lemon juice. Blend again and set aside.

For the chicken, pre-heat a large pan, preferably cast iron, over medium-high heat for 2 minutes. Add 1 tablespoon of oil to the pan, wait 30 seconds, and add half the chicken. Let the chicken cook undisturbed for 5 minutes, flip and cook another 4-5 minutes until cooked though. Remove chicken from pan, add a little more oil, and cook remaining chicken.

To serve, slice the flatbread into 4 slices and spread some beet hummus over the top. Top with some sliced chicken, parsley, chopped pistachios, and enjoy! Everything will keep in the fridge for 5 days or you can freeze everything for 2-3 months. It's best to thaw items before reheating. The best way to reheat the chicken is in a 400 F oven with tin foil wrap around the container. If using microwave, cover container with a wet paper towel and make sure not to overheat or the chicken will get dry. You can also reheat the flatbread in the oven or warm it in a hot pan until crispy.
Recipe Notes
Macros for the chicken and hummus (makes 5 meals)
477 calories per meal
22.2 grams of fat per meal
12.62 net grams of carbs per meal
53.5 grams of protein per meal
3.6 grams of fiber per meal
Macros for the flatbread (makes 5 servings)
446 calories per serving
31.7 net carbs per serving
32.6 grams of fat per serving
7.6 grams of protein per meal