Coconut Curry Lentil Meal Prep
Tasty lentil meal prep recipe cooked in coconut curry with shrimp and vegetables. This clean eating meal prep recipe has big flavor.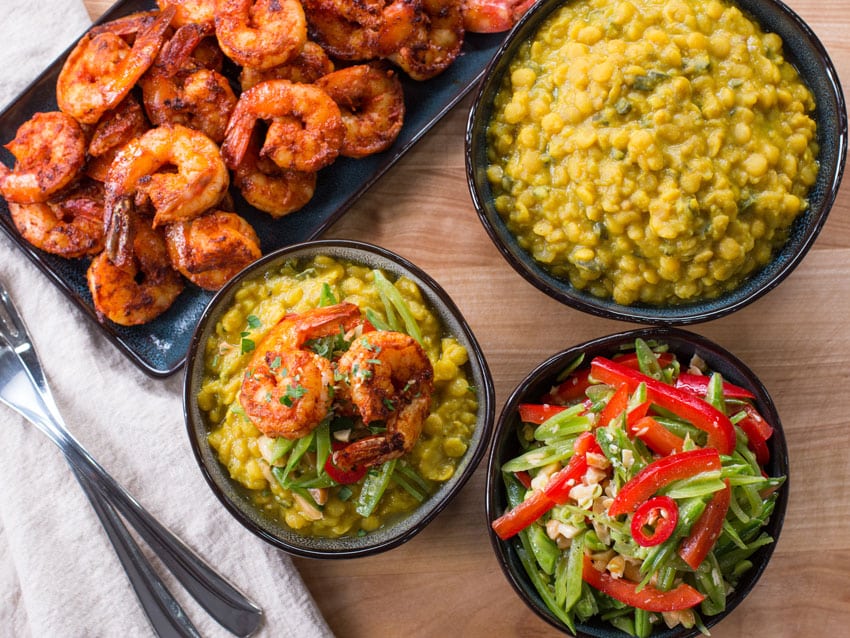 Creamy Coconut Curry Lentils with Shrimp and Slaw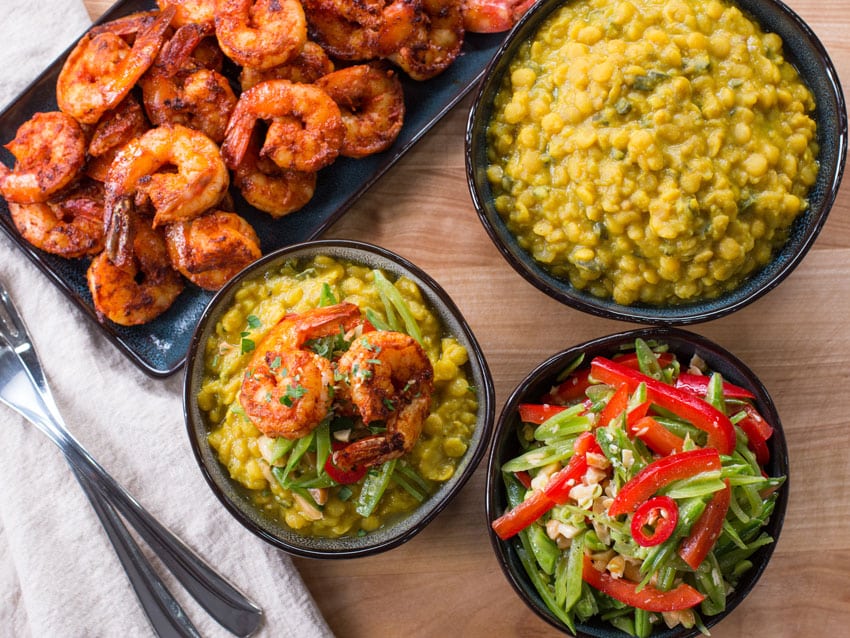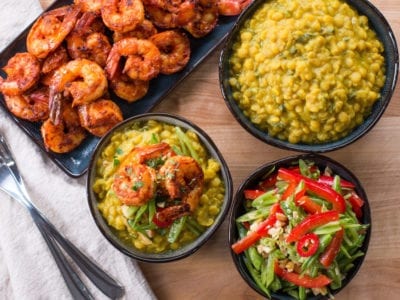 Coconut Curry Lentils with Smoky Shrimp & Crunchy Slaw
This shrimp meal prep is perfect for clean eating without sacrificing any flavor. The lentils are cooked in coconut milk with yellow curry powder, and the flavors are huge. The shrimp are perfect for meal prep because they are spice crusted and so easy to make.

Print
Ingredients
For the lentils:
1 ¼

cup

yellow lentils

1

onion

chopped

1

poblano pepper

chopped

1

teaspoon

mustard seeds

3

cloves

garlic

minced

1

teaspoon

fresh grated ginger

1

heaping tablespoon yellow curry powder

13.5

ounce

can full fat coconut milk

30

ounces

water

Half a lime

Half a stick cinnamon

1 clove, & 1 cardamom pod

Grapeseed or avocado oil

Kosher salt
For the shrimp:
2

pounds

shrimp

cleaned & tails on

2

teaspoons

smoked paprika

Grapeseed or avocado oil

Kosher salt
For the slaw:
6

ounces

sugar snap peas

1

red bell pepper

1

red chile

2

tablespoons

peanuts

roasted & chopped

Juice of half a lime

1

teaspoon

extra virgin olive oil

Kosher salt

Fresh cracked black pepper
Instructions
Cook's notes: This recipe works with any whole lentil, not split lentils. Try to find yellow lentils so the color of the curry doesn't get muddled.

If you don't have cinnamon stick, cardamom pod, clove, and an empty tea bag, add ¼ teaspoon ground cinnamon and 1/8 teaspoon of the other spices directly to the pot when the time comes.

Cooked shrimp will only last in the fridge 3 days. What I like to do is cook just over 1 pound and eat that for the next 3 days. Then buy more and cook it for the next 2 days. You can freeze cooked shrimp, but they will be tough when thawed and reheated.

Begin cooking:

For the lentils, pre-heat a medium size soup pot over medium heat with 2 teaspoons of oil. Add the onion, pobano, mustard seeds, ½ teaspoon salt, and mix well. Cook for 10 minutes and then add the garlic and ginger. Cook for 3 minutes then add the curry powder along with another teaspoon of oil. Stir well and cook for 2 minutes. Rinse the lentils under water then add to the pot and stir well. Cook for 2 minutes then add the coconut milk, water, and another ½ teaspoon of salt. Raise the heat to high and bring to a boil. Meanwhile, crush the cardamom pod with the bottom of a cup and add it to an empty tea bag along with the cinnamon stick and clove. Tie the tea bag closed and add it to the pot, if you don't have these items add the spices to the pot as directed above. Once the liquid is boiling, place a lid on the pot and reduce heat to a simmer. Cook for 20 minutes then remove the cover and cook another 20 minutes or until the lentils are tender and the liquid has thickened up. Check for seasoning, you will most likely need to squeeze a little lime juice and possibly add a pinch more salt. Stir and set aside.

Meanwhile, make the slaw by cutting off the ends of the snap peas and then slicing them on an angle, so you have match stick slices of peas. Slice the red peppers the same way and add both to a bowl along with the remaining ingredients. When ready to eat, season each portion with a squeeze of lemon juice, and shot of extra virgin olive oil, a tiny pinch of salt, and a crack of pepper. Don't season the entire slaw unless you plan on eating it that day.

If cooking 1 pound of shrimp, season it with 1 heaping teaspoon of smoked paprika, ½ teaspoon of salt, 1 teaspoon of oil, and mix very well. If cooking 2 pounds of shrimp, use 2 teaspoons of paprika, ¾ teaspoon salt, and 1 teaspoon oil. Pre-heat a large pan, preferable cast iron, over medium-high heat for 2 minutes. Add 2 teaspoons of oil, wait 30 seconds, and add half of the shrimp to the pan. Cook for 2 minutes undisturbed, flip, and repeat. Remove shrimps from pan. Shrimps cook very quickly and will get tough if overcooked. Add another shot of oil to the pan and cook remaining shrimp. Don't overcrowd the pan, work in batches so the shrimp get nice and crusty.

To serve, add some lentils to a bowl and top with a small handful of snap pea slaw and some shrimp, enjoy! The lentils and undressed slaw will last in the fridge for 5 days. You can freeze the lentils for 2-3 months, but not the slaw. Cooked shrimp will last in the fridge for 3 days, or can be frozen for 2 months. You can reheat the lentils in a small pot , the shrimp should be defrosted before being warmed in a pan or in a 400 F oven for 3-5 minutes. If reheating in the microwave, place a wet paper towel over the container and make sure not to overheat the food or it will get dry.
Recipe Notes
Macros:
521 calories per meal
22.2 grams of fat per meal
42.2 grams of protein per meal
21 grams of net carbs per meal
16 grams of fiber per meal