I had to share this recipe for sugar free lemonade because it could be the perfect drink for the summer. All you have to do is remove cane sugar and swap in monk fruit sweetener and bam, the recipe is perfect for diabetics and totally keto. Monk fruit is the ultimate sub for cane sugar because it measures 1:1 and taste just like the real deal.
If you want more keto recipes with zero carb sweeteners check out Dessi's low carb biscotti.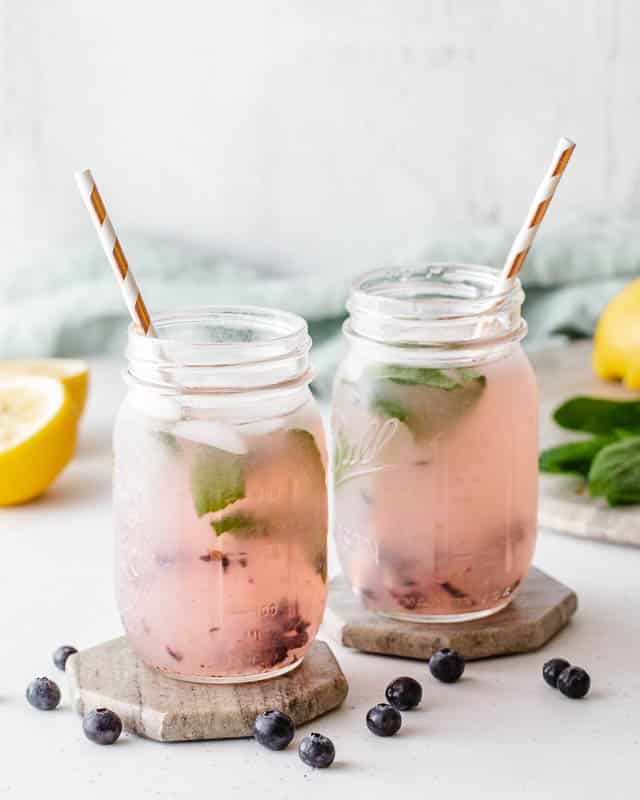 How To Make Sugar Free Lemonade
The first step in making keto lemonade is to make the simple syrup. Just combine 1.5 cups each of monk fruit sweetener with water in a small pot. Set the pot over medium heat and cook until the monk fruit has dissolved, about 5-7 minutes. Remove and let cool at room temperature.
Go ahead and squeeze 1.5 cups of fresh lemon juice in a large bowl or pitcher, this will take about 10 lemons. Freshly squeezed is so much better than lemon juice concentrate because the essential oils from the skin are loaded with flavor.
Add 3 cups of cold water to the lemon juice along with 1 cup of cooled simple syrup. If you are in a hurry you can toss some ice in the simple syrup. Mix well and taste the lemonade, I like it on the tart side so feel free to add 1/2 cup more syrup if needed.
To serve, muddle or smash some blueberries and mint in the bottom of a glass using a fork, pour in some ice, and top with sugar free lemonade.
How Long Will Lemonade Last?
Homemade lemonade will last 5-7 days in the fridge, just make sure not to put any fruit in the pitcher or it won;t last more than 2-3 days. Lemonade actually gets better when you chill it 2-3 hours after making, if you can wait that long!.
Make sure to check out my other keto and diabetic friendly recipes: