Regularly putting chicken, or even meat, on your dinner table can become uninteresting at times. If you're looking for an alternative, I suggest shrimps.
I personally know a lot of good cooks who shy away from shrimps. But to be honest, I find that shrimps are easier and quicker to cook than your regular meat.
If you're looking for easy shrimp recipes, this one won't fail you. You won't believe how easy it is. This recipe tops my list of easy shrimp recipes.
You might also like to try these easy shrimp recipes: Shrimp Burger with Jicama Fries and Crispy Shrimp with Herby Orzo Salad.
I just marinated the shrimps with four ingredients and left it for 30 minutes while I worked on the rest of the meal prep. Once done, I shallow fried the shrimps in two batches. This way they turn out really crispy and crunchy. Just the way I like them.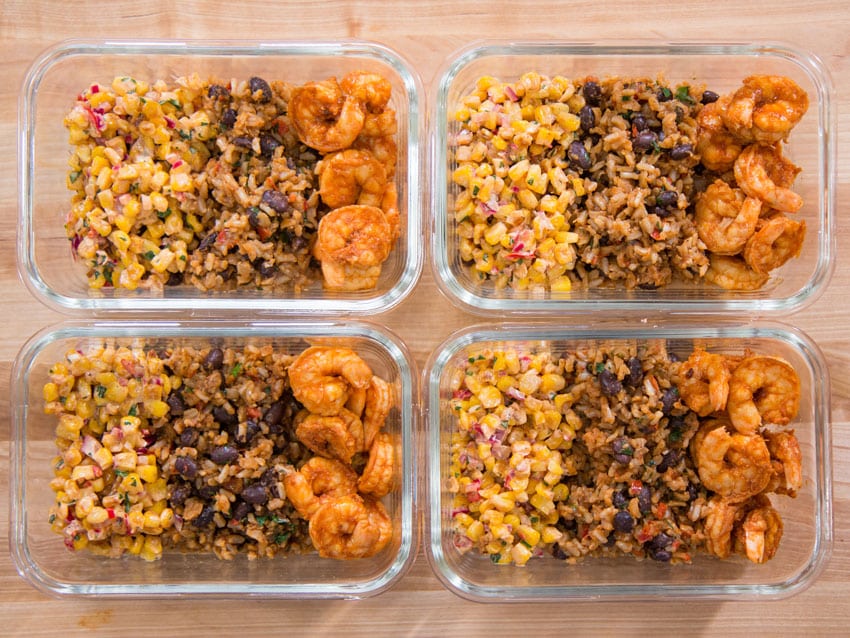 How to make Mexican rice and beans
Many people ask me how to make authentic Mexican rice and beans the right way. The wonderful color, aroma and the slightly tangy taste of Mexican rice and beans make it an instant hit for parties and special events.
The trick of how to make Mexican rice and beans is not to overcook the rice. If you add too much water to the recipe, the rice will lose more starch and start sticking to each other.
The red peppers add the famous taste and aroma. You can more red peppers to this recipe to bring the spice level up a few notches if you like it hot. If you're eating with the entire family, I would recommend sticking to the original measurements.
Corn Salad
Corn Salad is one of the easiest and tastiest salads. Traditionally Mexican corn is cooked on the cob. But I find that corn kernels are easier to manage and enjoy. Especially now that hot summer days make cooking a chore.
This corn salad with mayo tastes very similar to something you might sample of the streets of Mexico. It's full of flavor and never hits its mark.
I started off by cooking the corn in a cast iron pan. Cooking the corn first in this Mexican cold salad recipe brings out the naturally sweet flavor of the corn. Plus it adds a smoky flavor to this recipe. I find this perfectly complements with the spicy paprika flavor.
Make sure you don't overcook the onions and jalapenos. You don't want to end up with a soggy corn salad. The crunch is essential to balance out the creamy, smooth flavor of mayo.
This Mexican corn salad recipe is a very versatile side dish. It's perfect for hot summer BBQ dinners. You can even make this a staple side dish with most other healthy dinner recipes. I sometimes even enjoy this corn salad as a main dish by adding feta and avocado to make it filling and yummy.