Easy Chicken & Quinoa Meal Prep
Veggie loaded quinoa fried rice recipe with sticky glazed chicken thighs.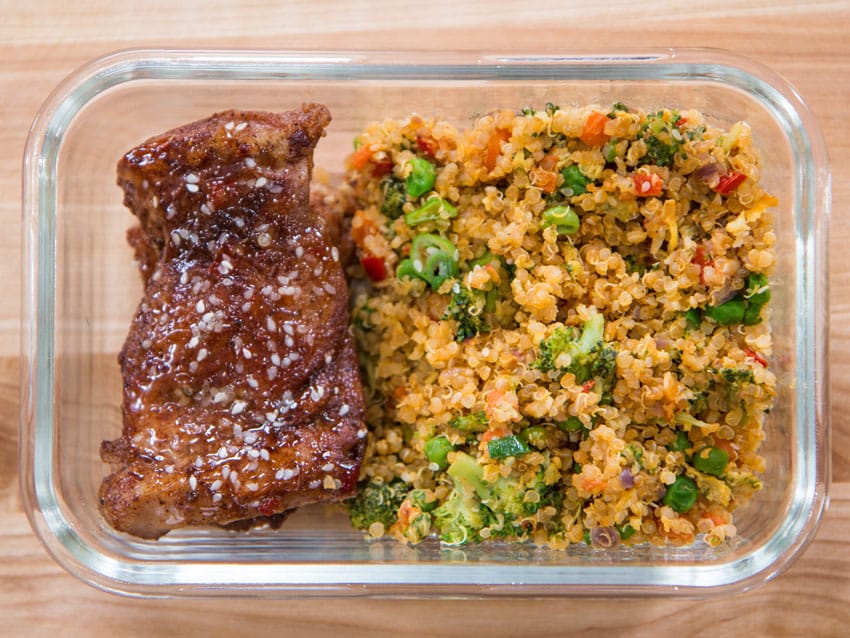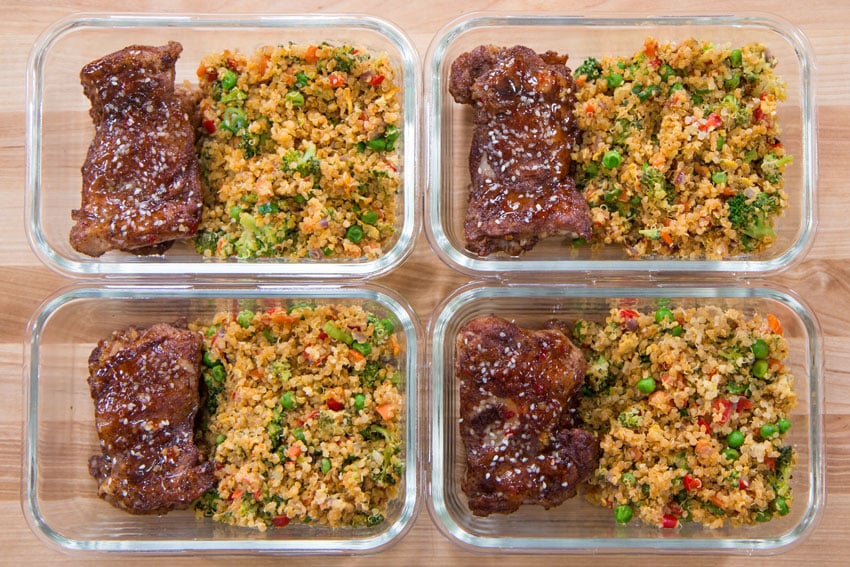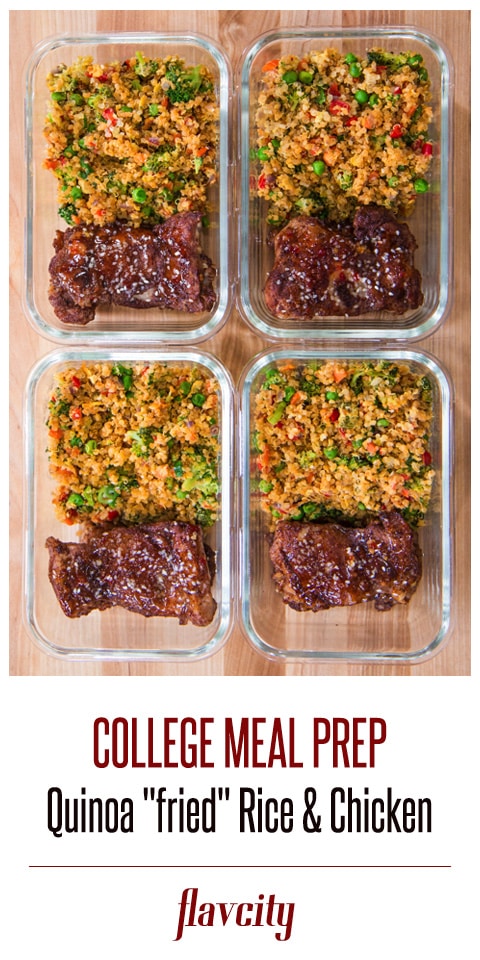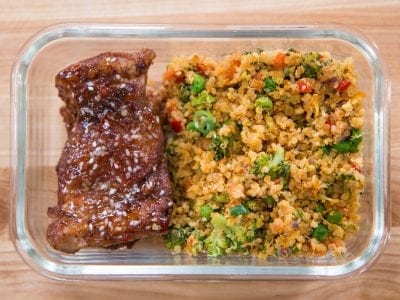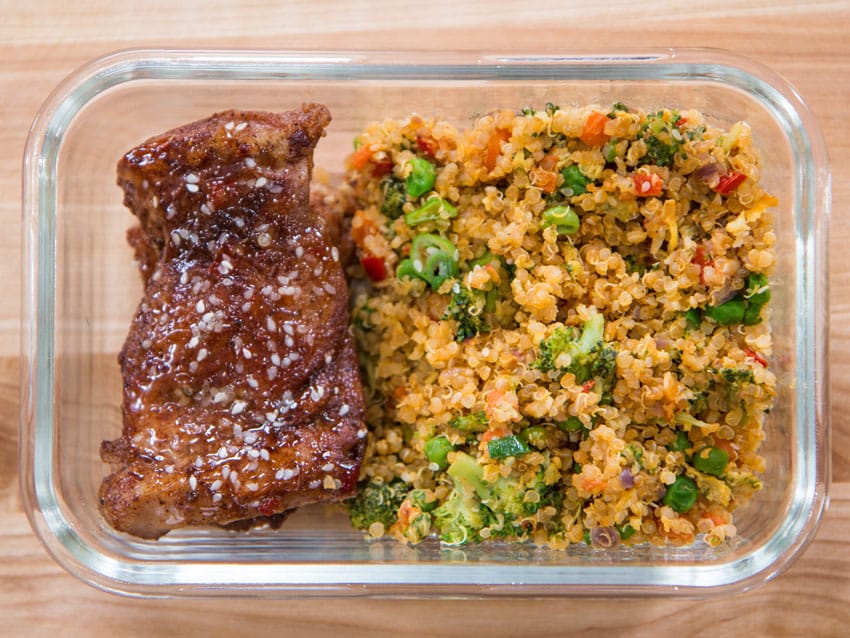 Quinoa Fried Rice with Sticky Spiced Chicken
Print
Ingredients
For the quinoa:
3 ¾

cups

cooked quinoa

roughly 1 ¼ cups uncooked quinoa

½

a red onion

diced

1

red bell pepper

diced

2

cups

of broccoli florets

cut in small bite size pieces

2

medium size carrots

diced roughly the same size as the peppers

4

cloves

of garlic

minced

2

teaspoons

of fresh ginger

peeled & grated

4

eggs

lightly beaten

1

cup

frozen peas

1.5

tablespoons

of low sodium soy sauce

1-2

teaspoons

sriracha or chili sauce

1

teaspoon

toasted sesame oil

¼

cup

green onions

finely sliced

1

tablespoon

sesame seeds

toasted if desired

Kosher salt

Fresh cracked pepper

Veggie oil
For the Chicken:
10

boneless

skinless chicken thighs or 5 chicken breasts, butterflied(ask your butcher to do that)

2-3

tablespoons

sweet chili sauce

found in the Asian aisle of stores

2-3

tablespoons

Chinese five spice powder

Kosher salt

Sesame seeds
Instructions
Cook's Notes:

It's best to boil the quinoa one or two days ahead of time, or at least 3 hours ahead of time. That way the quinoa will dry out and soak up the flavors of the pan when cooked. To cook the quinoa, bring two and two-thirds cups of water to a boil and add ½ a teaspoon of salt. Add the quinoa, stir well, reduce to a simmer, and cook for 20 minutes with the lid off. All the water should be absorbed and the quinoa will be fluffy. If it looks uncooked(has not unraveled) towards the end, add another ¼ cup of water and cook until the water evaporates and the quinoa looks cooked. Remove from the heat and fluff well with a fork. Add the quinoa to a large bowl and let sit at room temperature until it cools down, then place it in the fridge overnight, or until ready to use it. Or you can spread the quinoa on a sheet tray, and let it sit at room temperature for a few hours.

I buy the low sodium soy sauce and toasted sesame oil from Trader Joe's, they have great prices on pantry items like these.

Chinese 5 spice can be found at spice stores, or in the spice aisle at your grocery store, but call ahead and ask if they have it. I will put an Amazon link to it below this recipe.

Season the chicken with a generous pinch of five spice powder and a good pinch of salt on each side. Let sit at room temperature for 15-20 minutes. Pre-heat a large non-stick pan or preferably cast iron pan over medium heat with 1 tablespoon of veggie oil for 2 minutes. Working in 2 batches, cook the chicken about 5-7 minutes each side, only flipping it once and not touching the chicken in-between flips. You will know the chicken is ready to be flipped when the meat turns opaque on the sides and the tops, and it's nicely golden brown. Cook another 6-7 minutes and remove the chicken from the pan. Immediately brush some of the sweet chili sauce then sprinkle over some sesame seeds. Cook remaining chicken and set aside.

For the quinoa fried rice, use the same pan as the chicken and pour off a little of the fat if it looks like there is too much, or add a little veggie oil if there is not enough. Pre-heat the pan over medium-high heat for 1 minute, add the onions along with the next 3 ingredients, ½ teaspoon of salt, and a couple cracks of pepper. Cook for 7 minutes, stirring a few times. Add the garlic, ginger, and cook another 2 minutes. Lightly beat the eggs and add them to the pan, stirring the whole time until the eggs look like a very soft scramble. Immediately add all of the quinoa and mix well. Add the peas, next 3 ingredients, and mix very well. The heat from the pan will warm the peas. Cook for 3 minutes, stirring often, so the quinoa soaks up all the flavors. Check for seasoning, there is a very good chance it will need more soy sauce and sriracha. Turn the heat off, add the green onions and sesame seeds, and set aside.

Assemble your meal prep containers with some chicken and quinoa fried rice. You can keep everything in the fridge for 5 days and reheat in the microwave or the oven. Or you can freeze everything for 2-3 months.
Recipe Notes
Macros:
563 calories per meal using chicken thighs..548 calories with chicken breasts
16.5 grams of fat per meal using chicken thighs..10.5 grams with chicken breasts
40 grams of carbs per meal
62 grams of protein per meal
7.5 grams of fiber per meal