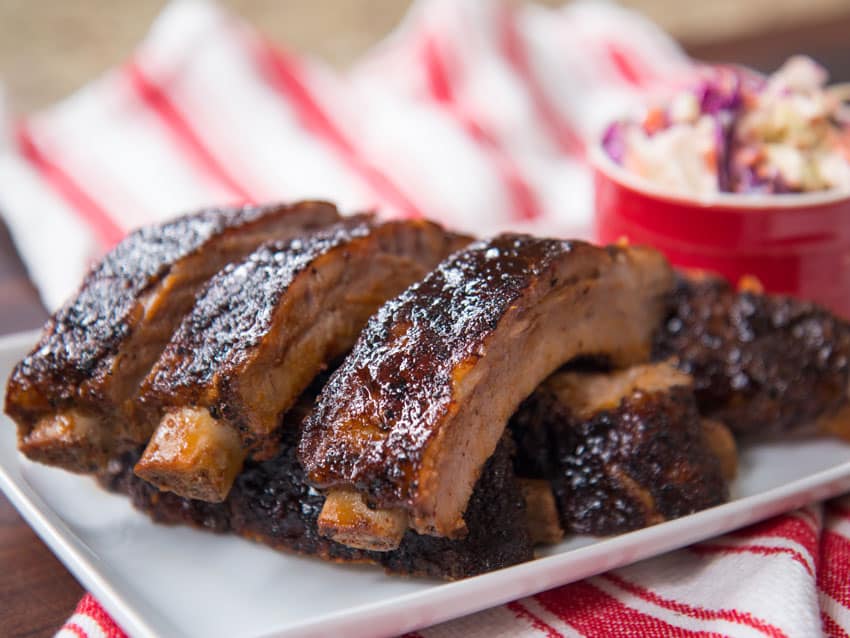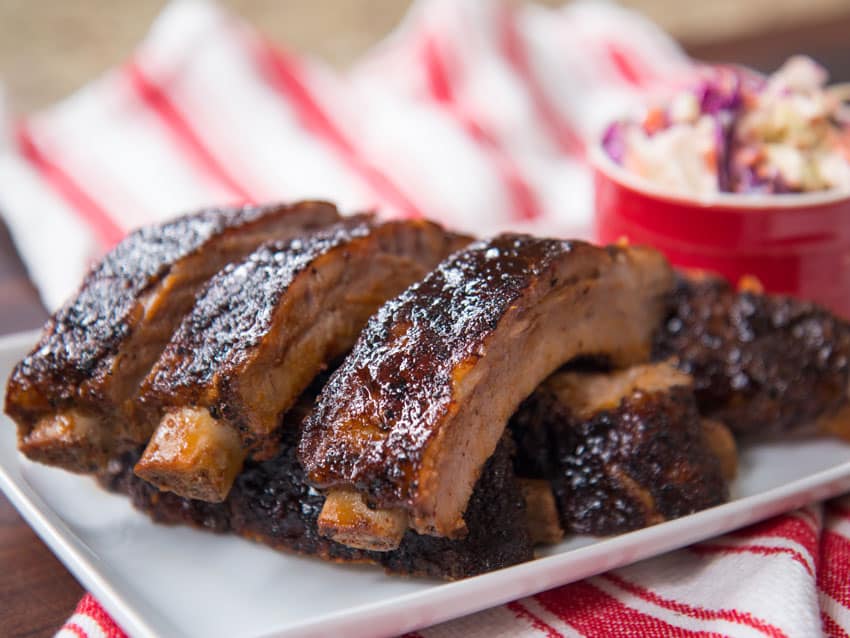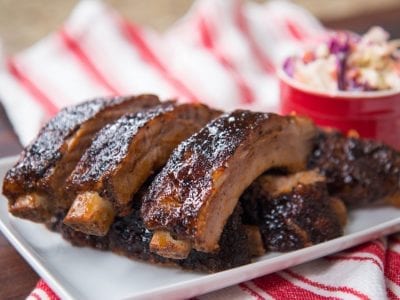 Pork Ribs with Tangy BBQ Sauce & Crunchy Slaw
Print
Ingredients
For the ribs
1

rack of baby back ribs or St. Louis style ribs

3

ounces

spice rub

recipe below

4

ounces

of lager style beer or apple cider

1

tablespoon

Worcestershire sauce

1

tablespoon

apple cider vinegar

1

teaspoon

liquid smoke

BBQ sauce

store bought or homemade(recipe below)

1

teaspoon

kosher salt
For the spice rub:
1 ¼

tablespoons

finely ground coffee

1

tablespoon

ancho chile powder

1/2

tablespoon

smoked paprika

1/2

tablespoon

ground cumin

1/2

teaspoon

ground cinnamon

1/2

teaspoon

ground coriander

1

tablespoons

light brown sugar

1

teaspoon

dried thyme

1/2

teaspoon

cayenne pepper
BBQ Sauce:
1

cup

of ketchup

½

cup

of bourbon

¼

cup

light brown sugar

2

tablespoons

honey

3

tablespoons

molasses

1/2

cup

water

1/4

teaspoon

red pepper flakes

2

tablespoons

low sodium soy sauce

2

tablespoons

worcestershire sauce

1

tablespoons

dijon mustard

3

tablespoons

apple cider vinegar
For the slaw:
½

head red cabbage

finely sliced

½

head napa cabbage

finely sliced

2-3

carrots

peeled and grated

½

bunch green onions

finely sliced

¼

cup

raisins

½

cup

mayonnaise

Juice of half a lime

1

teaspoon

low sodium soy sauce

1/4

teaspoon

toasted sesame oil

¼

teaspoon

kosher salt

Freshly cracked pepper
Instructions
To make the coffee spice rub, combine all of the ingredients in a bowl and mix to combine. Season both sides of the ribs with a generous amount of spice rub and store in the fridge at least 3 hours, preferably overnight.

Pre-heat oven to 235 degrees. Season the ribs with half a teaspoon of salt on both sides. In a measuring cup, combine the beer or cider and next 3 ingredients, mix and set aside. Place ribs, meaty side up, on a double lined tin foil sheet and seal up all but one end. Pour the beer mixture into the open end of the foil, make sure it distributes to the bottom, seal the tin foil, and put on a baking sheet in the oven for 2.5 hours.

While the ribs are cooking, make the BBQ sauce by adding all of the ingredients to a heavy bottom pot and bring to a simmer. Cook for 30 minutes, stirring frequently. Adjust for seasoning along the way, it may need more red pepper flakes or brown sugar. When done, set aside or store in fridge for 7 days.

To make the slaw, add the red cabbage and next 4 ingredients to a large bowl, mix well and keep in the fridge until ready to serve. To make the dressing, add the mayo and next 3 ingredients to a bowl along with a ¼ teaspoon of salt and a couple cracks of pepper. Whisk well, adding 1-2 tablespoons of water to make the dressing pourable. Check for seasoning, you want the flavor to be the acidic side, so you may need more lime juice. When ready to eat, mix the slaw with just enough dressing to coat everything thoroughly. To prevent the slaw from getting soggy, try to toss it with the dressing right before you eat it.

Take ribs out of the oven but leave in the foil. Brush on a generous amount of BBQ sauce on the top side of the ribs and put under the broiler for 5-7 minutes until bubbly and sticky. Cut ribs into portions and serve with extra BBQ sauce and the dressed slaw. Enjoy!