This lamb chop recipe is easy to make and perfect to serve for a holiday party or get together. Sometimes, it can be a bit intimating make a full rack of lamb, but by cutting the Aussie lamb into individual lamb chop, it makes them much easier to cook. The best place to buy Aussie lamb chops is Costco – they only cost about $13 per pound and each rack is so meaty. Once you cut the lamb into chops, you will be amazed how big each one is and your friends are going to think you are a boss!
This post is a collaboration with my friends over at True Aussie Beef & Lamb. With the holiday season upon us and lots of guests coming over to your house, this is the type of recipe you will want to serve. The Aussie lamb chops are easy to make but are such a showstopper and everyone will think you are a rock star host. For more great holiday recipes and to see where you can buy Aussie Grassfed Beef and Lamb in your area visit: https://www.trueaussiebeefandlamb.com/where-to-buy/ #BeAussome #OwnYourParty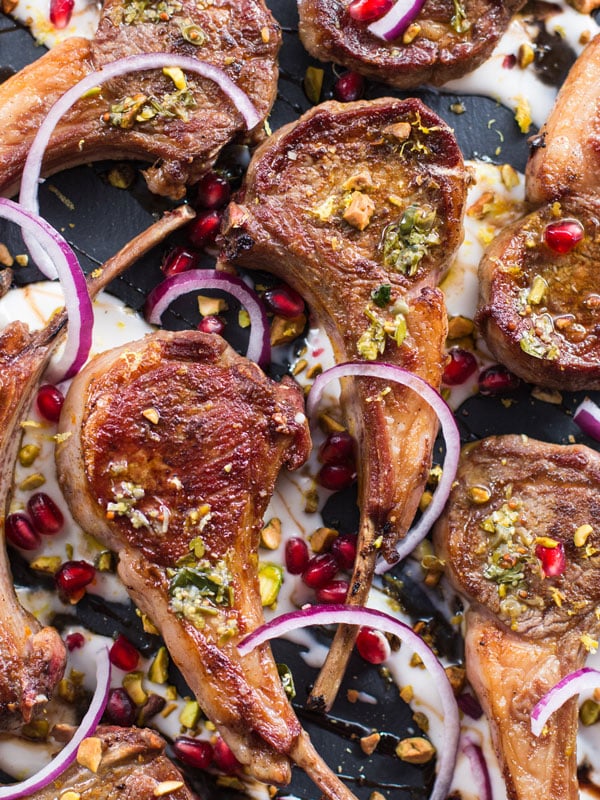 How Do I Cook Lamb Chops?
The best way to cook lamb chops is to cut them into individual chops. This is much easier than cooking an entire Aussie rack of lamb and also allows the lamb to get crusty on both sides when cooked in a hot cast iron pan. Here are the steps for making lamb chops at home.
Use a sharp knife to cut the rack into individual lamb chops. You can ask the butcher at the store to do this.
Season both sides of the Aussie lamb chops with smoked paprika, turmeric powder, cumin and salt. Allow the lamb chops to sit at room temperature for 20-30 minutes so the marinade can go to work and the lamb is not cold.
Heat a cast iron pan over medium-high heat with enough oil to coat the bottom. Cook for 3-4 minutes on the first side, flip, and cook another 2-3 minutes.
Allow the lamb chops to rest before serving with the pomegranate molasses yogurt sauce and salsa verde.
What Is A Good Lamb Chop Marinade?
I like to use a dry rub marinade for lamb chops because it adds so much flavor without any fat or calories. Combine 1/2 teaspoon each of smoked paprika, ground turmeric, and cumin in a small bowl. Season the Aussie lamb chops with a generous pinch of spice rub and salt on both sides and allow to sit at room temperature for 20-30 minutes. This will take the chill off the lamb and allow the marinade to infuse flavor.
Alternatively, you can season the lamb chops with the spice rub but not the salt and store in the fridge 2-6 hours. Remove from fridge, add salt, and allow to come to room temperature before cooking.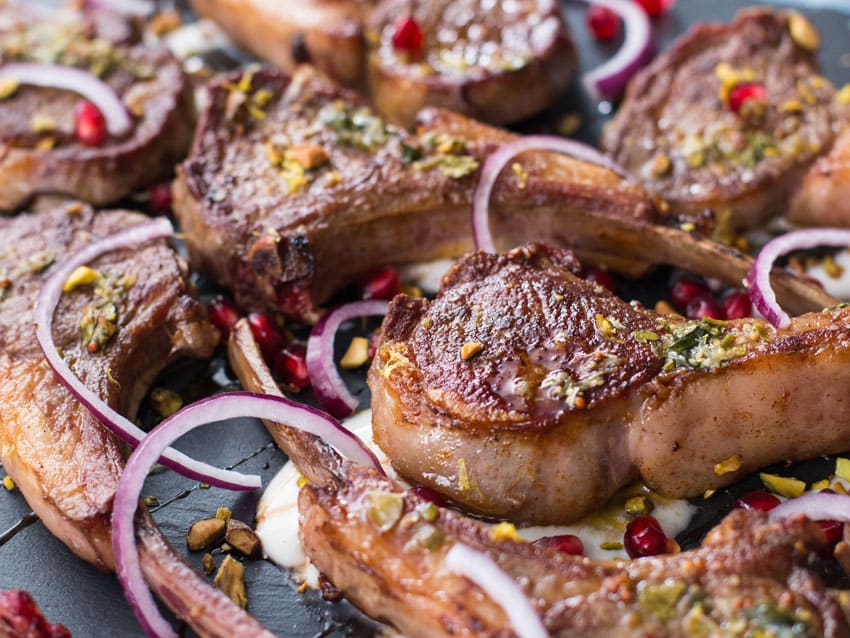 What Sauce Can I Serve With Lamb Chops?
It is nice to serve lamb chops with something creamy and cool like my pomegranate molasses yogurt sauce. Just combine some Greek style yogurt with grated garlic, lemon zest, lemon juice, salt, and pepper. Right before serving, swirl in 1-2 tablespoons of pomegranate molasses, which is tart and sweet. The flavors go great with the Aussie lamb chop marinade and have a Moroccan vibe going on.
You can also serve the cooked lamb chops with salsa verde. It is a really fresh and tangy sauce made with extra virgin olive oil, capers, lemon zest & juice, chili, garlic, and herbs. The salsa verde cuts through the richness of the lamb chops and compliments the lamb so well.
Make sure to check out my other healthy lamb recipes: