Fresh off our trip to Jordan and Israel, we have an epic keto diet recipe that is full of flavor and will make 5 servings of meal plan for the week. The spices, salads, and kebabs we had on our trip were fantastic, but all of the bread they serve over there is not exactly keto. So Dessi came up with a keto diet approved flatbread to nestle the juicy lamb kebabs in, and man oh man is it good!
You can blame my love affair with kebabs because it was not long ago we published this keto diet approved budget beef kebabs with veggie pilaf. So if you find yourself wanting more kebabs, go at it!
It's really important for this recipe to use good quality tahini. I thought I knew about tahini. Well it turns out I did not know nothing! In Israel, I went to a tahini factory and learned that tahini has to be loose and pour-able and should never have a bitter flavor (which are are bad signs). Check out the tahini I linked on Amazon down below – that is good stuff.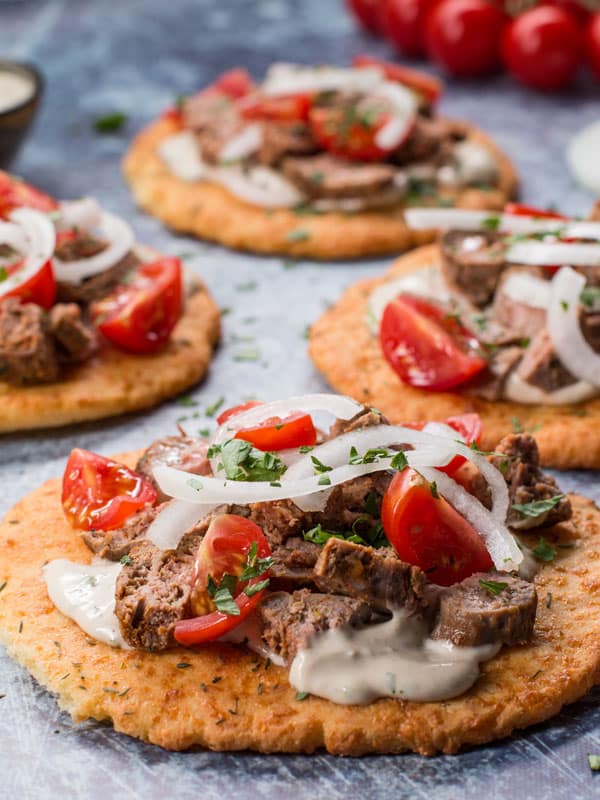 Healthy Meal Prep Ideas
This kebab meal prep recipe is just about as clean eating as you can get, with maximum flavor and extremely low carbs for the keto diet. The ground lamb is seasoned with smoked paprika and a bunch of warming spices like cinnamon, cloves, and cardamom. Just make sure you salt the meat mixture accordingly – 1.5 teaspoon for 2 pounds of meat.
The pita bread only has a few clean ingredients and the tahini sauce is so creamy, yet has no dairy. I have loads of other healthy meal prep ideas for you to check out, so take a look at my meal prep section.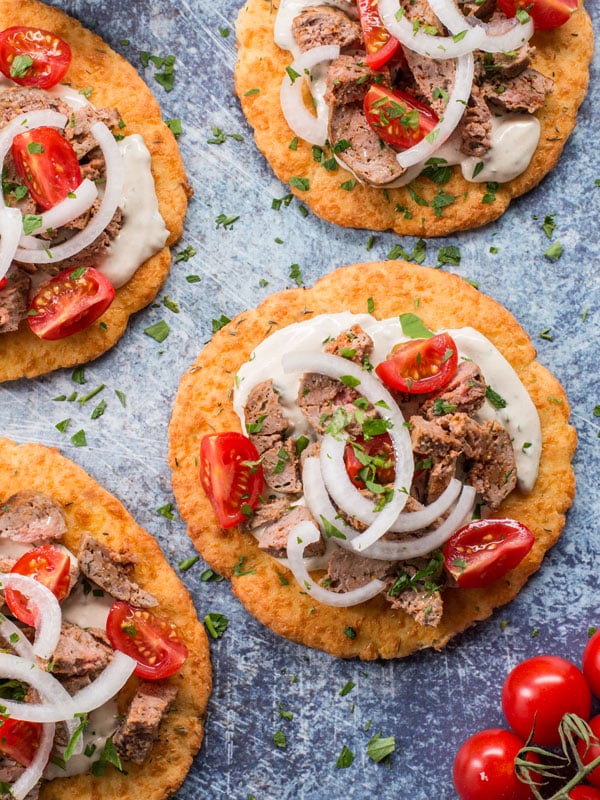 How To Make Lamb Kebab
The key to a good kebab recipe is using ground meat that has a good amount of fat. More fat, more flavor. That is why I like using ground lamb for this kebab recipe. It's very traditional in parts of the Middle East and Israel and has a good amount of juicy, flavorful fat. Make sure to season the kebab very aggressively. It's all about flavors like spices, herbs, and citrus.
I even like to zest in some lemon zest, add fresh and dry herbs, and sometimes I add chopped nuts for texture like I did in this Moroccan kebab meal prep recipe. If you want a juicy kebab, (and who doesn't?) make sure not to over cook it! I always tell people, if you are not sure the kebab is cooked through, just cut one in half.
Low Carb Pita Bread Recipe
Dessi created a recipe for a pita flatbread that is insanely tasty and very low in carbs. The base of the pita is eggs, almond flour, and grated mozzarella cheese. Pay close attention to the recipe as you need to buy and grate low moisture mozzarella on the fine setting of the box grater. This low carb pita only has 4.35 grams of net carbs per serving and is soft and delish. If you are trying to bake on the keto diet, then low carb almond flour is your best friend. Just make sure you bind it with something like cheese and eggs. Make sure to check out Dessi's low carb keto fat bread recipe and her keto dessert bicotti.
Make sure to check out my other keto lamb and beef meal prep recipes: