For years, I have been making this turmeric and ginger immune tea and I really believe it helps keep Dessi and I healthy all winter long. Turmeric is an anti-inflammatory and anti-carcinogen, and ginger not only boosts your immune system but it helps cleanse your lymphatic system.
You can now order the powdered and shelf stable version of this immune tea. It's my first product ever and folks are loving it!
If you have the cold or flu, or want to stay healthy this cold weather season, I really would drink this turmeric tea every day, ideally on a empty stomach. It works best with fresh turmeric root, which you can always find at Whole Foods, or just call around to different markets.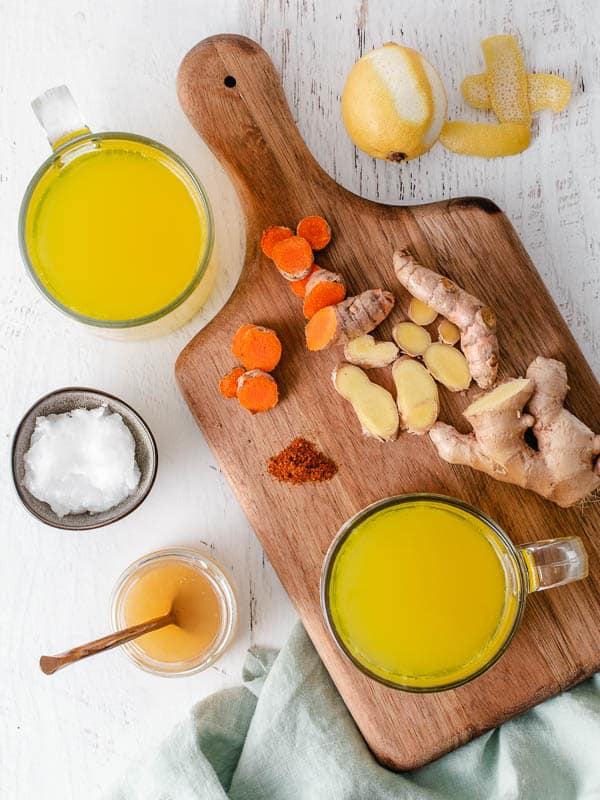 How To Make Turmeric Tea
To make the turmeric immune tea add 5 cups of water to a pot along with thin slices of fresh ginger root and turmeric. If you can't find fresh turmeric use the powder form. If you don't mind getting your fingers and cutting board dirty, it's actually better to finely grate the turmeric so it really infuses into the water.
It's important to add one crack of fresh black pepper to the pot, it activates the turmeric. Also add the peel from one lemon, make sure to peel off the white bitter part, and a pinch of cayenne pepper. I like to say the cayenne burns the demons from your body!
Bring the water to a bare simmer and immediately reduce it to the lowest heat setting possible on your burner. If you boil this tea you will kill some of the nutrients. Cook tea for 7 minutes, turn the heat off, and add the juice of 1 lemon and one teaspoon of virgin coconut oil.
The fat helps your body absorb the turmeric, but you can also use avocado oil or grass-fed butter if you like. Once the tea cool down for 3 minutes, pour a cup and stir in raw honey to taste.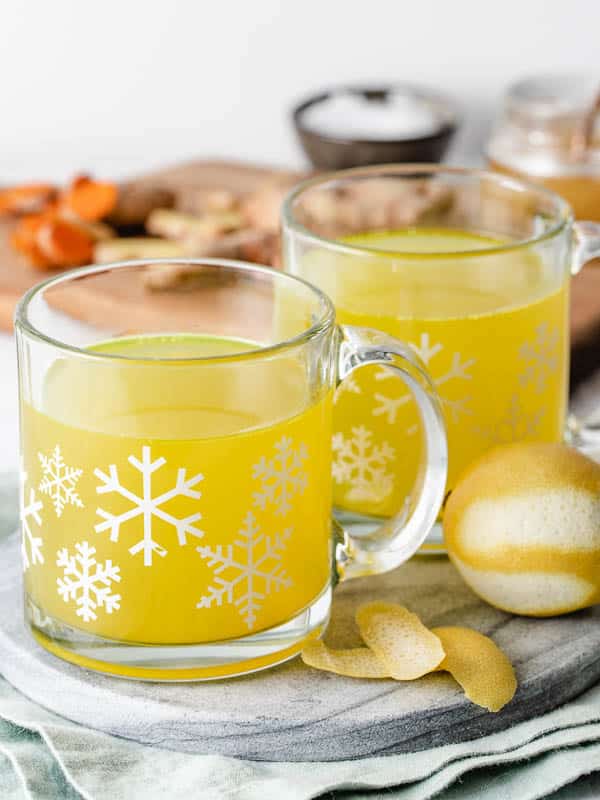 What Are The Benefits Of Turmeric And Ginger Tea?
Turmeric is an anti-inflammatory, which really helps when your sick because your body is inflamed. Ginger is not only good at soothing your gut, which in turn boosts your immunity, but it also does wonders to clean you lymphatic system. That's our bodies network of organs and tissues that cleanse toxins and waste.
You may see many teas on the market that have dried or powdered ginger and turmeric, and sometimes mixed with sugar. You should avoid those because sugar kills good gut bacteria and dried turmeric and ginger are not nearly as good as fresh ones.
How To Store Turmeric Tea
This recipe for immune boosting turmeric tea will make enough for five cups, you can keep the tea at room temperature in a covered pot or vessel, or stash it in the fridge for 3 days. It's a good idea to strain the tea after you make it otherwise the flavor gets really strong, which I actually don't mind!
It's best to not drink this tea on an empty stomach. If pregnant, only drink 3 times per week.
Check out other recipes that have turmeric: