Dessi made this homemade ginger tea recipe on the FlavCity Instagram stories a while back and many of you guys were asking for the recipe. This tea is great for digestion, bloating, gas, and constipation, and it happens to be really tasty. I would recommend drinking a hot cup of this ginger tea first thing in the morning and 30 minutes after a meal. The great part about this tea recipe is you can reuse the ingredients up to 4 times!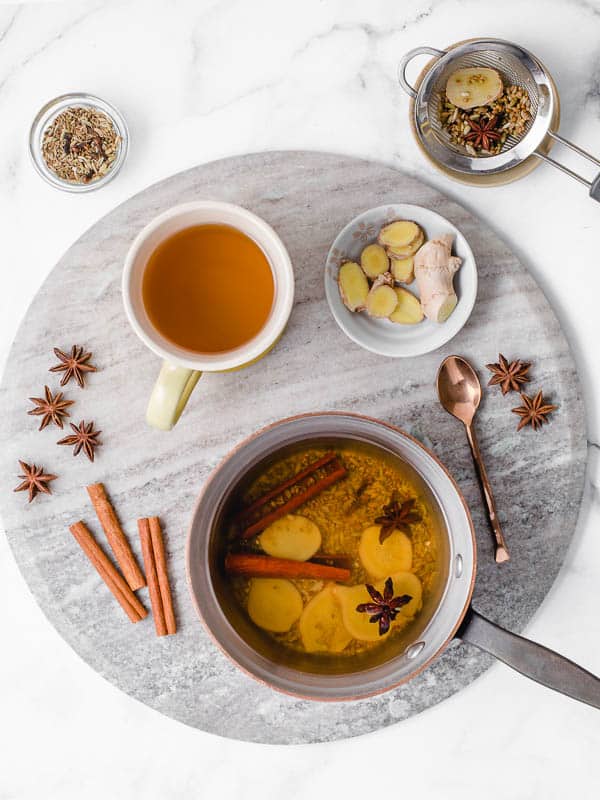 How To Make Ginger Tea For Digestion
Add 2-4 cups of filtered water to a medium size pot along with 4 pieces of star anise, 6 whole cloves, 2 teaspoons each for fennel and anise seeds, a 1.5 inch of freshly sliced ginger, and a large cinnamon stick. Bring the water to a boil and immediately reduce it to a bare simmer and cook for 10 minutes.
Pour the ginger tea through a strainer into serving mugs and make sure to dry out the tea ingredients. Once dry, you can store in the fridge and re-use up to 4 times. It's best to drink this tea hot as that will help with bloating and digestion.
Make sure to check out my immune system boosting turmeric and ginger tea also.