Braised beef short rib recipe with roasted acorn squash and green beans.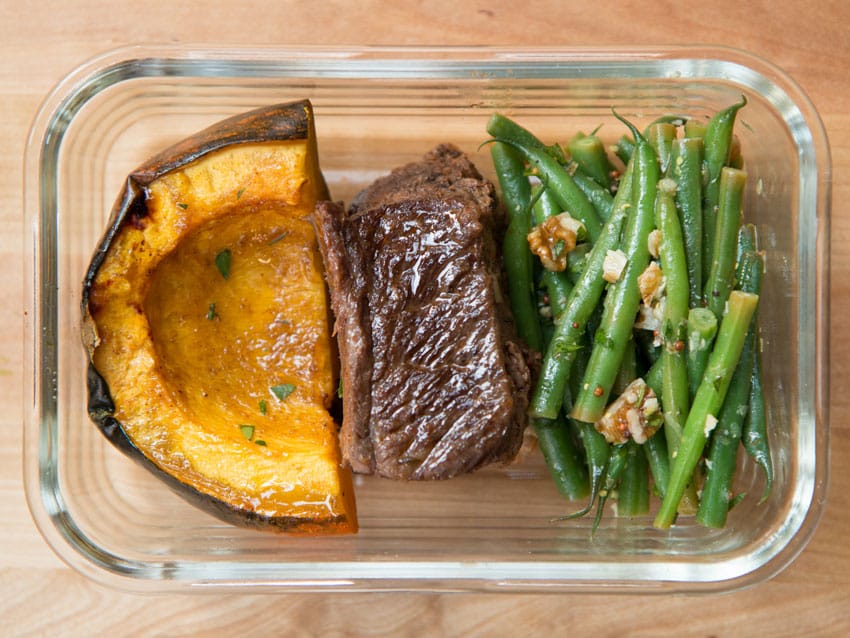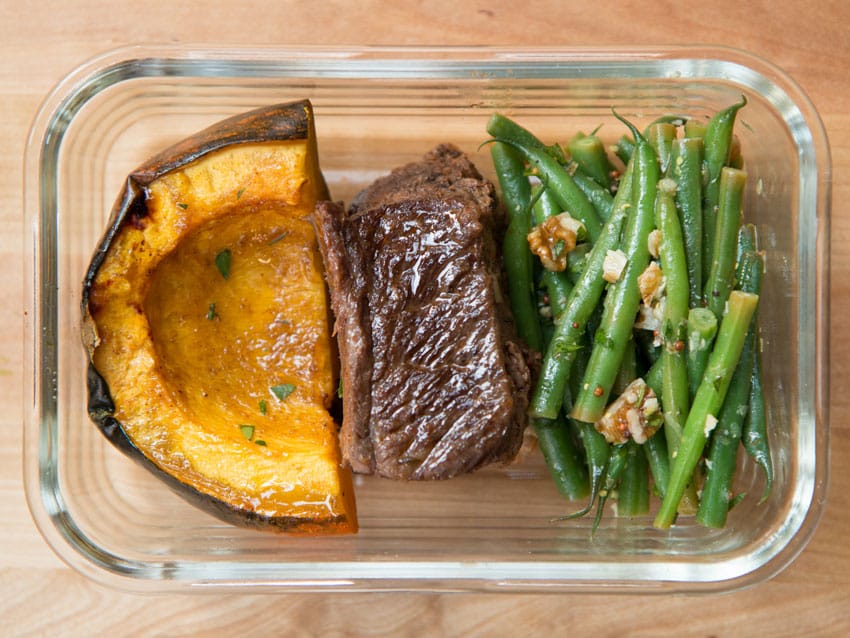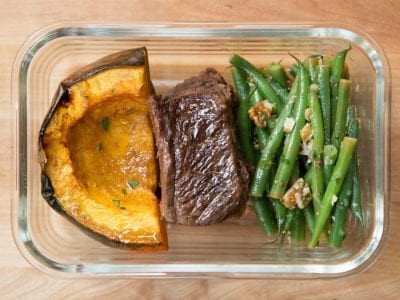 Braised Short Rib Meal Prep
Print
Ingredients
For the short ribs:
5

short ribs

bone in or boneless

1

sweet onion

diced

2

carrots

diced

2

celery stalks

diced

3

cloves

garlic

minced

1

teaspoon

dried thyme

3

tablespoons

tomato paste

½

cup

red wine

like pinot noir, shiraz, or merlot

1

quart

low sodium beef stock or broth

chicken stock also works

Olive oil

Kosher salt

Freshly cracked pepper
For the acorn squash:
2

acorn squash

halved and seeded

1.5

tablespoons

maple syrup

1.5

tablespoons

light brown sugar

1

teaspoon

ground cumin

¼

teaspoon

cayenne pepper

¼

teaspoon

ground cinnamon

1

teaspoon

olive oil

Kosher salt
For the green beans:
1

pound

of fresh green beans

Zest of one lemon

Juice of half a lemon

½

teaspoon

stone ground or Dijon mustard

3

tablespoon

extra virgin olive oil

Kosher salt

Freshly cracked pepper

2

tablespoon

toasted & chopped walnuts

1

tablespoon

fresh flat leaf parsley

chopped
Instructions
Season the short ribs with a generous pinch of salt and pepper all over every side of the ribs. Pre-heat a large, heavy bottom wide pot over medium-high heat with 1 tablespoon of oil. Sear the ribs for 2 minutes on all sides, making sure not to wiggle and touch them while they are searing. If your pot is not large enough, sear the ribs in batches, if you overcrowd the pot the ribs will boil in their juices and not sear. Remove ribs from pot once all sides have been seared.

Pour out all but 2 tablespoons of fat from the pot and add the onions and next 2 ingredients along with ½ teaspoon of salt and a couple cracks of pepper. Cook over medium heat for 5 minutes, stirring often. Add the garlic, thyme, and cook another 3 minutes. Add the tomato paste and cook another 2 minutes, stirring often. Add the wine and cook until almost all of it has dissolved, about 3 minutes. Place the ribs back in the pot and pour enough beef stock to almost cover the ribs. If you don't have enough beef stock you can use water. Bring the mixture to a boil, reduce to a simmer, and give the liquid a taste, it will almost certainly need at least 1 teaspoon of salt and some pepper. Place a lid on the pot and simmer on low for 2-2.5 hours until the beef is very tender and the meat has really pulled away from the bones.

While the meat is cooking, start the acorn squash by pre-heating the oven to 425 degrees F. Carefully insert an 8 inch knife in the middle of the squash and then use a rolling pin to tap the knife through the squash. Scoop out the seeds and place the squash on a sheet tray lined with tin foil, flesh side up. To make the maple glazed add the maple syrup and next 5 ingredients to a small bowl and mix well. Drizzle the glaze all over the inside and edges of the squash and season with a generous pinch of salt. Roast in the oven for 45-55 minutes until the flesh is nicely browned. To check for doneness, insert a small knife in the squash, it should go in and out with relative ease.

For the green beans, bring a pot a water to a boil. Trim off the ends of the green beans if needed. Add one teaspoon of salt to the boiling water and boil the green beans for exactly 2 minutes. Drain the beans and immediately place them in a strainer basket that is sitting in a large bowl filled with ice water. Make sure all the beans are covered in ice water and let them sit there for 1 minute, or until cool to the touch. Remove beans from ice water, shake off excess water, and place in a medium size bowl.

Make the lemon dressing by combining the lemon zest and next 3 ingredients in a small bowl along with ¼ teaspoon salt and a couple cracks of pepper. Whisk well until the dressing thickens up. Season the cooked green beans with ¼ teaspoon salt, a couple cracks of pepper, and pour over the dressing. Toss well then add the walnuts and parsley, toss again. Check for seasoning, you may need more lemon juice.

Fill your meal prep containers with 1 short rib, a couple large pieces of acorn squash, and some green beans. Enjoy!
Recipe Notes
Macros:
961 calories per meal
65.4 grams of fat per meal
35 grams of protein per meal
5.6 grams of fiber per meal