Healthy snack recipe ideas for gameday or any day!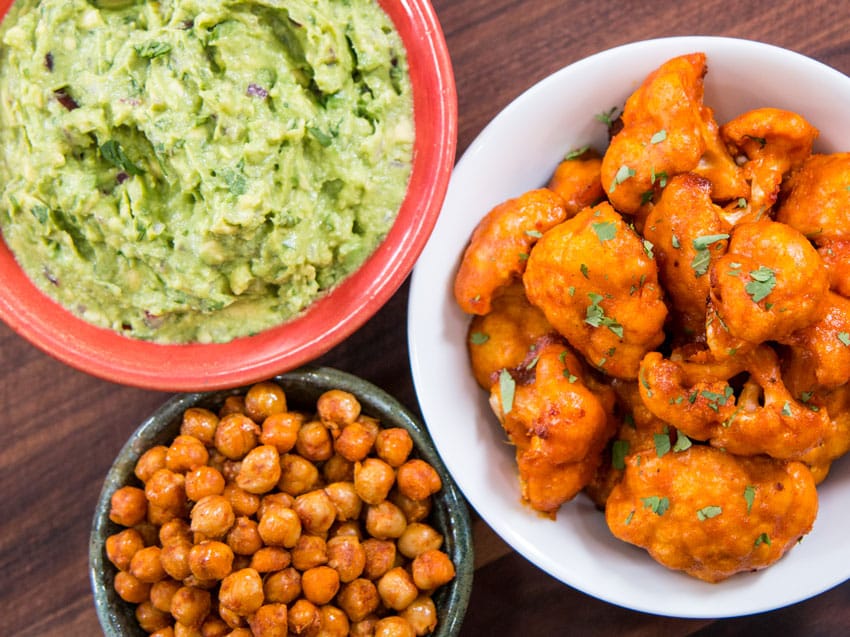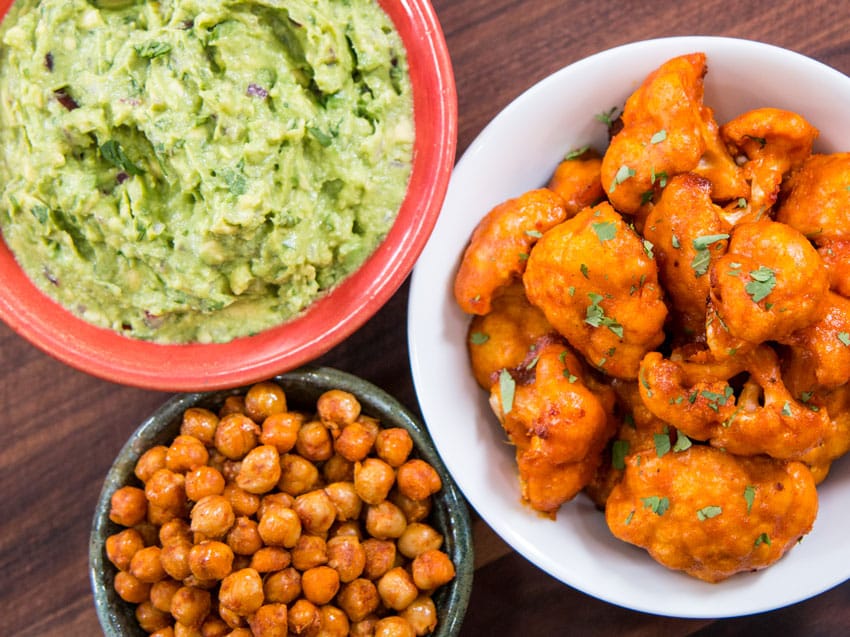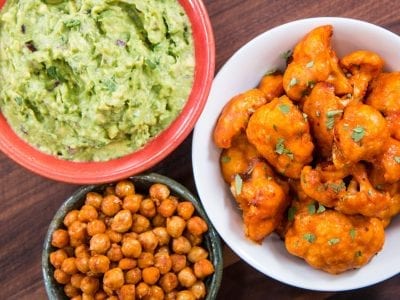 March Madness Snack Meal Prep
Print
Ingredients
For the cauliflower:
1

cup

all-purpose flour or rice flour

1

teaspoon

each of garlic powder & onion powder

1

teaspoon

each of ground cumin & smoked paprika

½

teaspoon

ground coriander

½

teaspoon

kosher salt

Couple cracks fresh black pepper

1

cup

water

1

head of cauliflower

cut in large bite sized florets
Sriracha buffalo sauce:
3

tablespoons

coconut oil or unsalted butter

1/2

cup

sriracha sauce

or any hot sauce you like

Zest of half a lime

Juice of half a lime

3

tablespoons

honey

1

tablespoon

orange juice

¼

teaspoon

kosher salt
For the guacamole:
2

Large ripe avocados

1-2

limes

¼

cup

finely chopped red onions

1

teaspoon

Extra Virgin Olive Oil

1

tablespoon

freshly chopped cilantro or parsley

½

teaspoon

kosher salt
For the spiced chickpeas:
1

can of unsalted chickpeas/garbanzo beans

rinsed and drained

1.5

teaspoons

ground cumin

1.5

teaspoons

smoked paprika

¼

teaspoon

cayenne pepper

½

teaspoon

kosher salt

Olive oil
Instructions
For the spiced chickpeas, place the chickpeas on a paper towel and thoroughly pat dry. Place the beans in a bowl and add the olive oil, smoked paprika, cumin, cayenne pepper, salt, and mix well. Pre-heat a non-stick pan over medium-high heat with 1 teaspoon of olive oil. Add the beans to the pan and cook for 5-7 minutes, stirring often. Once the chickpeas are golden brown and the spices have formed a crust, they are done. Take off heat and transfer to a bowl for serving. You can store the chickpeas in a tupperware container at room temperature for 3 days.

For the guacamole, add the chopped red onions to a small bowl and squeeze over the juice of 1 lime, allow it to sit for 10-20 minutes. Scoop the avocados into a bowl and immediately squeeze over a little lime juice, this will prevent the avocados from turning brown. Add all the remaining ingredients to the bowl along with the red onions that have been drained from the lime juice. Use a potato masher and mash until you get a chunky monkey consistency. Check for seasoning and adjust accordingly. To store the guacamole, immediately place a layer of plastic wrap over the top, making sure it is flush with the top of the guacamole so no air is in-between. The guacamole will keep in the fridge for 3 days, and can't be frozen.

For the buffalo cauliflower, pre-heat oven to 425 F degrees and spray a sheet pan with cooking spray. Combine the first 6 ingredients in a large bowl and mix well. Add the water to the bowl and whisk well, adding more water until the consistency is loose and slightly runny. Add one third of the cauliflower to the batter and coat evenly. Shake off all excess batter and place cauliflower on the greased sheet pan. Repeat with remaining cauliflower and bake for 20 minutes, or until the crust has become solid.

Meanwhile, make the buffalo sauce by adding all the ingredients to a small pot set over medium heat. Cook for five minutes and whisk a few times so everything comes together. Check for seasoning, you will probably need to add a little more honey to balance out the spice

Take cauliflower out of the oven and place in a large bowl. Pour over enough sriracha sauce to coat the cauliflower and toss to combine, adding more sauce if necessary. Place back on the sheet pan and bake for another 20-25 minutes, or until the coating is set. Remove from oven and set aside. Store the cauliflower bites in the fridge for up to 3 days, you can't freeze them.
Recipe Notes
Total Macros for buffalo cauliflower:
1154 calories..839 calories if you don't dip the bites in leftover buffalo sauce
43 grams of fat..22 grams of fat if you don't dip the bites in leftover buffalo sauce
167 grams of carbs..134 grams of carbs if you don't dip the bites in leftover buffalo sauce
21 grams of protein
14 grams of fiber
Total Macros for the Guacamole:
630 calories
59 grams of fat
26 grams of fiber
8 grams of protein
Total Macros for the spiced chickpeas:
480 total calories
13.5 grams of fat
77 grams of carbs
21 grams of fiber
21 grams of protein