3 healthy snack recipes perfect for meal prep. Cheesy low carb cauliflower tots, whole wheat pizza balls, and no bake date truffles.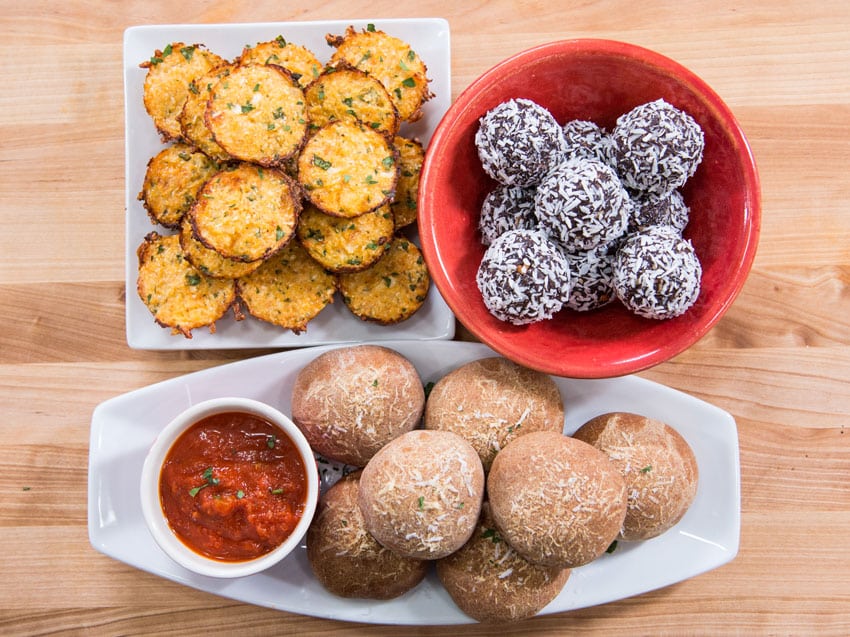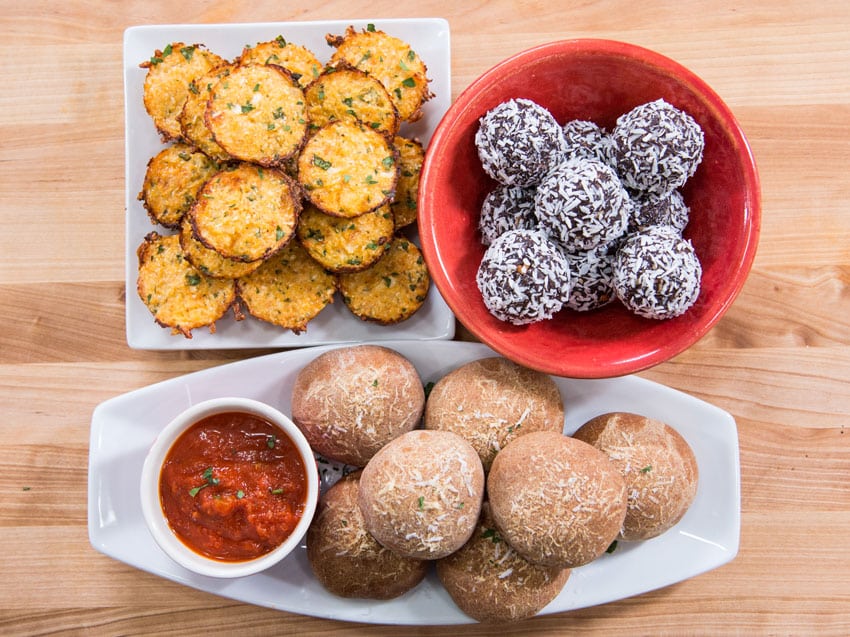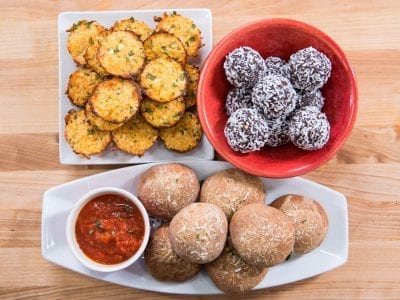 Snack Meal Prep
Print
Ingredients
For the pizza balls:
½

pound

of whole wheat pizza dough

8

ounces

of frozen spinach

thawed

2

cloves

of garlic

minced

1

link of raw chicken sausage

about 4 ounces

½

a red bell pepper

diced

2

tablespoons

grated pecorino romano or parmesan cheese

¼

teaspoon

red pepper flakes

½

teaspoon

dried oregano

All-purpose flour

Kosher salt

Freshly cracked pepper

Olive oil

Store bought marinara sauce
For the cauliflower tots:
1

medium size head of cauliflower

cut into florets

1

cup

shredded low-fat melting cheese

like cheddar or mozzarella

2

eggs

2

tablespoons

freshly chopped Italian flat leaf parsley

½

teaspoon

smoked paprika

¼

teaspoon

cayenne pepper

1

teaspoon

olive oil

½

teaspoon

kosher salt

Couple cracks of fresh pepper

Non-stick spray
Chocolate truffles:
14

large medjool dates

about 1 ¼ cups, seeds removed

1/4

cup

chopped walnuts

toasted if desired

1/3

cup

cocoa powder

2

tablespoons

maple syrup or agave nectar

1/3

cup

finely shredded coconut flakes

unsweetened

¼

teaspoon

kosher salt
Instructions
Cook's Notes: To prepare for making the pizza balls, squeeze as much water out of the frozen spinach as possible. Pre-heat a medium size non-stick pan over medium heat along with 1 tablespoon of olive oil. Add the garlic and cook for 1 minute, then add the spinach, ¼ teaspoon salt, and a couple cracks of pepper. Cook for 5 minutes, stirring often.

For the chicken sausage and red peppers, pre-heat a small pan over medium heat for 2 minutes. Cut the chicken out of the casing and add to the pan along with the diced red peppers, cook for 5 minutes, using a wooden spoon to break the sausage into small pieces.

You can find raw pizza dough in most grocery stores, or you can call your local pizza shop and buy it from them, I do that all the time. You can either use whole wheat or regular dough.

If you don't have a mini muffin tin, I will put a link to one below the recipe. You can form the cauliflower tots by hand and bake on a sheet tray if you don't have a muffin tin.

Medjool dates are juicy and moist, most grocery stores have them. If you can't find them, make sure you buy dates that are soft and moist.

Begin Cooking:

For the pizza balls, pre-heat oven to 375 degrees F. Combine the sausage and red pepper mixture with the spinach mixture in a medium size bowl. Add the grated pecorino cheese, red pepper flakes, and oregano to the bowl, mix well. Use a knife to cut the pizza dough into 8 equal pieces. Put some flour on your counter or cutting board and form one of the pieces into a ball using your hands. Use a rolling pin to roll out the dough until the dough is about 3 inch wide and even on all sides. Use your fingers to stretch the dough a bit and smooth out the edges. Add 1.5-2 tablespoons of pizza filling to the dough and use your fingers to mold the dough around the filling to form a tight ball, making sure to pinch all the sides closed.

Placed formed pizza balls on a sheet tray that has been sprayed with non-stick spray or drizzled with olive oil and finely grate a little pecorino cheese over the top. Bake the balls in the oven for 27 minutes, making sure not to over-cook and burn the bottom. Remove and set aside. Serve with marinara sauce.

For the cauliflower, pre-heat oven to 400 degrees F. Use a box grater or food processor with a grating attachment, and grate all the cauliflower florets. Place the grated cauliflower in a kitchen towel and squeeze as much moisture out as possible. Flex those biceps, the more water you squeeze out, the more golden your tots will be. Place the cauliflower in a large bowl and add all of the remaining ingredients except the non-stick spray. Thoroughly spray the mini muffin tin with the non-stick spray, do this over the sink as to not make as mess everywhere. Use a spoon to add the cauliflower mixture in the tins and pack them so they come all the way to the top. Make sure you pack them tight using the spoon. Bake for 20 minutes, or until nice and golden all around the edges. Remove from the oven and let sit for 5 minutes, then remove from muffin tin.

For the truffles, blend all the ingredients in a food processor until everything is well incorporated, about 15-25 seconds. Roll the mixture into individual truffles/balls and then roll some of them in coconut flakes and some in cocoa powder. Set aside

You can store the pizza balls and cauliflower in the fridge for 3 days, or in the freezer for 2-3 months. When ready to re-heat, place in the microwave or oven. The chocolate truffles will last in the fridge for 7 days or in the freezer 2-3 months.
Recipe Notes
Macros for the Pizza Balls:
89 calories per pizza ball
1.75 grams of fat per pizza ball
13 grams of carbs per pizza ball
4.9 grams of protein per pizza ball
2.9 grams of fiber per pizza ball
Macros for the Cauliflower Tots:
31.7 calories per cauliflower tot
1.6 grams of fat per cauliflower tot
1.7 grams of carbs per cauliflower tot
4.5 grams of protein per cauliflower tot
0.7 grams of fiber per cauliflower tot
Macros for the Truffles:
97 calories per per truffle ball
3.2 grams of fat per truffle ball
20.6 grams of carbs per truffle ball
1.5 grams of protein per truffle ball
3.1 grams of fiber per truffle ball