It's time to share my best ever pork chop recipe! Gone are the days of overcooked, dry chops. This technique will produce some of the most juicy and crusty oven baked pork chops of your life. Plus the creamy horseradish and mustard pan sauce is so easy to make, and compliments the flavor of the pork perfectly.
Once you master this pork chop recipe, make sure to check out how to cook a chicken breast and how to cook chicken thighs.
How To Bake Pork Chops In The Oven
The key to making juicy oven baked pork chops is using the reverse sear method. First you need to bake them at a low temperature of 275F, then sear them until crusty in a very hot cast iron pan. To build massive flavor on the pork chops, first make a spice rub with ground fennel, sweet paprika, and coriander. Season the thick cut pork chops with a generous amount of spice rub and kosher salt all over.
Pork chops are bland, they are not salty like bacon(which a lot of people think!). Season them aggressively, it will bring out their flavor even more. Pork chops need to be at room temperature before going into a hot oven or pan, so let them sit out for 20-30 minutes while the oven is pre-heating. the same is true for meat and chicken. To ensure even cooking in the oven, place the pork chops on a wire rack set inside a sheet tray and insert a digital probe thermometer into the middle of the chop.
The cooking time is roughly 45 minutes, but the only way to know the exact temperature of the pork chops is by using this digital probe. It stays in the oven while the pork chops cook, so you can set the alarm and pull the chops when they reach 140F. The pork chops will finish cooking in the hot pan.
Pre-heat a cast iron pan over medium-high for 3 minutes so it gets really hot then add 1 tablespoon of avocado oil. Once you put the pork chop in the pan, press down with the tongs for 5 seconds so the chops make good contact with the pan. Sear for 1-2 minutes, or until well browned. Flip and repeat on the second side and then sear on both ends for 30 seconds. Remove pork chop from pan and place foil loosely over the top.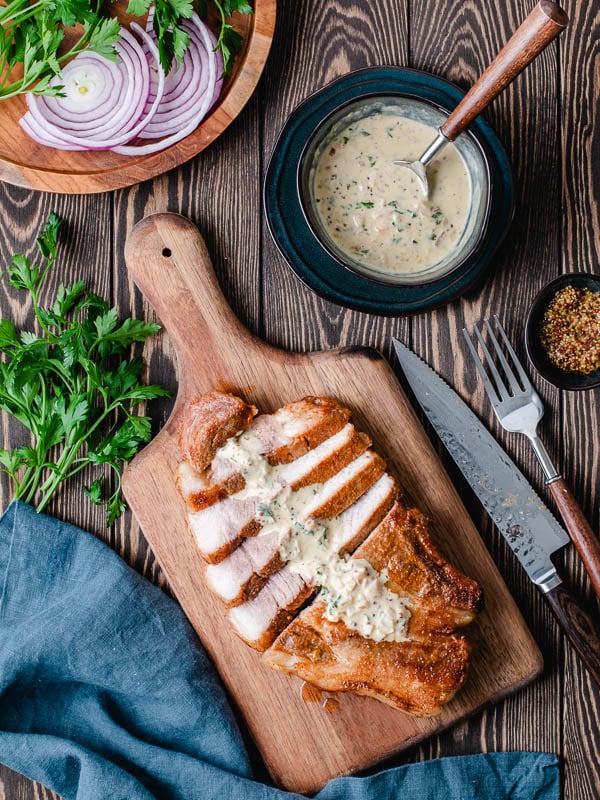 What Sauce Goes With Pork Chops?
Once the pork chops are seared, you can make a quick and easy horseradish and mustard pan sauce using all of the sticky bits on the bottom. Add another shot of oil to the pan along with some red onions and a pinch of salt. Cook for 6 minutes then add some white wine and reduce. Add some chicken stock and reduce by half then go in with heavy cream, stone ground mustard, and prepared horseradish.
Season with a pinch of salt and some black pepper and cook for a few minutes until the sauce has thickened a bit. Check for seasoning and turn the heat off. Pour some sauce over the pork chops and enjoy! The sauce is creamy and tangy, and cuts through the richness of the pork chops perfectly!
How Long To Bake Pork Chops In The Oven?
Pork chops are actually very lean and can overcook very easily, just like chicken breasts. The best way to make sure you end up with a juicy baked pork chop, is too bake them for 45 minutes at 275F. This technique works best with thick cut chops, 1.5-2 inches thick. That way they won't dry out so easily. It's also a good idea to bake them at a low temperature so they slowly and evenly cook.
Then you can finish the pork chops in a very hot cast iron pan to make them crusty. The results in a juicy, baked pork chop that is easy to make. I also advise baking the pork chop on a wire rack set in a sheet tray. This allows for even flow of air to circulate around the chops while baking.
Make sure to check out my other techniques for baked and pan favorites:
3 ways to cook the perfect shrimp(video)
4 ways to make the best steak of your life