Do you remember Dessi's recipe for keto fat bread a while back? Well I decided to use that to make the most tasty low carb and sugar free french toast recipe ever. I have not been making enough breakfast recipes lately, and this one will make up for that. Soft and eggy custard soaked keto bread cooked until golden brown and served with homemade sugar free maple syrup, blueberry sauce, and whipped cream.
You will flip out how good this keto breakfast recipe for french toast is, and it's easy to make! If you need more breakfast inspiration, check out my keto Starbuck's egg bites.
This post and YouTube video is another collaboration with my friends at Thrive Market. Think of all your favorite organic and all-natural products you buy at the grocery store. Well you can buy those same items for up to 30% cheaper on Thrive and the items get shipped directly to you. You need to check out their "shop by diet" filter. You can search over 70 values. My favorite ones are keto and paleo. Don't forget to click the deals page (all the way at the right) because they give you free swag any time you spend over a certain amount.
They gave me a promo code to share with you guys. You get an additional 25% off your first order and a 30-day free trial. I would definitely try it out at least once. I love getting that Thrive box delivered to my door. If you are going to buy 1 thing, make sure it's the Thirve brand organic grass-fed ghee. So darn tasty!
How To Make Keto French Toast
The first thing you want to do is match a loaf of our keto fat bread. You can do this ahead of time and store it in the fridge or freezer. It's the next best thing to actual bread and does not have an eggy flavor or smell. You want to dry the bread out a bit so it is more receptive to the egg custard. So bake the slices in a 250 degrees F oven set on a baking rack for about 10-15 minutes. You can feel when they start to get dry.
Meanwhile you can make the sugar free blueberry sauce by adding 1 cup of fresh blueberries to a small non-stick pan set over medium heat. I recently saw Jamie Oliver do this on YouTube and it was brilliant. Cook until the blueberries begin to burst then add some water and 1 teaspoon of monk fruit sweetener. Cook until the sauce thickens up and set aside.
You can also make the whipped cream now and keep in the fridge until ready to use. Also make the sugar free maple syrup. More on that recipe below.
Make the custard for the french toast by combining 3 eggs, just over 1/4 cup of heavy cream, vanilla extract, and ground cinnamon in a small baking dish. Whisk well then soak both sides of the keto bread in the custard until wet, but not soaking wet. Now would be a good time to preheat a large non-stick pan over medium heat with 2 tablespoons of grass-fed butter. Add the soaked bread to the pan and cook for 4-5 minutes on each side, or until golden brown.
You can keep the coked pieces of french toast in a 250 degrees F oven oven covered with tin foil to keep them warm.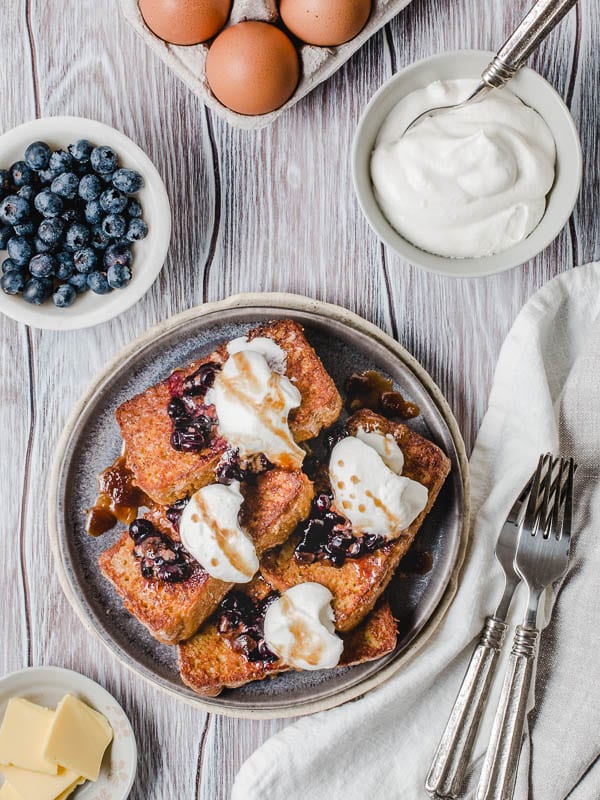 Is There A Keto Maple Syrup Substitute?
You can easily make a sugar free version of maple syrup using Sukrin brown sugar. It's the best keto sweetener option for brown sugar because it's soft and package. Add 1/2 cup of sugar free brown sugar to a small pot wit 1/2 cup of water, 1 teaspoon of fresh lemon juice, and 1/4 teaspoon of ground cinnamon. Bring to a simmer and cook for 5-7 minutes until it has thickened up slightly.
Turn the heat off the pan. The syrup will thicken up as it cools down. This brown sugar tends to crystallize after it sits for a while, so just heat it up before serving.
How Do I Make Sugar Free Whipped Cream?
You make sugar free whipped cream the same way you do regular. Just swap powdered sugar with monk fruit sweetener. Make sure to chill the cream and a metal bowl in the fridge as this will help create stuff peaks in the cream. Beat the cream with a hand mixer until the cream begins to thicken. Add 1 teaspoon of monk fruit sweetener and continue beating until stiff peaks have formed.
You can make the sugar free whipped cream 1 hour ahead of time and keep in the fridge.
If you want to make this recipe 100% dairy free, use full fat coconut milk in the custard and chilled coconut cream for the whipped cream. It works like a charm!
Make sure to check out more of our keto breakfast recipes: